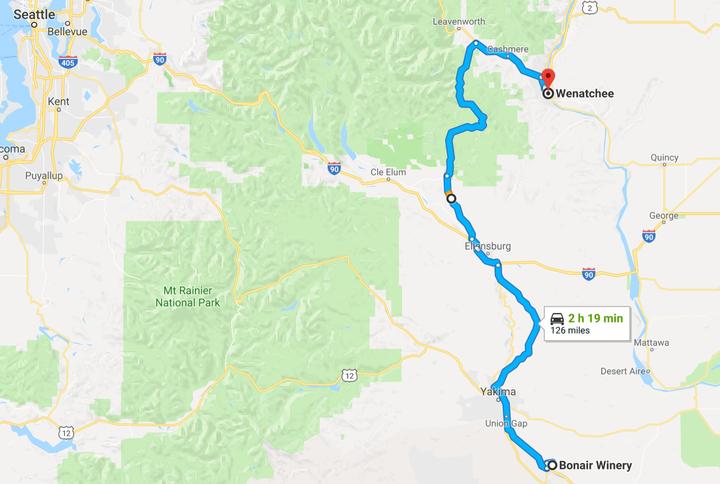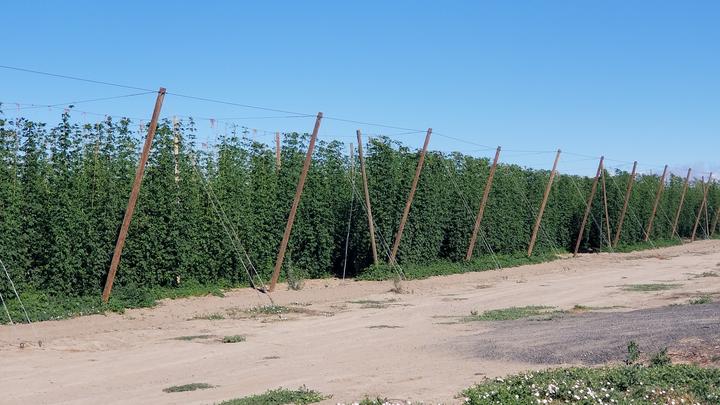 We left Bonair Winery mid-morning Monday, July 2 and drove the 100+ miles to Wenatchee. We enjoyed all the agriculture along the way. Lots of Cherry orchards, vineyards, and hops. Shirley told us the this area grows more hops than anywhere in the country. Yes…future IPAs.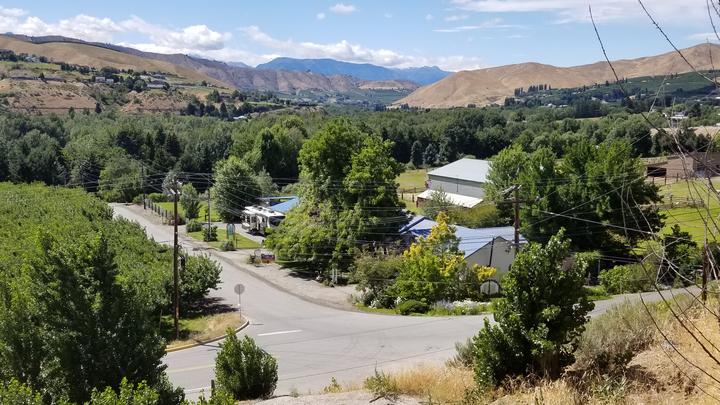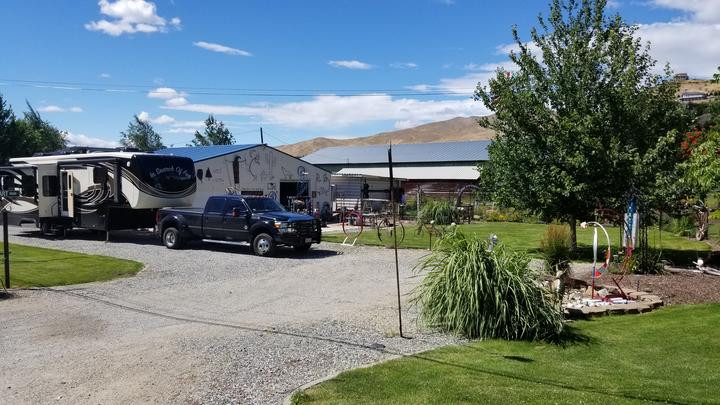 After fueling at a Fred Meyer, because we had a $1/gal off up to 35 gallons, we drove to "Sleepy Hollow", our Boondockers Welcome location for the night.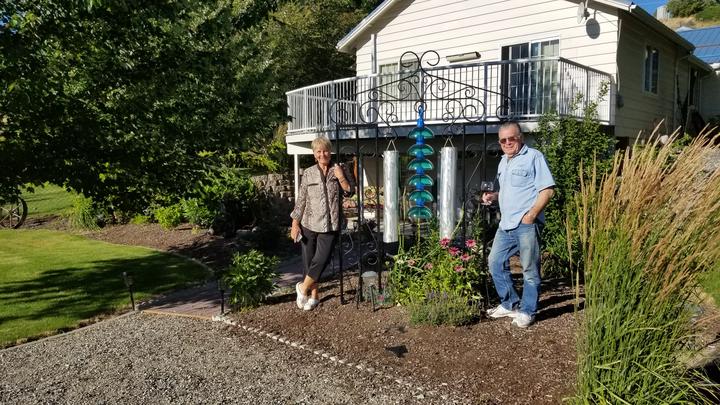 Jack and Shirley greeted us like family and invited us to share happy hour with them around 5pm. Now we're talking great hosts!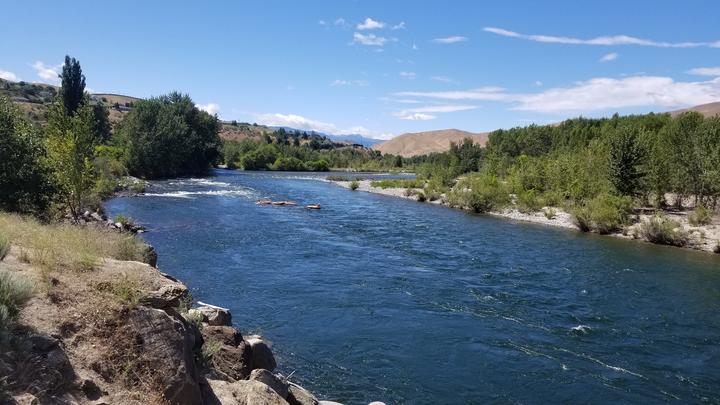 We arrived around 2pm on a beautiful Washington day. Our hosts are located a short walk from the Wenatchee River so we were able to get out for a little stroll to enjoy it. The river joins the Columbia a short distance down.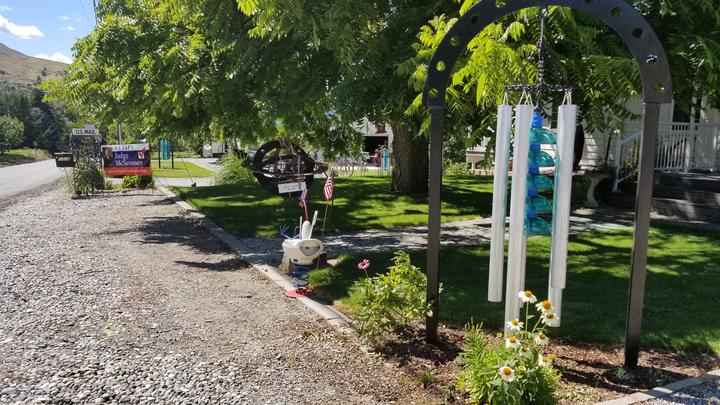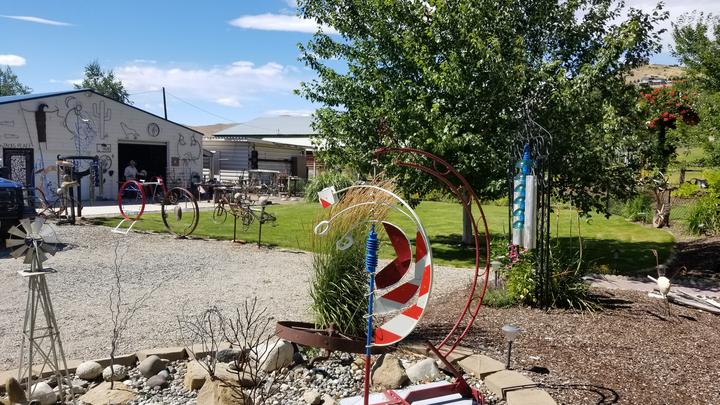 Jack is a retired welder but still loves to weld up about anything that hasn't been welded. One of his specialties is fabricating huge wind chimes, using high power electric transmission line insulators as clangers. He made so many he didn't have a count of how many. We felt welcomed as soon as we pulled in when we saw Jack's "Yea Trump" sign on the side of the garage. We were also invited to plug in to their 50amp outlet and use their very handy water spigot.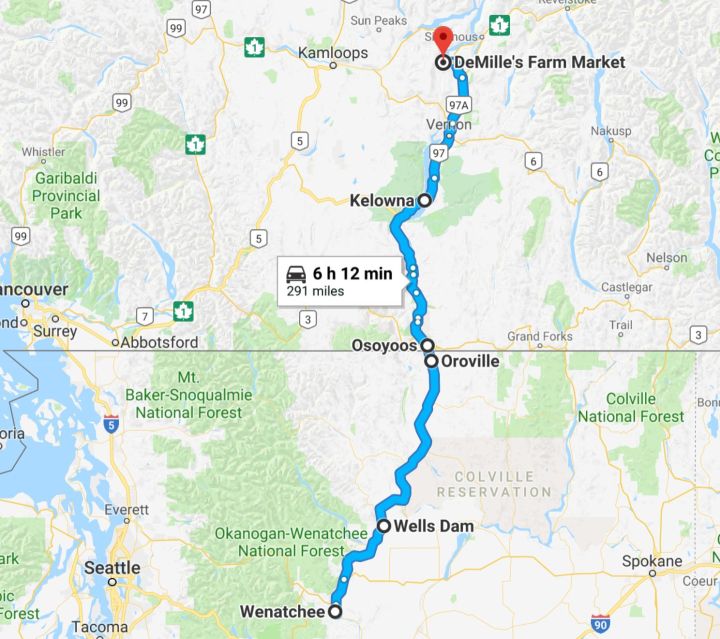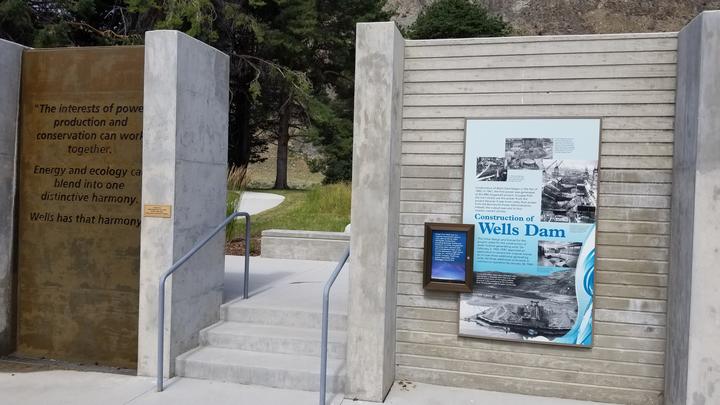 Tuesday July 3 was quite an interesting day. We left Wenatchee mid-morning with full intentions of staying at a Harvest Host winery in Oroville, just before the border crossing. It was an incredibly beautiful drive following the Columbia River most of the way. When it was time for a rest break we stopped at Wells Dam welcome park, a Douglas County Public Utility point of interest. Nice restrooms, a kiosk explaining the dam history, a walkway trail and an observation area.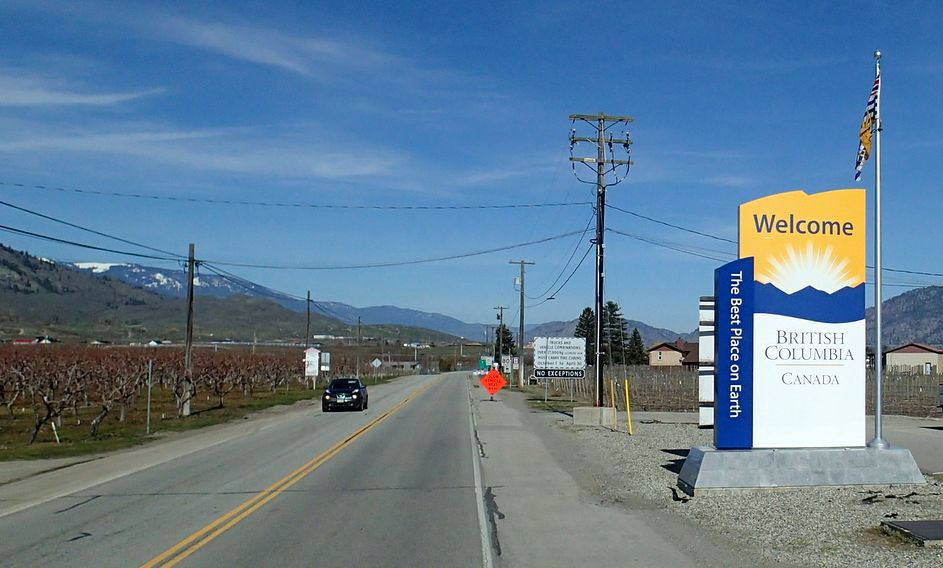 As we traveled north we still had a lot of daylight ahead of us, so we decided to forego the Oroville winery stop and proceed on to our next destination. A unique Harvest Host market in Salmon Arm, BC that we have been looking forward to. We had been quite worried about what challenges we might encounter crossing the border with our "house" since they don't allow, or were limiting certain food, plants, alcohol quantities, firearms and such. We were VERY pleased when we were welcomed to Canada after showing our passports, registrations and insurance papers….and answering just a few entry questions; like where we were going and for how long. Once in to British Columbia, we were surprised with all the traffic. Lots of stop and go though Kelowna. A much larger city (pop 125,000) than expected. Later, we realized the increased traffic was because July 1 is Canada Day and a week to vacation. There were lots of recreation places around Kelowna, primarily because it is on Okanagan lake. In addition, Ed thought DeMille's market was just over the border in Osoyoos, but soon realized we had another 150 miles to travel from the border.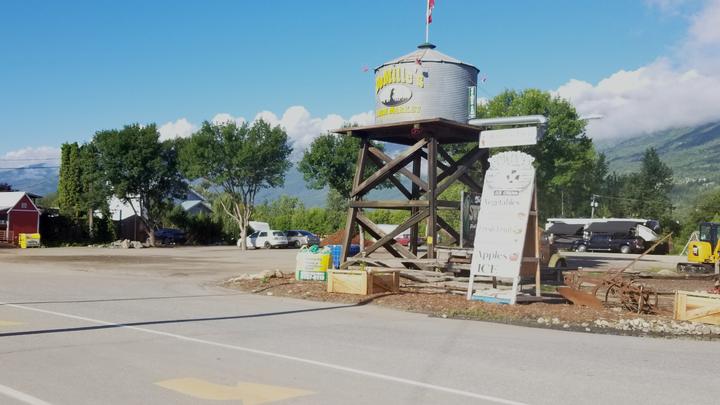 Another beautiful drive, this time along the Okanagan River in route to our next Harvest Host location; DeMille's Farm Market in Salmon Arm, BC. Arrived around 5:30pm and parked in the large front parking lot for two nights. We passed miles and miles of irrigated agriculture on both sides of the river and hillsides. Many more cherry tree orchards. Seems like there was fruit stand every mile.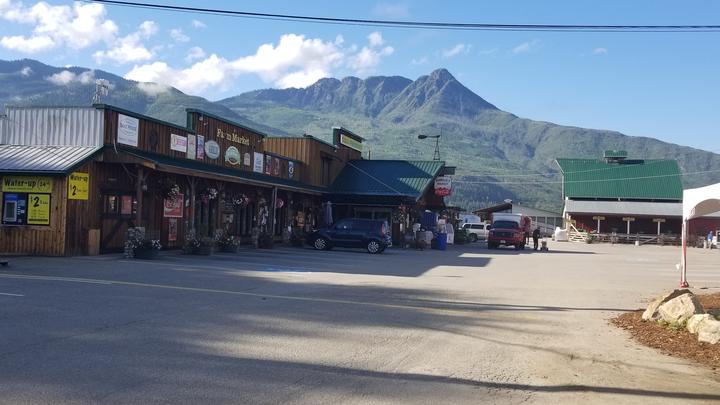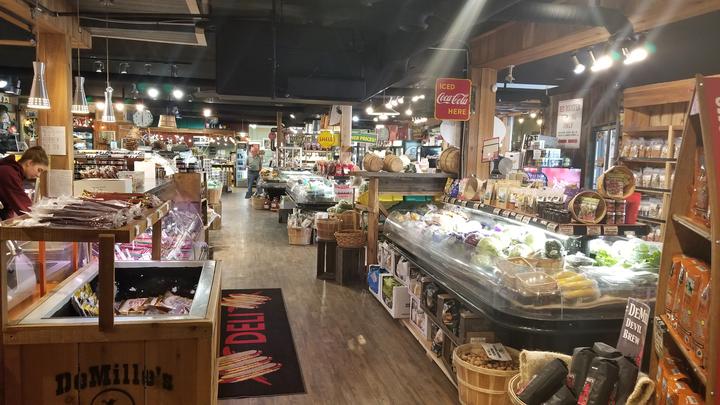 We were very welcomed by owner Brad. Connie was elated with the market and all they had to offer in the way of produce and fruit.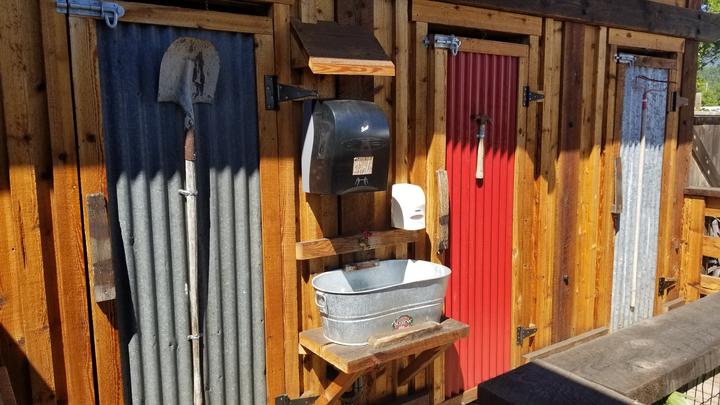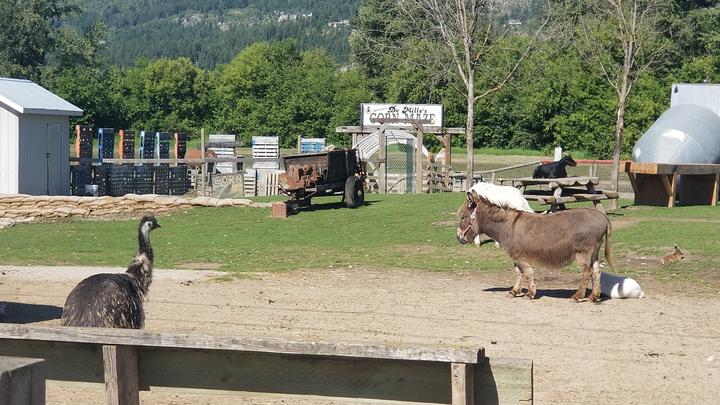 Walking around the grounds a bit, we could easily see why DeMille's is called a "farm" market. Not to mention the fresh fruits and produce in the market, mostly provided from area farms. All and all it was a wonderful stop for us. The only negative was Canada Highway 1 next to us was quite busy, but not that annoying.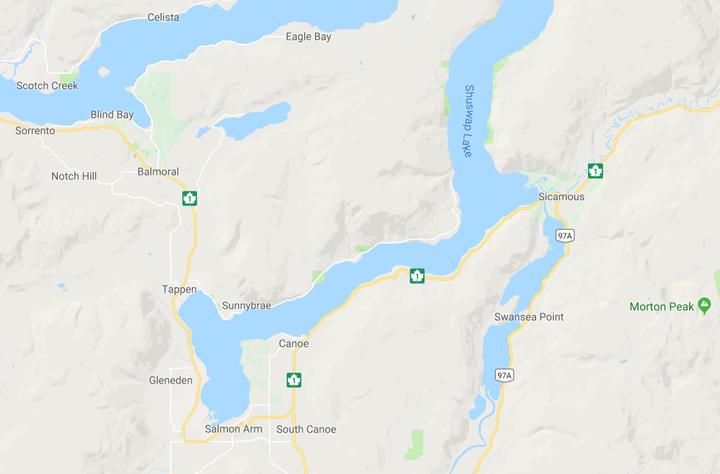 Salmon Arm seemed like an unusual name, but a local explained to us that Shuswap (shoe-swap) lake is in the shape of a huge letter "H", and Salmon Arm is one of the arms.
(Visited 91 times, 1 visits today)