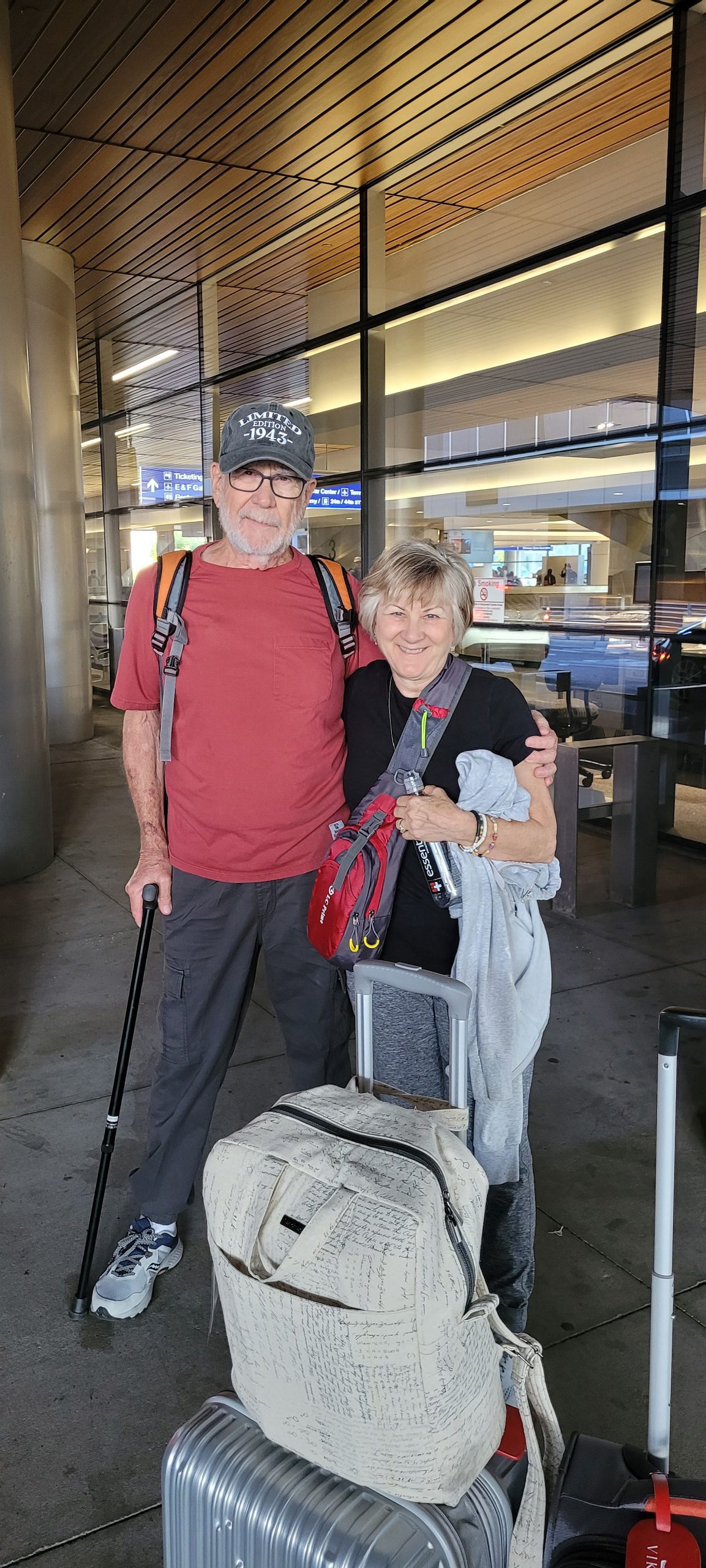 ON OUR WAY
Saturday July 15, 2023
Neighbor Ben took us to Sky Harbor airport in Phoenix for our 9:35am Delta flight to Amsterdam via Minneapolis.
Don't downplay Ed having a cane, it got us early boarding.
Delta's web site said it would be $70 to check a bag! We'll have to check about that next time. Anyway, we managed quite well with each of us having a carry on.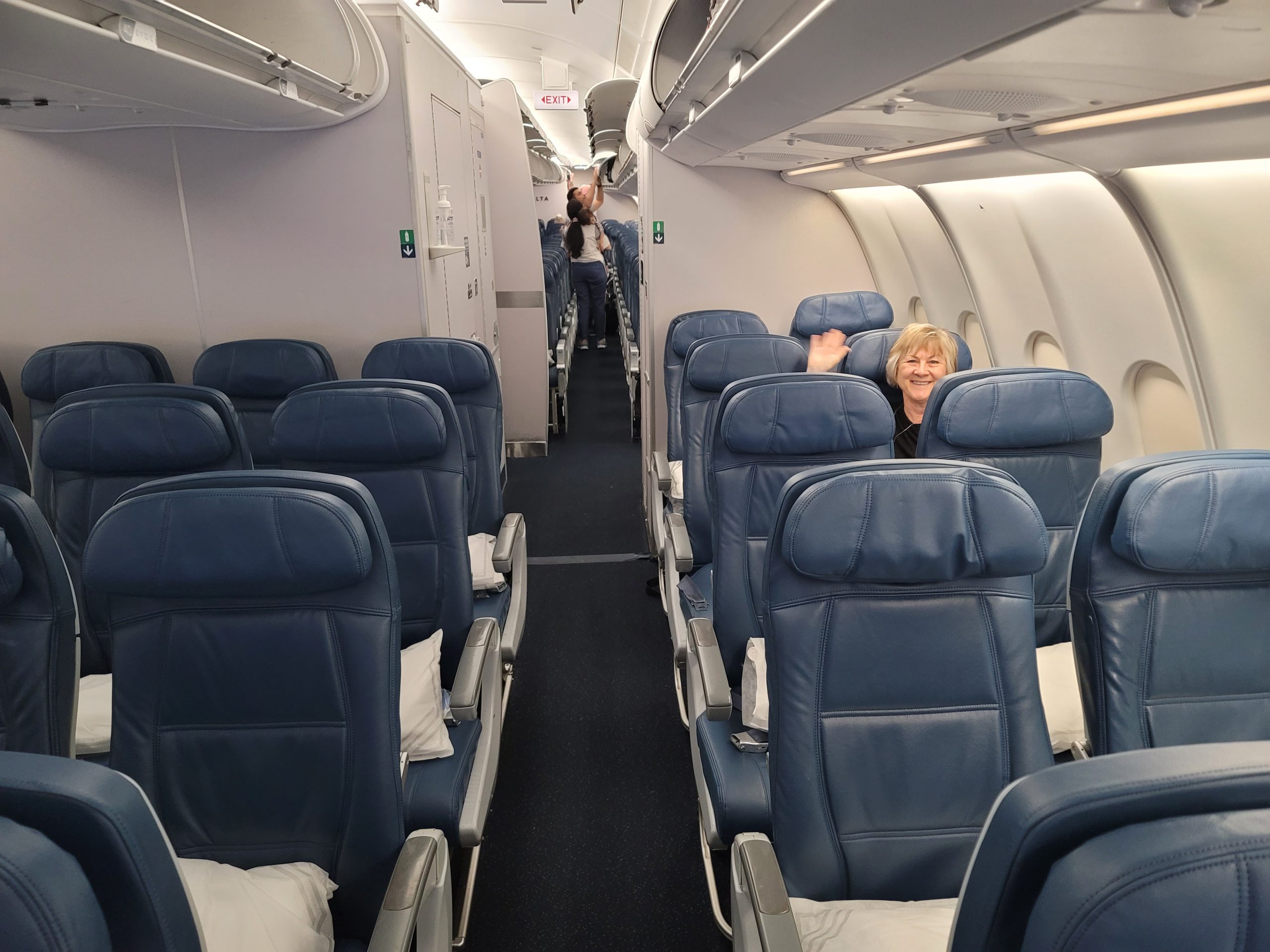 After seeing Ed using a cane, Delta agents ushered us on the plane for pre-boarding. We had a 3 hour flight to Minneapolis then we boarded our Amsterdam flight a couple hours after landing. The Amsterdam flight was a little over 8 hours. Tried, but couldn't sleep.
AMSTERDAM
Sunday July 16, 2023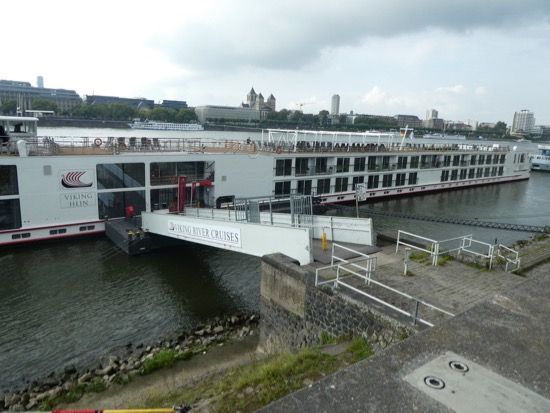 This is Viking Riverboat Hlin. Four levels. The top level is open deck, but they do provide canopies. Excellent location for viewing all the countryside on the Rhine.
The bottom level are the standard staterooms. Better value, but somewhat limited view. See comments later.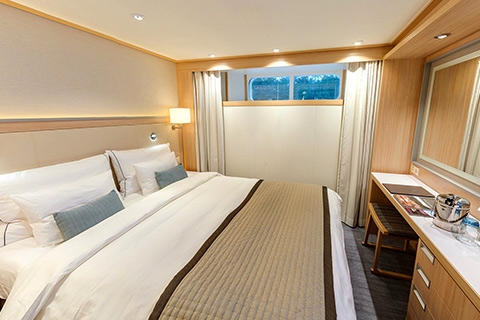 Our Standard Stateroom was the lowest level on the 4 level riverboat. The windows were a little above water level, we could still see out a bit, although Connie had to stand on the bed. The bed is a very comfortable queen. It looks bigger bc of picture. Bathroom is small as well, but adequate. The shower can be seen in the mirror reflection.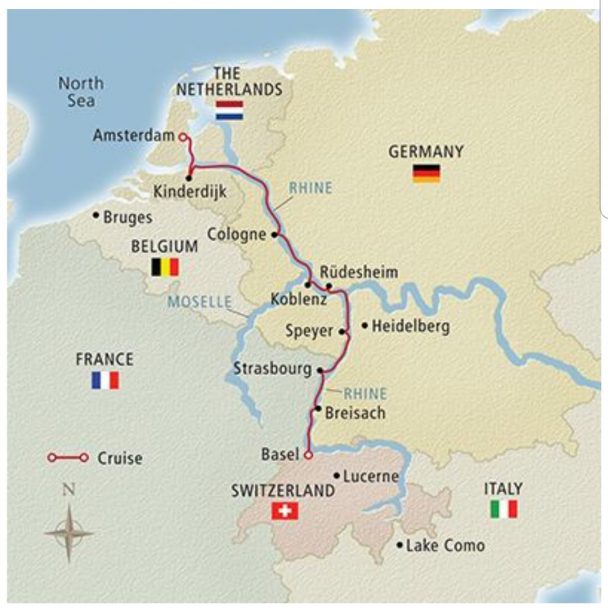 The Cruise
Day 1 Sun July 16: Amsterdam
Day 2 Mon 17: kinderdijk, Netherlands
Day 3 Tue 18: Cologne, Germany
Day 4 Wed19: Koblenz & Rüdesheim, Germany
Day 5 Thur 20: Speyer, Germany
Day 6 Fri 21: Strasbourg, France
Day 7 Sat 22: Breisach, Germany
Day 8 Sun 23: Basel, Switzerland and Home
After 11+ hours of flying and a 2 and half hour layover, we got into Netherlands Amsterdam Schiphol Airport around 7:45am CEST (Central European Summer Time). CEST is 8 hours later than Mesa, AZ. After finally finding our Viking Representatives, Viking provided bus transportation to our Riverboat, Hlin (silent H), in time to get our bearings and enjoy an 11am brunch. Our stateroom wasn't ready so we headed out to explore Amsterdam
---
There are many canals in Amsterdam and many canal cruises. We selected the Hop-on-Hop off boat for our transportation (under the bridge coming toward stop). We boarded the boat near the Hlin and disembarked at the Vincent Van Gogh Museum. We walked from there to the Heineken Experience.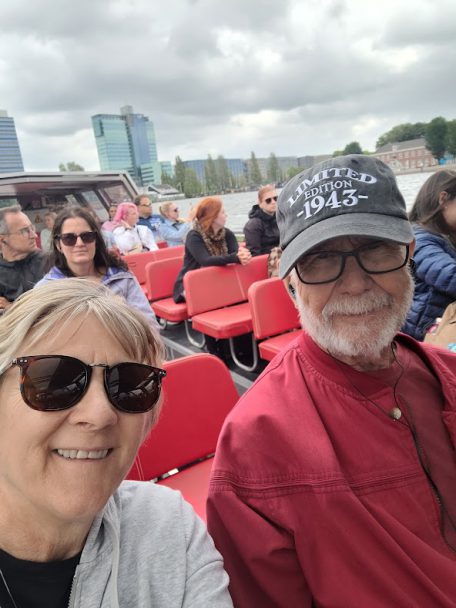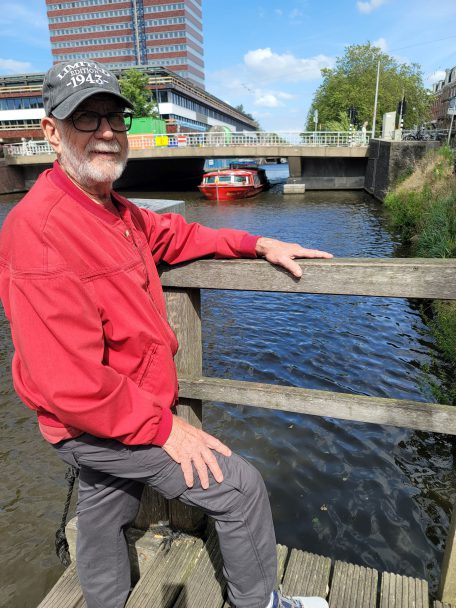 Vincent Van Gogh Museum
---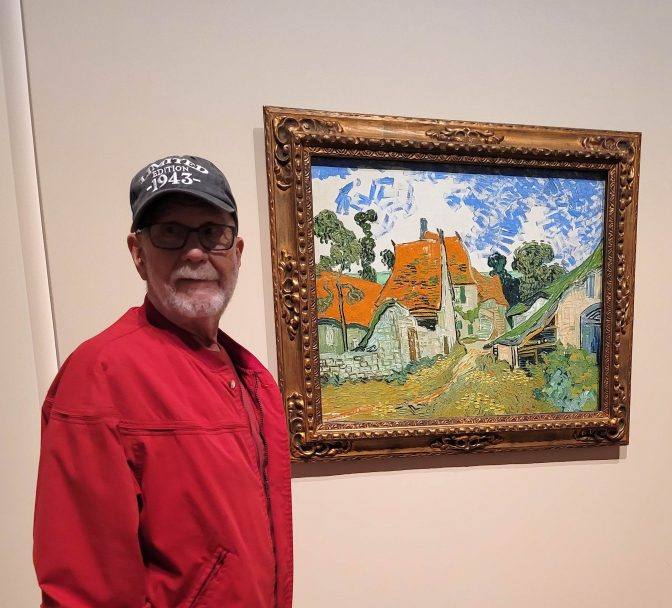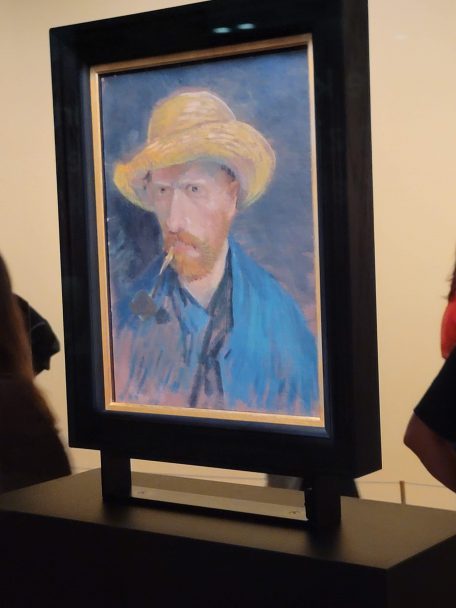 We found the Vincent Van Gogh museum fascinating. Many many originals. Also many many people for mid-day on a Sunday.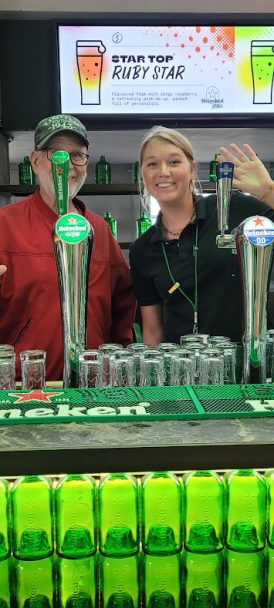 While the Heineken Experience provided a little adventure it was somewhat disappointing. Connie did discover a new drink she likes at the specialty bar, and Ed enjoyed teasing the help.
BTW, we understand that Heineken purchased Lagunitas Brewery in 2017. However it wasn't offered here. Dutch don't care for IPA?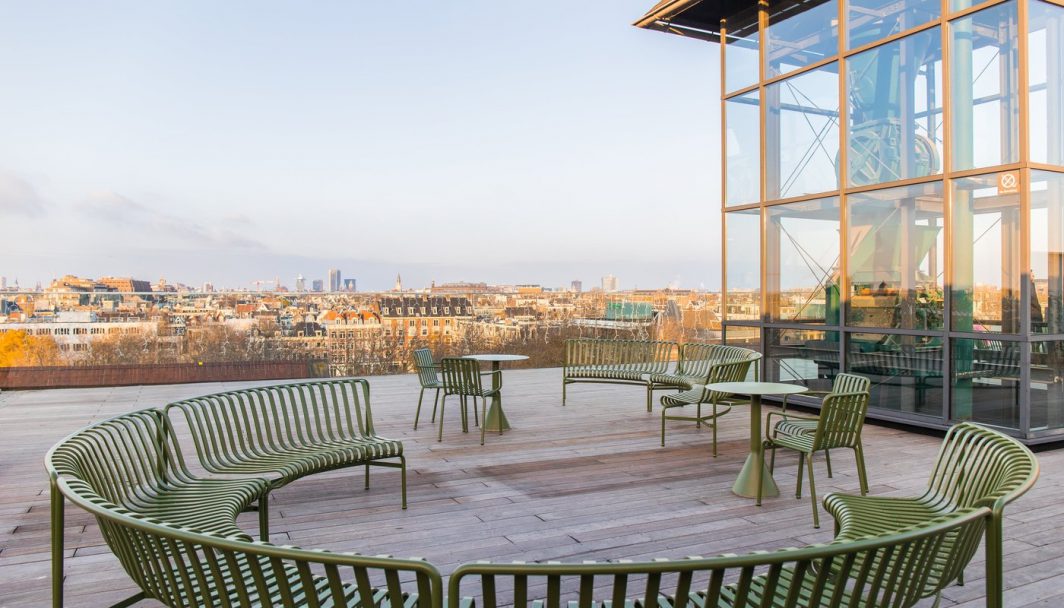 Our canal Hop-on-Off boat sailed (?) right by the Heineken building on the way to Van Gogh so we had a good idea where it was when we walked back. Our boat was red, so this isn't it.
We did get up to the roof on the Heineken building. A great view of Amsterdam and quite relaxing to finish our drinks. For some reason they would not sell us a 2nd drink. We talked with some folks there and enjoyed our time. Connie had just purchased a couple Van Gogh prints on postcards and they somehow managed to fall through a crack in the plank floor. No way to retrieve.
KINDERDIJK
Monday July 17, 2023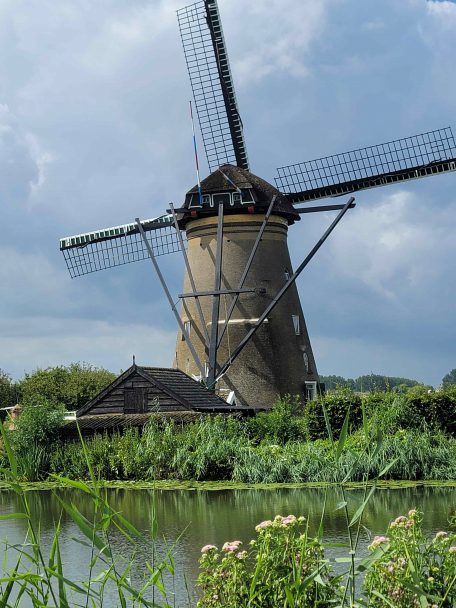 The only day we had rain on the cruise was the first day out at Kinderdijk, where we walked to see several Dutch windmills. They are part of a larger water management system to prevent flooding. The area is low and the windmills pump water to higher levels to avoid flooding. Today, this is done mostly with electric pumps, but they keep these older windmills for their heritage and traditions.
We had a bit of a break from the rain by going with our guide to a makeshift classroom to learn more about the complexities of the windmills.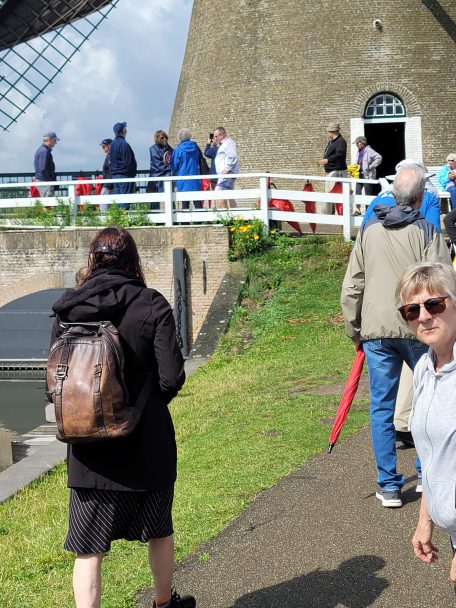 COLOGNE, GERMANY
Tuesday July 18, 2023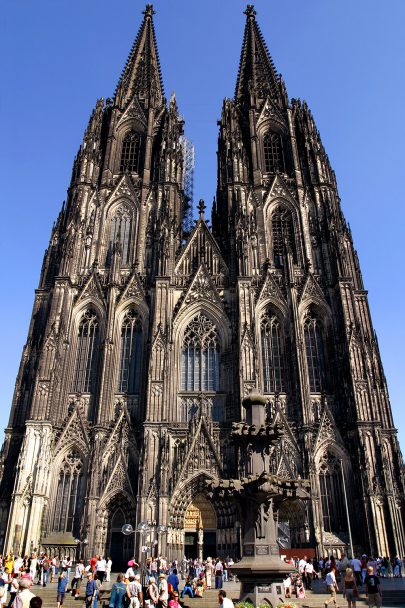 We docked at Cologne, Germany July 18, the second day of the Rhine Cruise. Köln is German for Cologne. Cologne is given credit for the famous vernacular for the fragrance. But also for this massive (184′ feet tall) Cathedral built in the 16th century.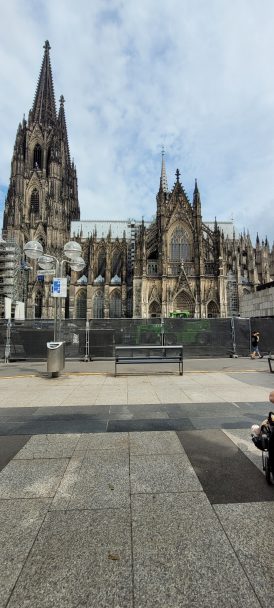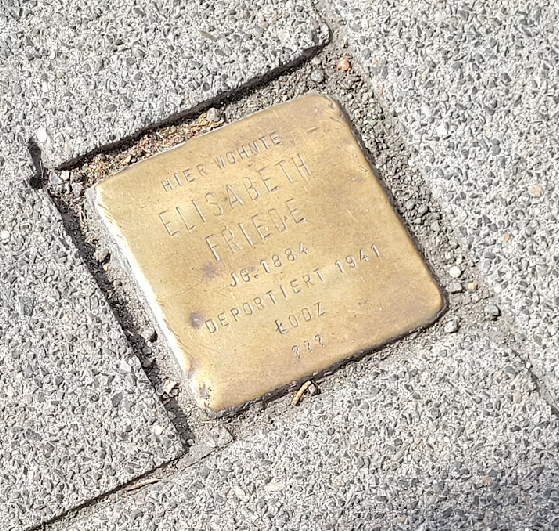 This is a plaque in the sidewalk with the name of Elisabeth Friede, born 1884, deported from her home located here (left picture below) in 1941 by the Nazis.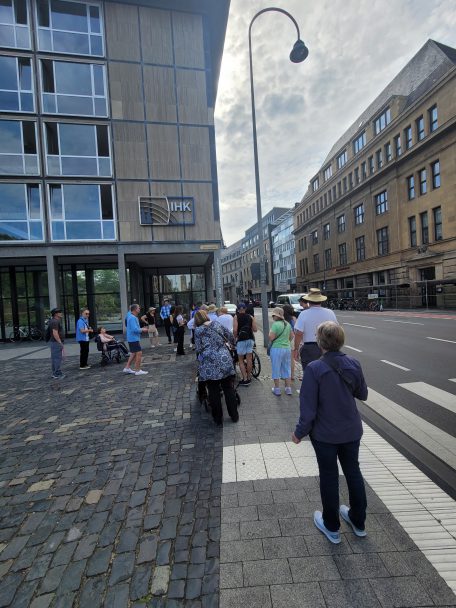 The picture on the right is an HA Schult, creation of a winged Flying Ford Fiesta, located on the former armory "temporarily" since 1991. Click on the link to view it better.
KOBLENZ, GERMANY
Wednesday July 19,2023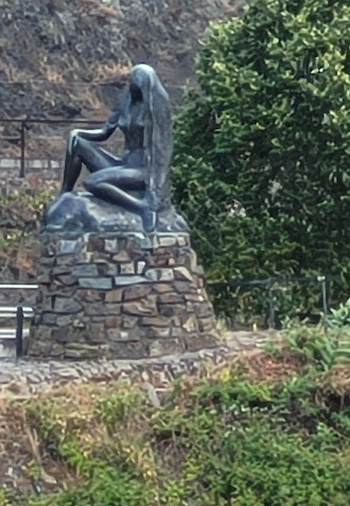 First picture is the 16′ Lorelei maiden (click link for full story). According to legend the beautiful maiden would sing and sailors would be transfixed, lured to their doom. The next two pictures are landscapes along the beautiful Middle Rhine. We sat out on the open deck and listened to our program director (Lee) describe the scenery and many castles along the way of our cruise. We suffered from castle overload…not really.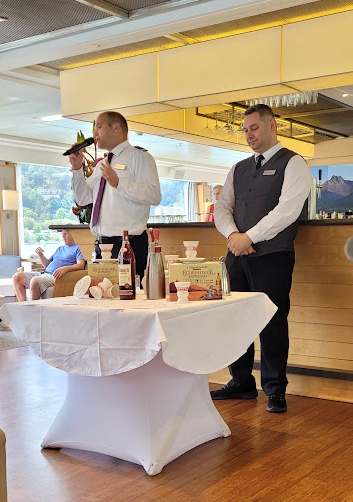 The Hlin docked at Brauback, Germany where excursions to Medieval Marksburg Castle, the Fortress of Ehrenbreitstein, and our included (free) excursion to Koblenz began. We cruised to Rüdesheim and docked in the afternoon where there were evening excursions to wine tasting and dinner at Schloss Johannisberg Estate, and yet another excursion to dine in Rüdesheim. We stayed on board for the chief steward and the bartender demonstration of making Rüdesheim Coffee: Brandy, coffee, sugar,whipped cream, and chocolate. All this while enjoying beer and wine as an option.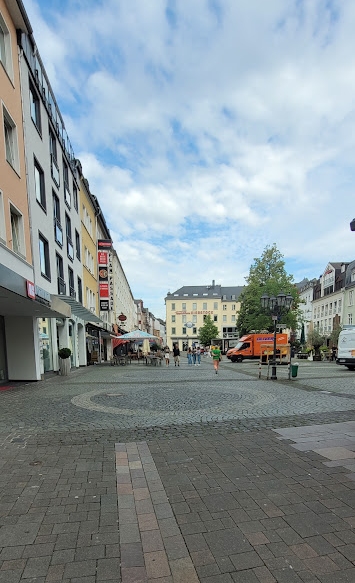 We bused in to Koblenz , a town on the confluence of the Rhine and Moselle rivers. Our guide led us through old downtown to one of the many churches in this area. Seems like all the towns/villages have at least one cathedral. Too bad no one attends.
SPEYER, GERMANY
Thursday July 20, 2023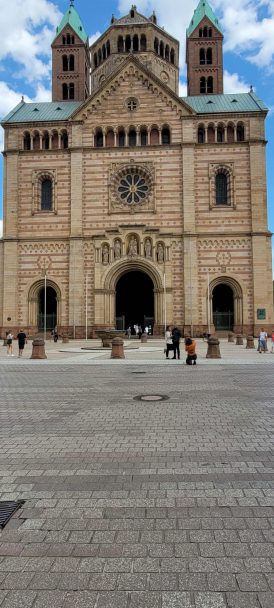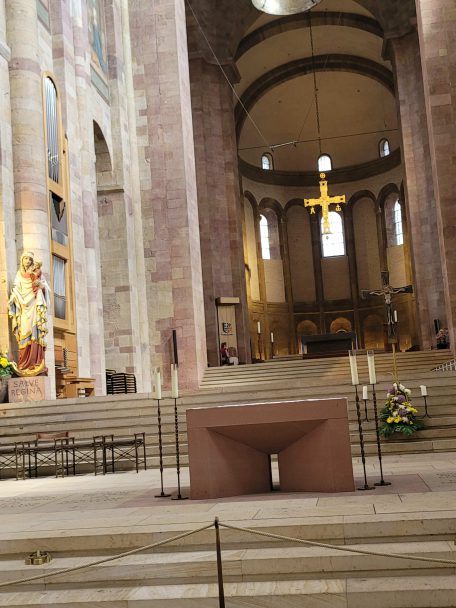 Speyer Imperial Catherdral. Romanesque style, much plainer than the Gothic cathedrals we've seen. Built between 1030 and 1061, serves as the tomb for 4 emperors, 4 kings, and 3 empresses. We chose not to view crypt, but got coffee on the square instead.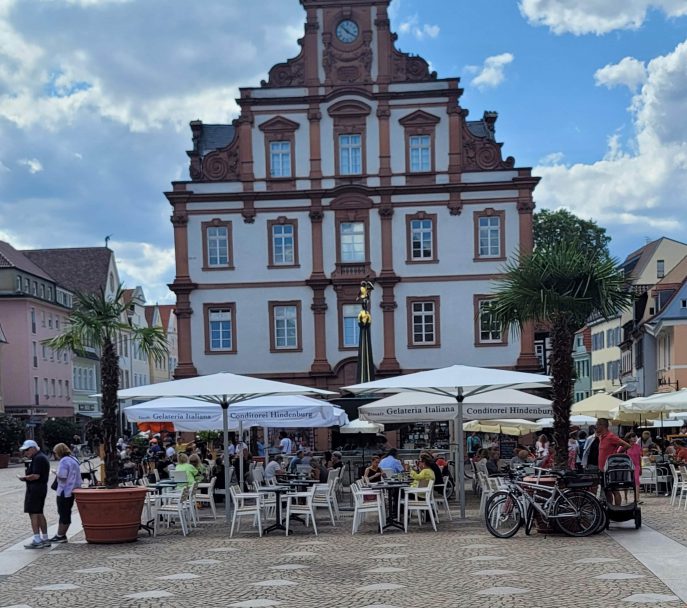 While the German city of Wittenberg is known as the birthplace of the reformation when Martin Luther nailed his "95 Theses" to the door of the church there. It was Speyer where the name Protestantism originated. Derived from a letter of protest signed by six princes and representatives of Imperial cities during the Diet of Speyer in 1529. Speyer also served an important part of the Jewish culture as well. Very interesting town. Enjoyed it for sure.
STRASBOURG, FRANCE
Friday July 21,2023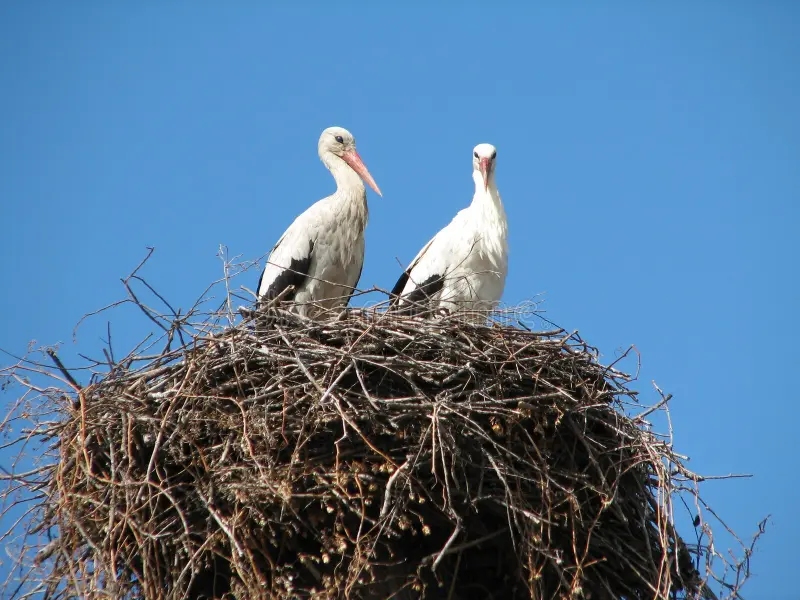 Strasbourg had may highlights. One of the most surprising was learning about the storks that live there. We learned that they mate for life, live to be about 30 years old and migrate south in the winter…unless one of the parents is native; then just one parent migrates. They always come back to the same nest every year.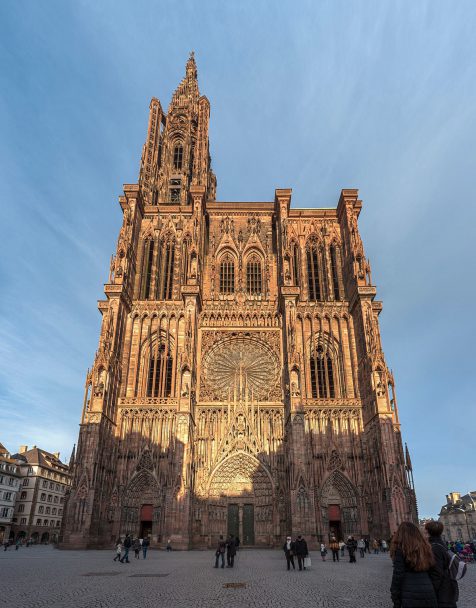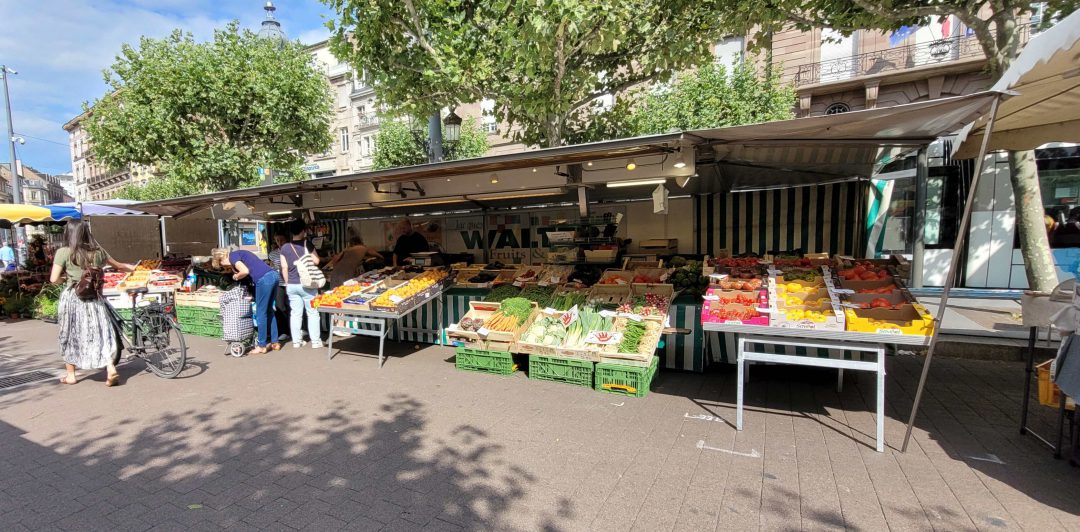 A fun surprise for us strolling around Strasbourg was stumbling in to this market. Lot of fresh vegetables along with a variety of other items, like flowers. There were a few shops with meat items displayed in glass enclosed refrigerated cooler mounted on a trailer. It was a great experience. Connie bought some Pasta that we managed to get home. It's gone now.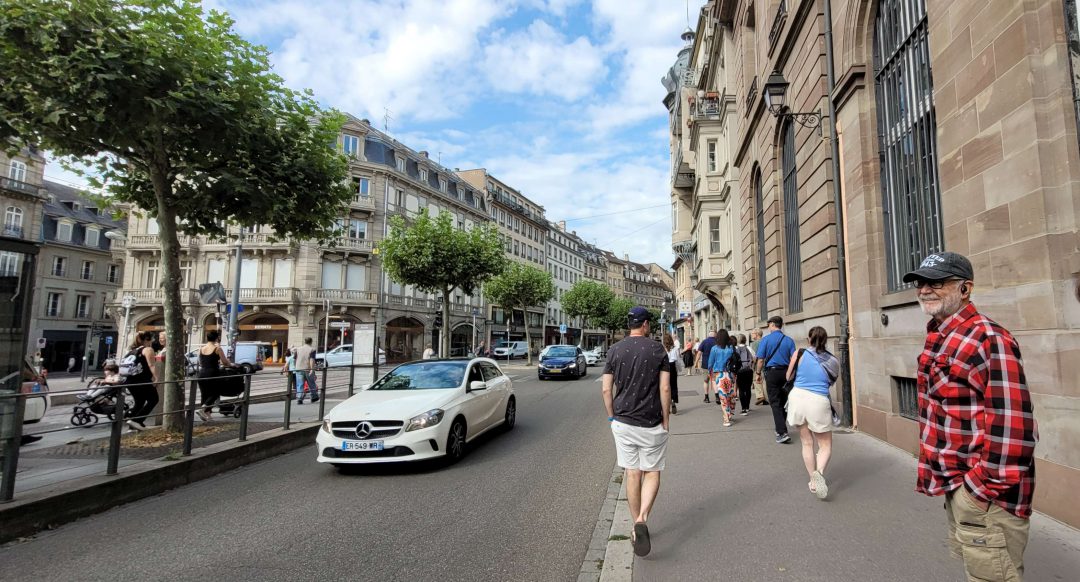 The architecture in Strasbourg was different than we had seen before, especially in Mesa, AZ, or the USA for that matter. Brought back memories of some WWII war movies that have cities like this. The fellow with the red sign is our guide. We were in group 32L (for leisurely). Viking provides a "listening device" with several channels to listen to your guides. Works very well and is good for about a block away in case you drag behind.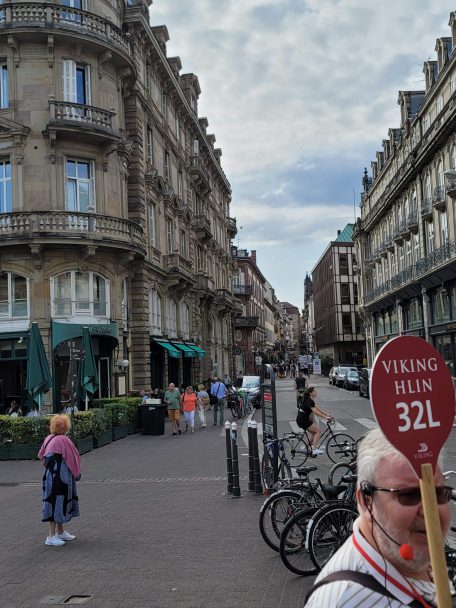 BREISACH, GERMANY
Saturday July 22, 2023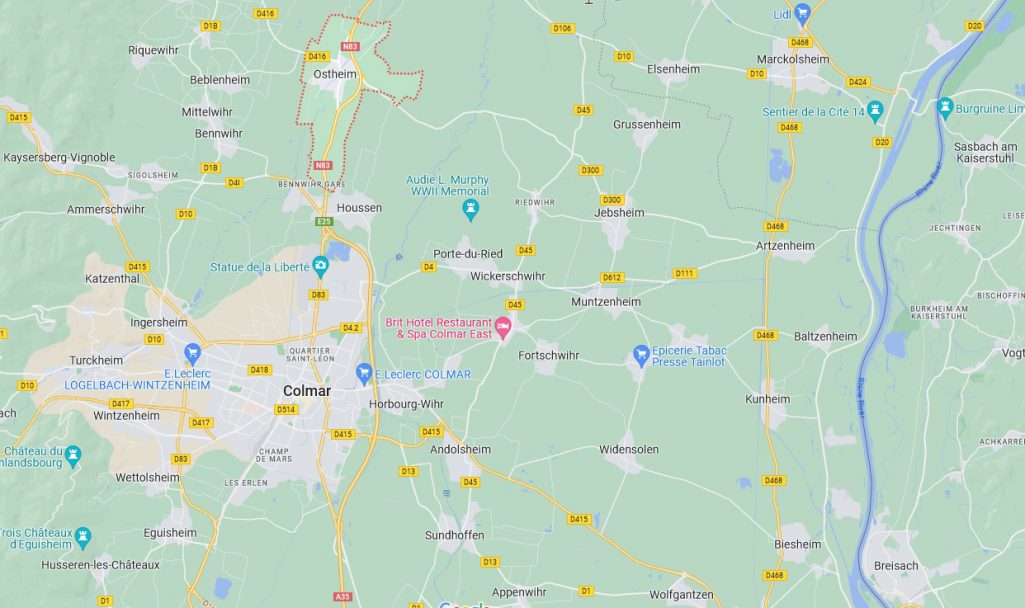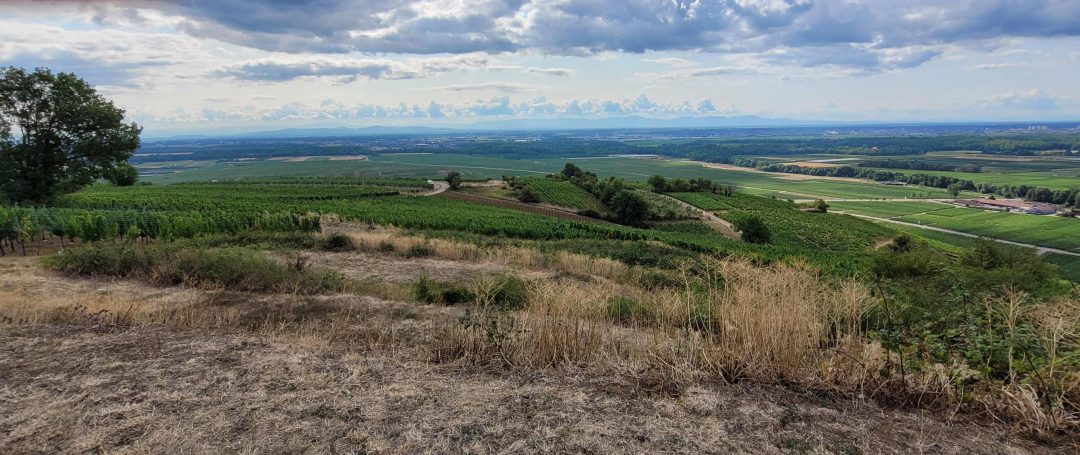 View of the Colmar Pocket valley where intense fighting happened during WWII. Our excursion was, led by a very passionate and inspirational guide, Birgit was full of knowledge that she shared very well.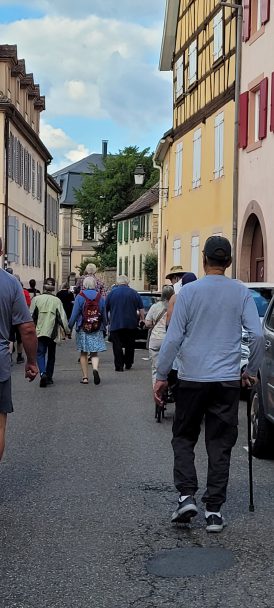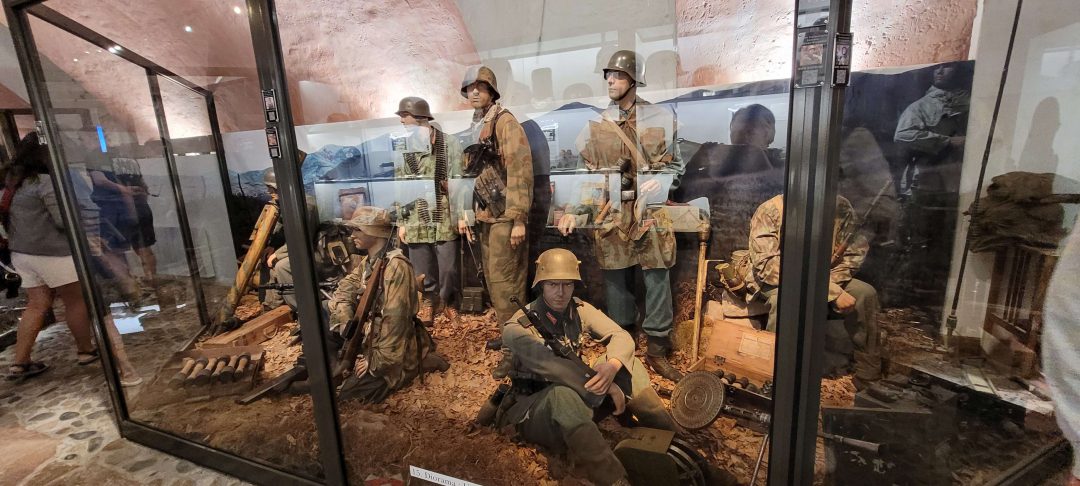 After overlooking the Colmar Pocket area from the hill with a stone depiction of some of the action, we strolled the street to the wine cellar museum. Not that spectacular, but shows how thankful the French are for the Americans.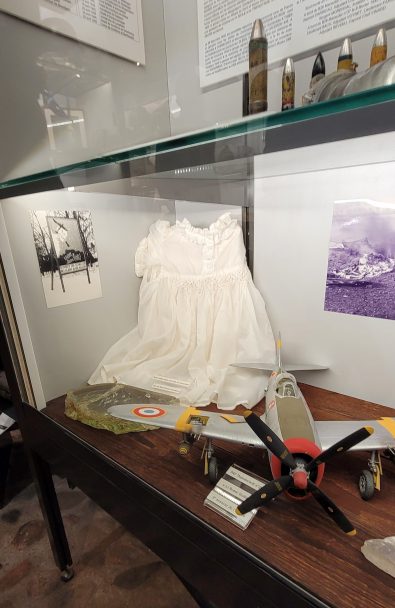 A baptism gown made from a parachute. American and French flags honoring the bravery and courage of those that gave their all.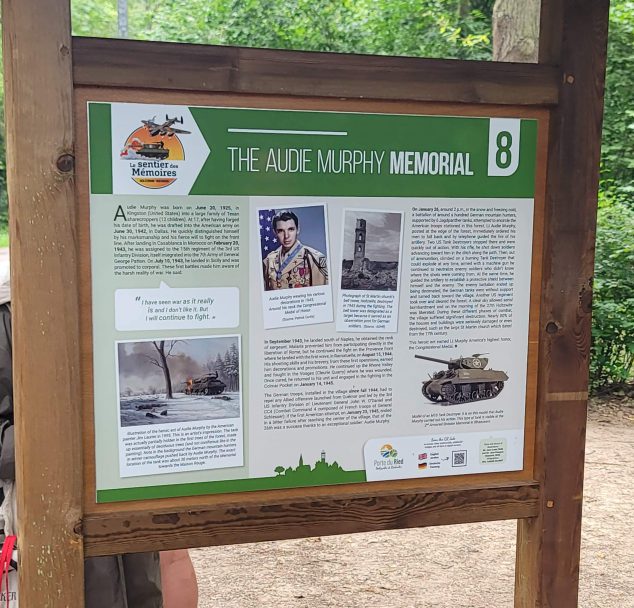 Outside of Colmar, at Holtzwihr, a short distance with this memorial a major battle where US soldier Audie Murphy protected the under fire troops by jumping on tank that was on fire and firing the machine gun that drove back the advancing Germans. View the full history of the event here.
Our bus parked right next to this tribute site. I wanted to capture that while it is a very moving tribute, it isn't glamorized at all. One has to know where it is. Nonetheless it remains a reminder of the courage and dedication portrayed by so many.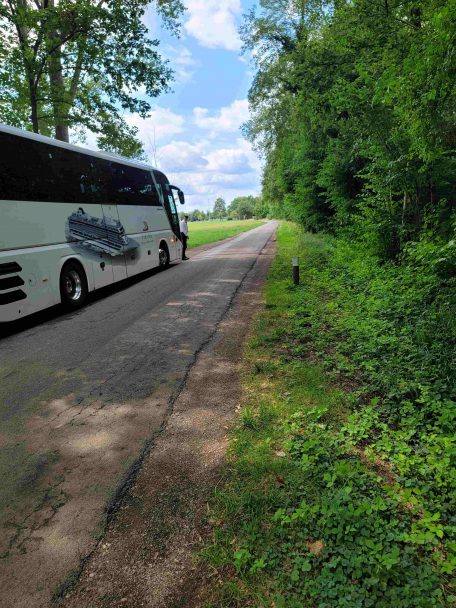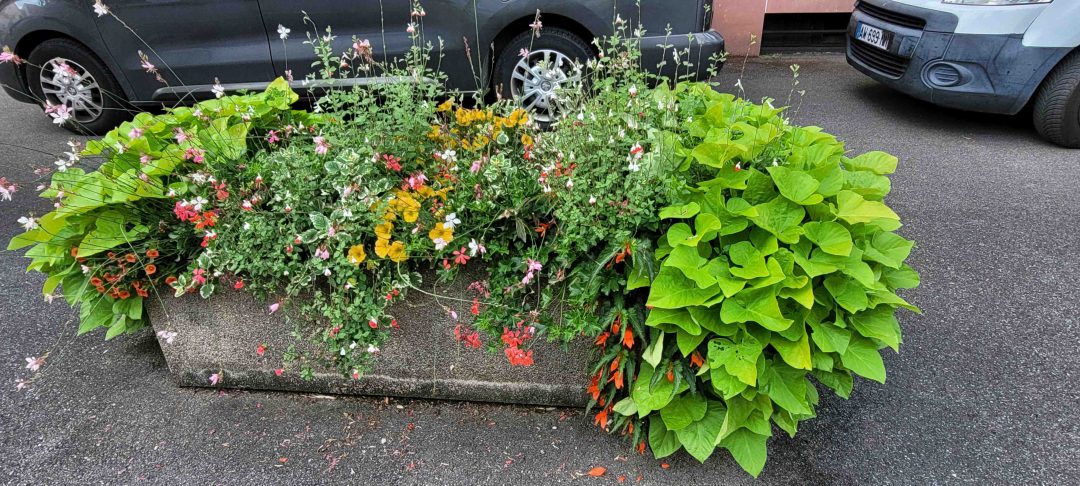 We were mesmerized by all the cobble stone like very narrow streets, the very old buildings, plants in the windows. Connie loved the plants in the planter.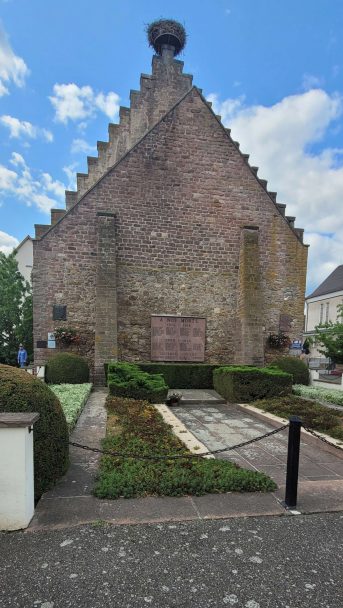 On our way back to the Hlin, we stopped at Ostheim, near Colmar (see map above). This is the wall of a church that was destroyed in the bombing. The French community decided to leave the wall that was left standing as a memorial to remember all that fought and perished. Note the huge stork nest on top. Anabell's nest, but she wasn't there when we stopped.
Check out this web page with a great history of the Colmar Pocket battle. The Colmar Pocket – "The Forgotten Campaign"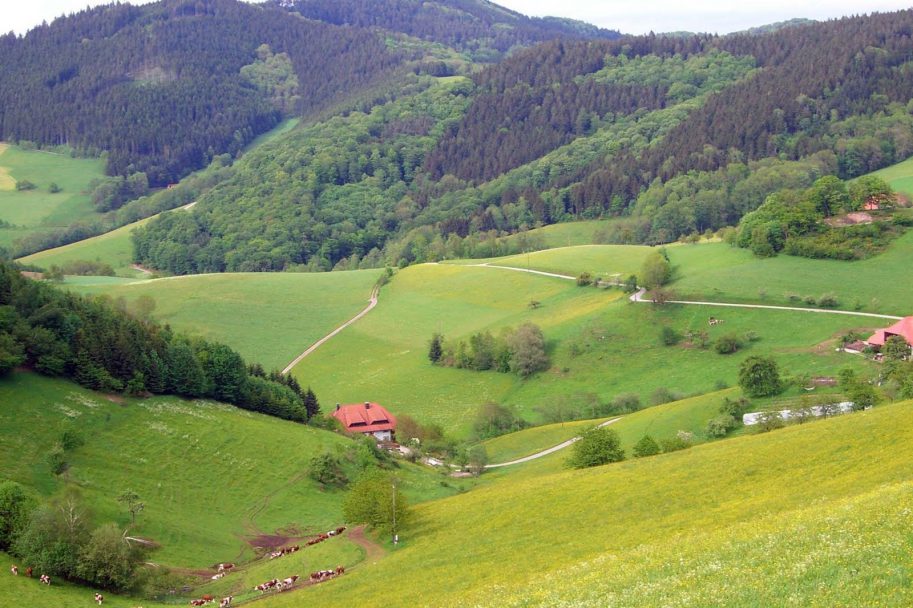 After arriving back to the Hlin, just in time for lunch. Certainly don't want to miss a meal, We boarded buses for a trek up and around the Black Forest, famous for Black Forest Cake…maybe. At any rate views all around were breathtaking. We heard that the cows have legs shorter on one side so the can traverse the hills to graze.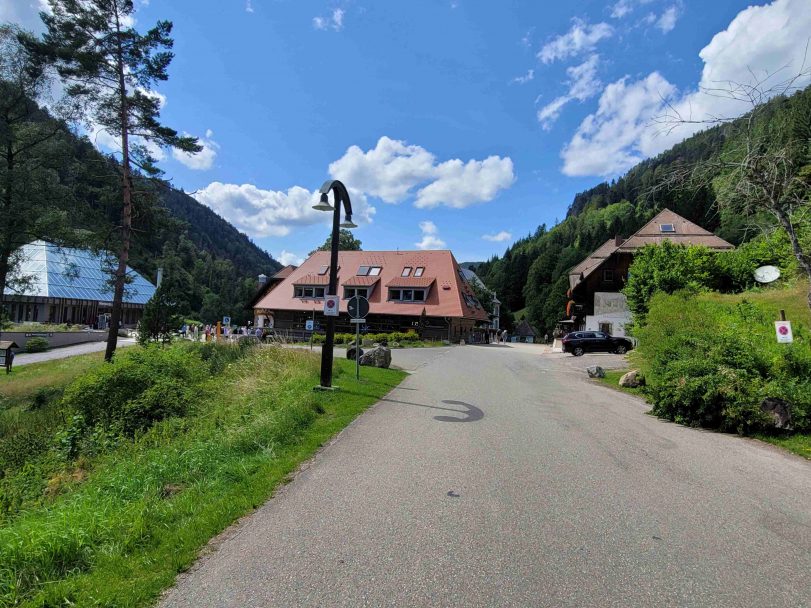 One of our stops was at a unique spot along the Black Forest highway (Marktscheune) on the return to the Hlin. In time for dinner of course. They sold cuckoo clocks as many folks come to this area to buy the clocks. Several on the tours purchased clocks. The sales included $89 shipping.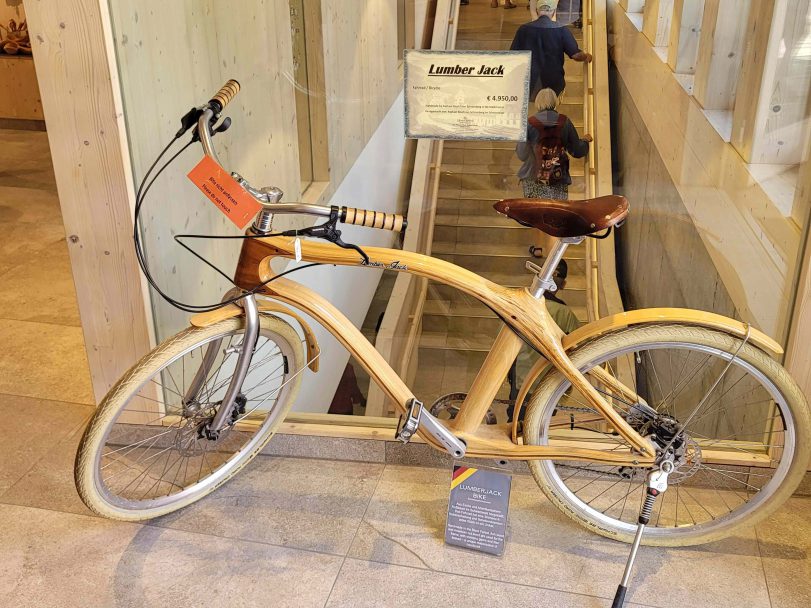 Marktscheune had many interesting things to look at other than cuckoo clocks. One of was the Black Forest WOOD bicycle. Only €4950,00 Euros (about $5400). But no shipping. Wouldn't fit in our carry-on.
Before loading back on the buses. Our group gathered for a fun Black Forest cake making demonstration. And it was fun.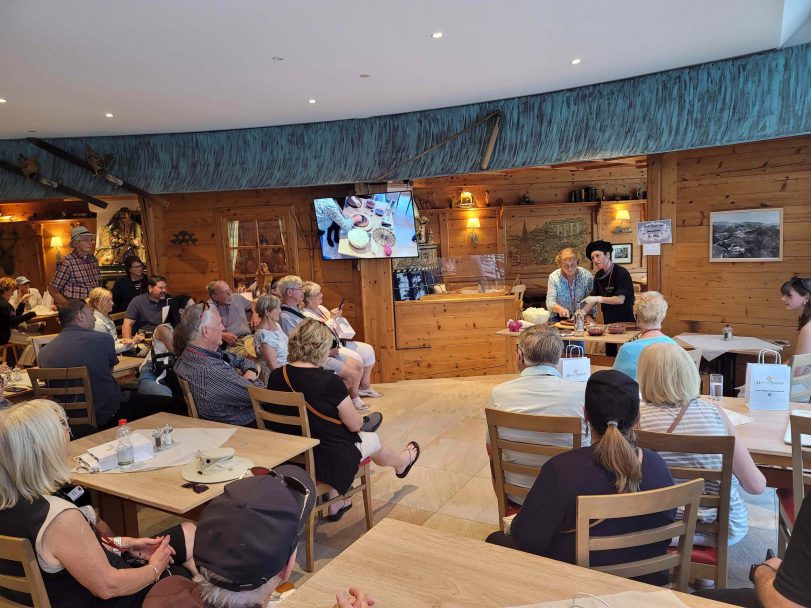 THE CRUISE DEVELOPED NEW FRIENDSHIPS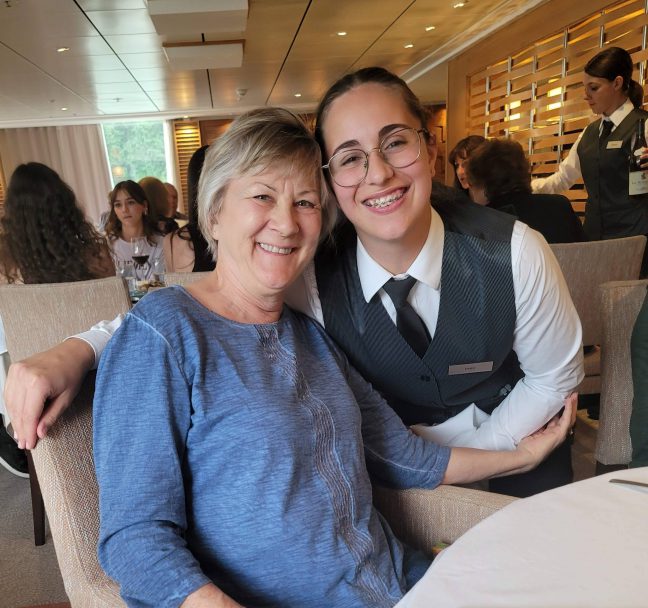 Everyone on the Hlin were wonderful and fun. We hit it off very well the stewards from Portugal. Ines (left) and Barbara (right). We always tried to sit in their area. We learned Barbara was only 18 and this was just her 2nd week. Delightful young women.
We also developed new friendships with many. Pictures on the left, clockwise from Connie is Mark and JoEllen from Dallas; Gary and Amy from Houston; Ken and Colleen from "South" Omaha.
On the right picture, our delightful friends from the UK. John and Pauline, and Pauline's sister Joan (black hair). They were indeed a lot of fun.
Now that we're back home, we enjoyed it so much we're planing on going again in 2024. Not sure which river yet, or maybe even an ocean cruise. We found Viking an outstanding cruise company and highly recommend looking into what they offer if you're considering a cruise. Be sure to tell them Ed and Connie Allen referred you. They told us they might thank us.
(Visited 26 times, 1 visits today)