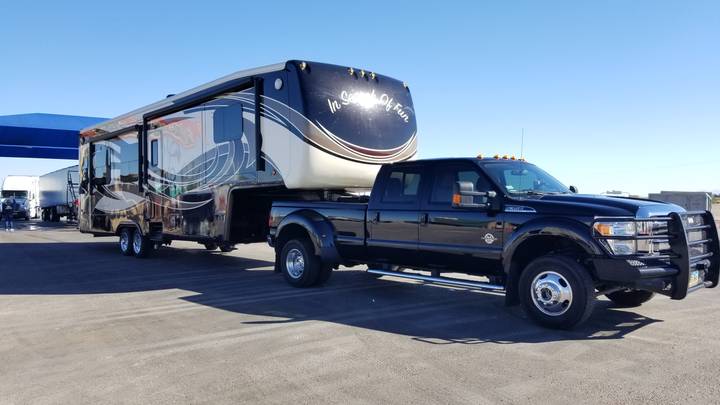 Know anyone interested in a 38′ deluxe 5th wheel? This one is for sale. Also the 2016 F350 Diesel Dually to pull it with. Check out all the details at conyk.com.
While it has been our "HOME" for the past 3 years, we've come to covet a home with a foundation.
After leaving Chatfield State Park in Colorado, we stopped at Cheyenne Mountain State Park in Colorado Springs for 2 nights so we could attend Faith's regional Volleyball tournament; then 4 days in Stephenville, TX to visit sister Alice and family. We had a great time with all of them.
Arrived back at Twin Palms RV Park on November 2 to serve our 3rd winter here as host/managers. A great spot for us where we are treated royally by the park owners. We've committed to them stay here through March, when our future is yet to be decided. If you know some folks that might be interested in hosting here next Winter, let us know and we'll talk.
Timing is wrong to  buy an existing home now, so our focus is on new builds that would be ready for our April time frame. We are looking around here at some new developments, but nothing for us in AZ as yet.
We fly to Grand Junction, CO December 3-6 to scout out some new builds there, hoping we will be able to fine tune our thinking a bit. So…we're down to Arizona or Colorado. Both are pulling at us, often both ways, or alternating. Our daily prayer includes asking for the good Lord's help to lead us one way or the other, closing doors that we won't fit through.
Sorry, but not a lot going on other than that. Oh yeah! We did have a marvelous Thanksgiving with sister Carol and family here. They always make us feel so welcome. Oh…we are also enjoying getting back to Christ Church in Gilbert.
(Visited 279 times, 1 visits today)