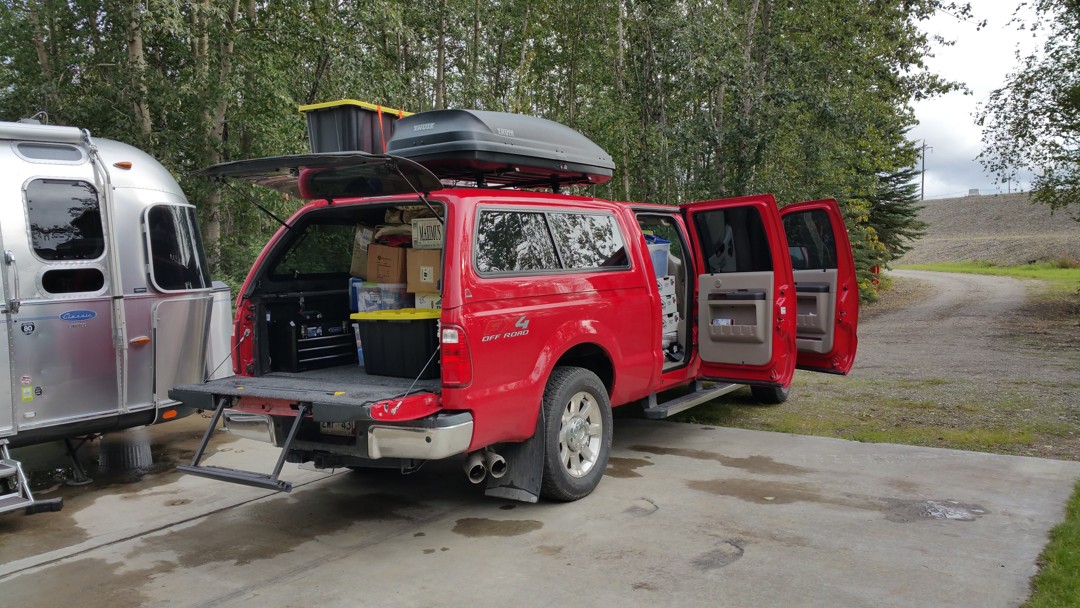 Saturday August 29, 2015 – North Pole to Tok, AK – 189 miles: After loading the rest of the truck (not fully loaded in the picture),  which filled it to the tailgate and topper window, as well with the rear seat area; pulled out of our site at the Chena Flood Control project just as the river was reaching the flood stage. This is where the Corps of Engineers real importance comes in to ensure folks below the dam and Fairbanks are not flooded. Our co-hosts and friends, Cliff and Cyndy Mills, stay behind and assist in the project as they can. They did an excellent posting on their blog that does a great job explaining the "Event." Click on their link to view.
Spent our last night in our Airstream parked at Northern Energy/Tesora Gas station parking area in Tok, Alaska. Leaving Saturday evening and driving the 189 miles to Tok saved making the entire trip (nearly 600 miles) trip to Whitehorse, Yukon on Sunday.  The drive to Tok was uneventful and the roads & weather were good.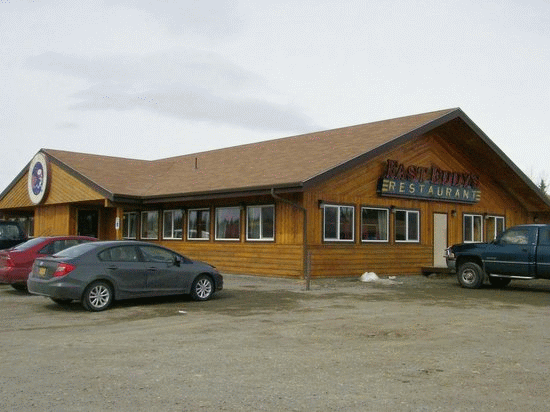 We had dinner Saturday night and breakfast Sunday morning at Fast Eddy's Restaurant in Tok. We were waiting at the door as they opened at 6am. Fast Eddy's is quite nice. Somewhat unexpected in such a small  remote town.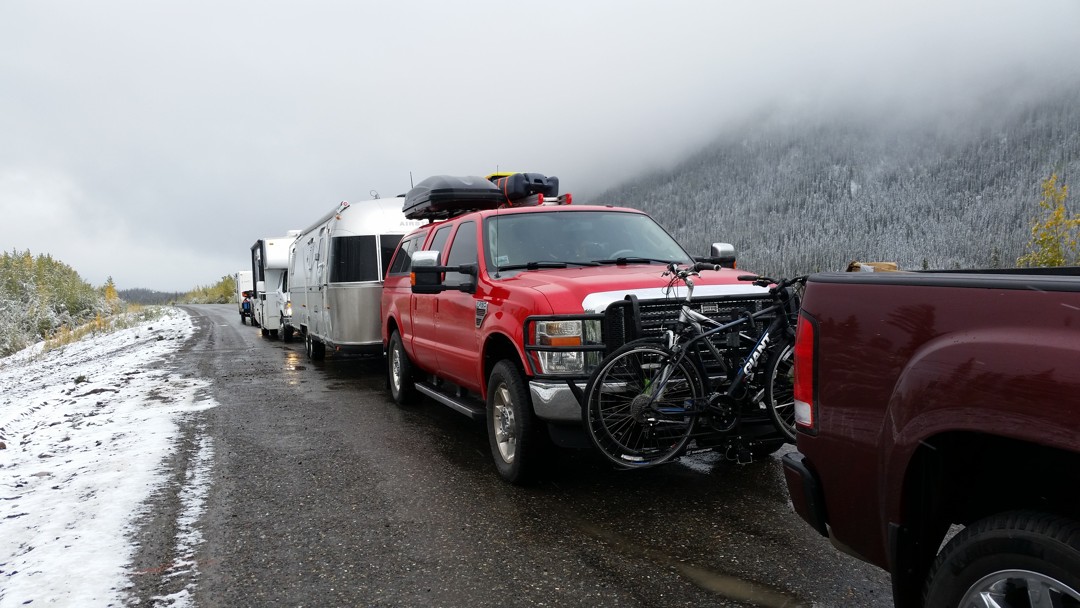 Sunday, August 30, 2015 – Tok, AK to Whitehorse, Yukon – 386 miles: Hit our first of many road construction projects. This first one led us through several miles of ucky gravel and mud, which left us with delivering a dirty trailer to turn over to it's new owner in Whitehorse.
Got in to Whitehorse Sunday evening and met with new owner Carrie Bragg. Carrie is the manager at MacPherson equipment Rental so we were able to pull the trailer in to their indoor wash bay for the evening. She was so excited she didn't seem to care much about how dirty the trailer was. Later we got fuel and found a place where we could wash some of the gunk off the truck. We had dinner at Boston Pizza, where Carrie delivers on Sunday nights.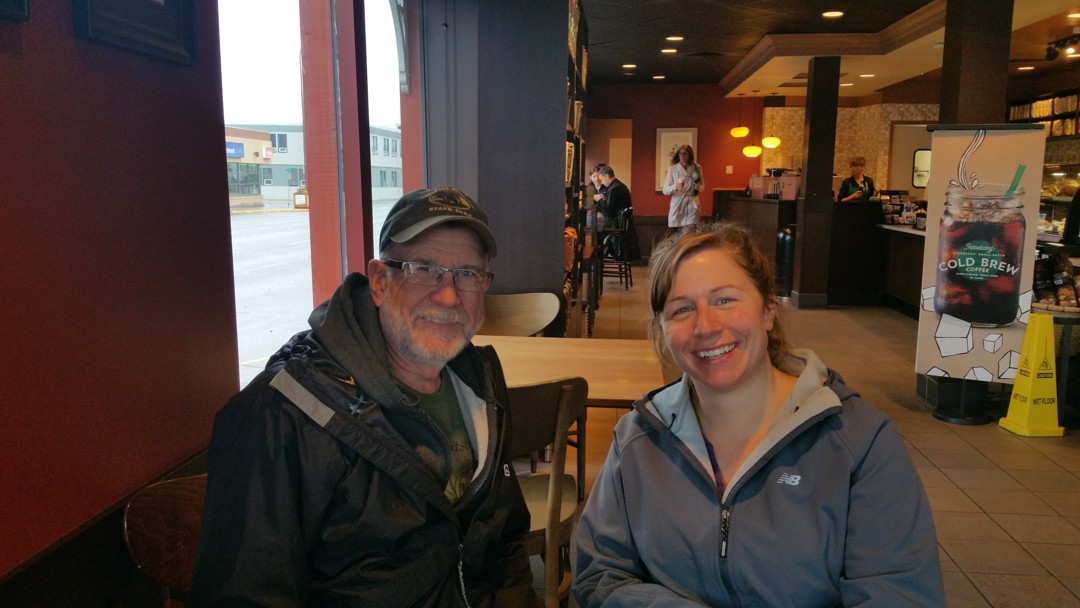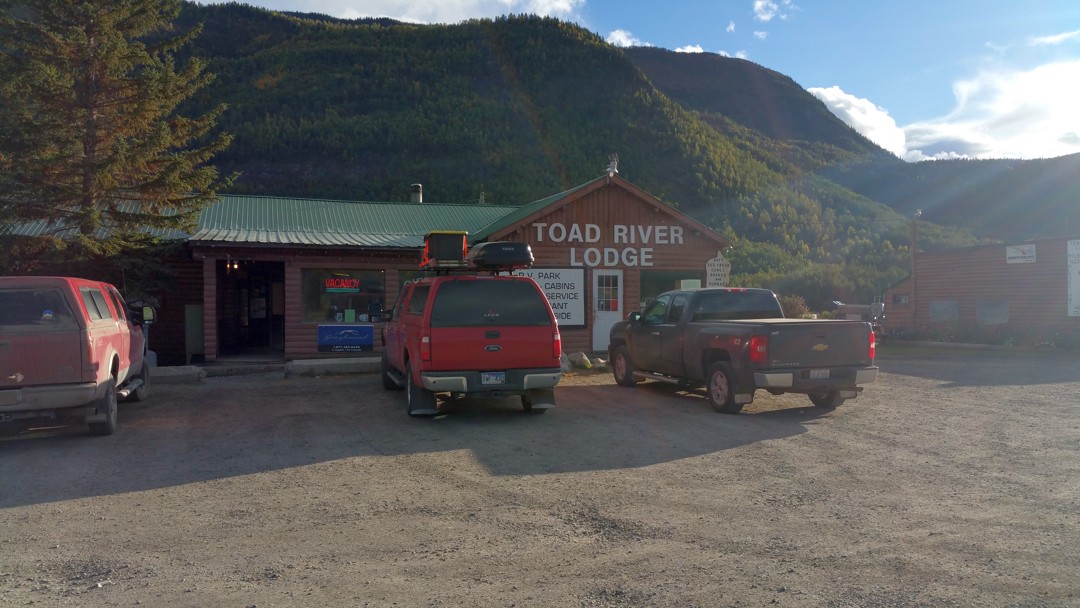 Monday August 31, 2015 – Whitehorse to Fort Nelson, BC – 951km (591 miles): We met Carrie at MacPhersons at 7am to go over the ins and outs of the Airstream. She already was having a friend (Bill) starting to wash the trailer. She'll be okay I think. Later, we met her at Starbucks in Whitehorse around 9am. Her bank is directly across the street. Carrie is a delightful young single lady; bold enough to take on the expense and care of her new Airstream adventure. We got our check for the trailer and was on the way again by 10am.
Stopped along the way for supper at the Toad River Lodge. Not many places to stop along the Alaskan highway. We were getting a little hungry by 6pm, and still had several hours to drive. Toad River really comes from when equipment and supplies had to be "towed" across the river during the Alaskan Highway construction. It just got shortened somehow to toad.  Notice the other red truck next to us (they hadn't washed theirs yet). Folks that spend their summer in Alaska, and were on the way back to Louisiana for the winter. We saw them again as we both happen to drive though Calgary about 1000 miles later. What surprise when the honked and waved while we were at a traffic light.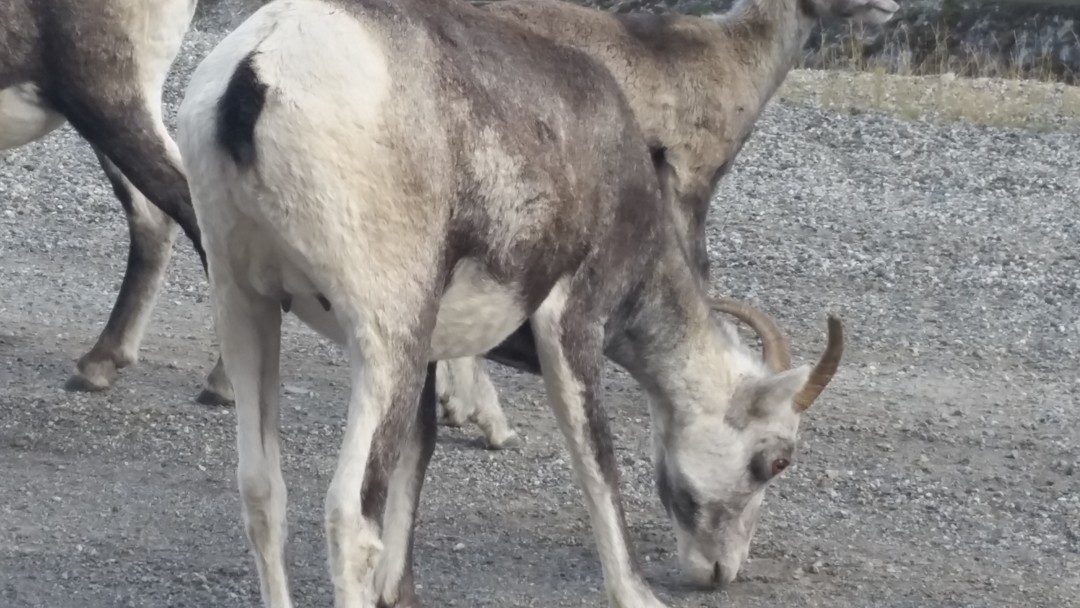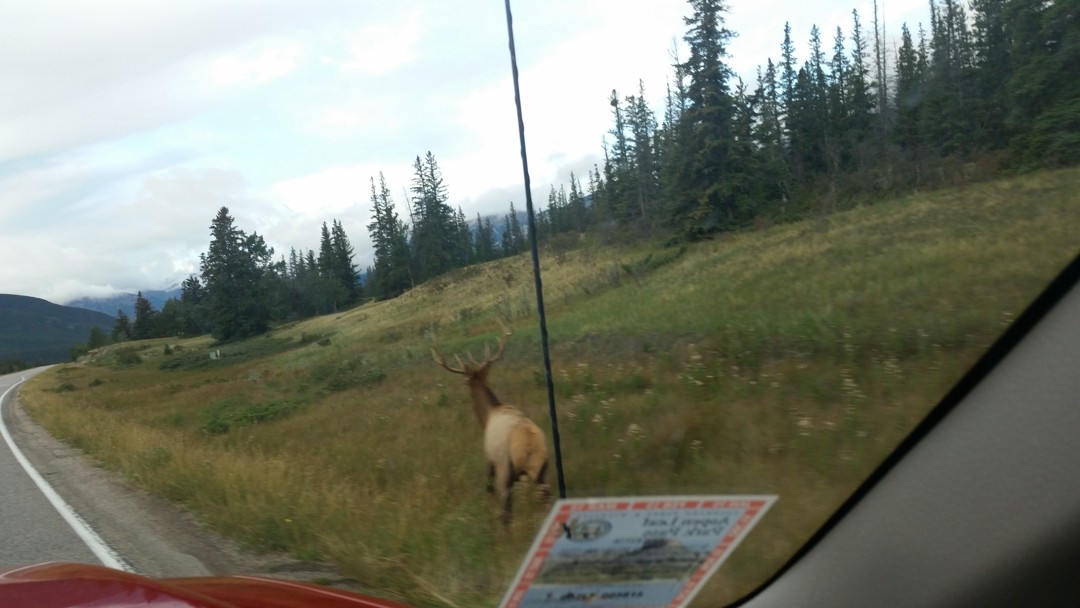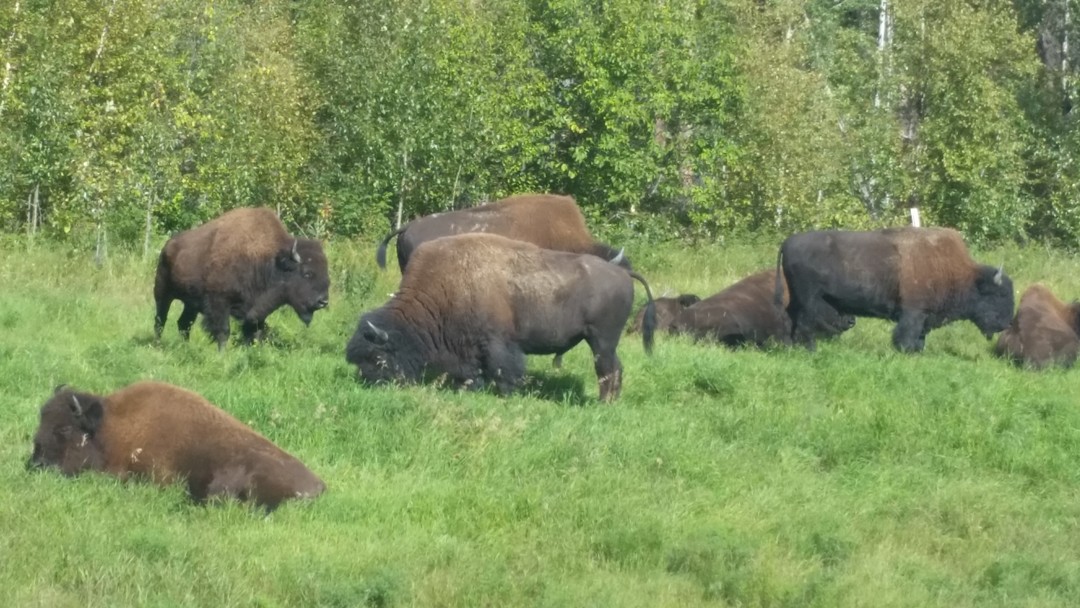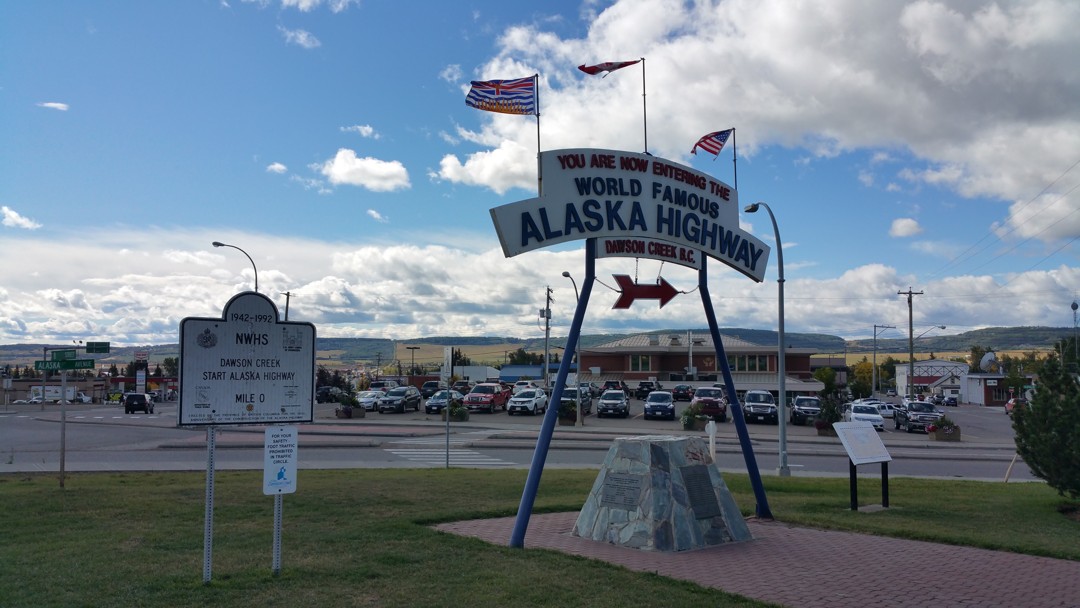 Tuesday September 1, 2015 – Fort Nelson, BC to Hinton, AB – 917km (570 miles): Lots more construction, but lots of animals to see as we traveled. Took a little time to visit the Visitor Center at Dawson Creek, the historical start of the Alaskan highway…mile "0".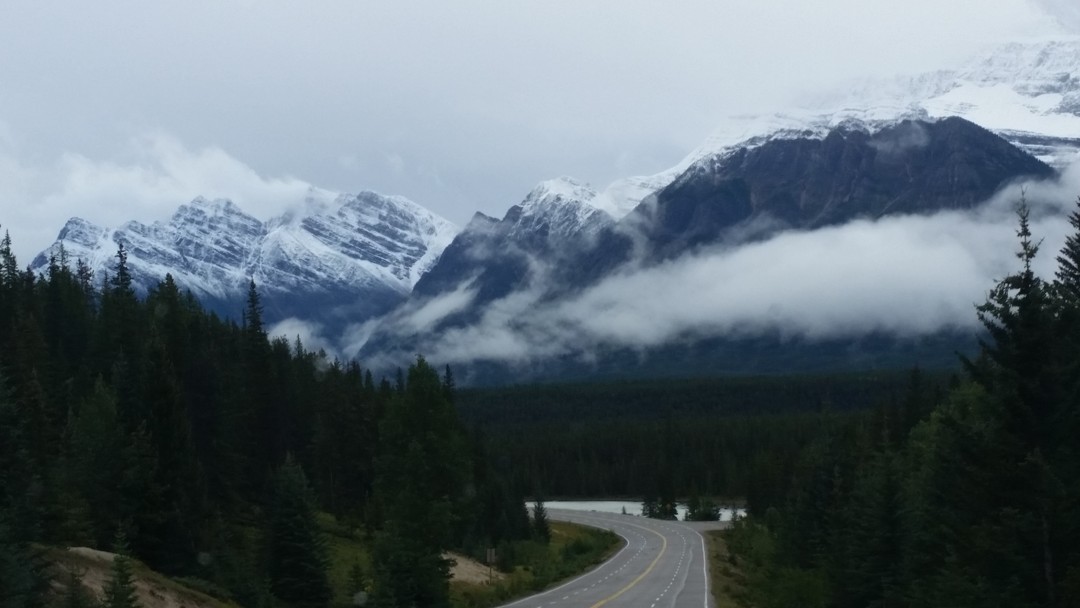 Wednesday September 2, 2015 – Hinton, AB to Shelby MT – 544 miles: We were exited to take the highway through Jasper National Park, but the weather was raining and cloudy. Even at that, we did see some spectacular views. Vowed to return again in the future.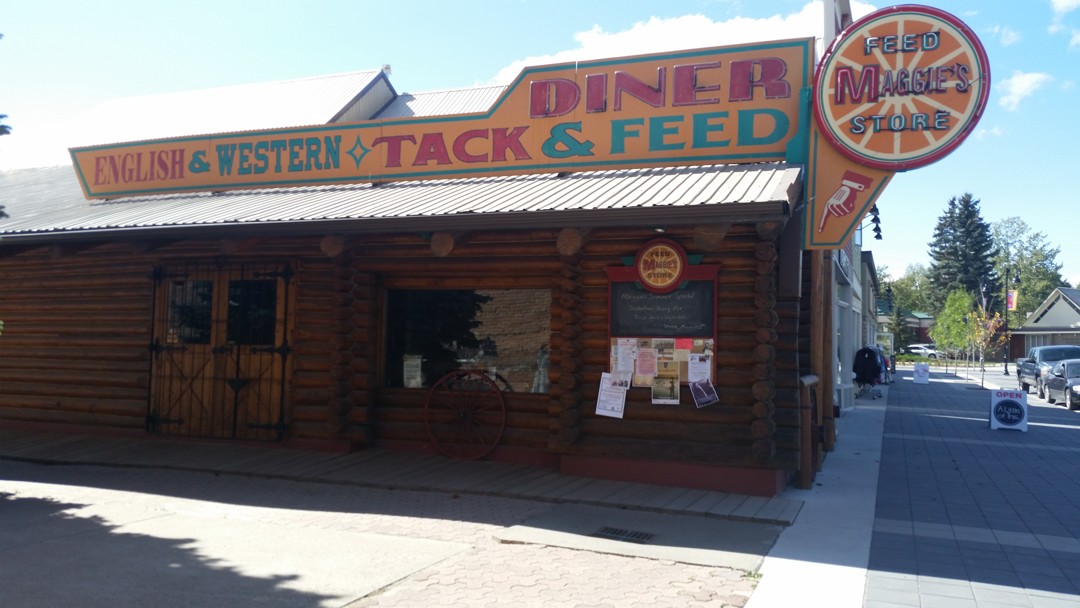 Also on Wednesday, we took a little time to visit around High River, AB; aka Hudson in our favorite Canadian TV series: Heartland. Visited the town museum where they had a small corner dedicated to the Heartland show…going into their 9th season in October. Got a picture of Maggie's Diner, Tack and Feed, a central meeting place for the Heartland characters when they visit "Hudson." Also couldn't resist having a dip of ice cream and an adjacent ice cream parlor.
Thursday September 3 – Shelby, MT to Gillette, WY – 527 miles: Happy to be back in the lower 48, especially the lower fuel prices. We had been paying right at a dollar per gallon more in Alaska and Canada! Considering the trip so far, the trip to Gillette was almost enjoyable with little construction and great weather. However, was surprised to see 97 degrees! We were getting used to the 60's.
Will post later about our time with family in Gillette and trip down to Colorado.
(Visited 481 times, 1 visits today)