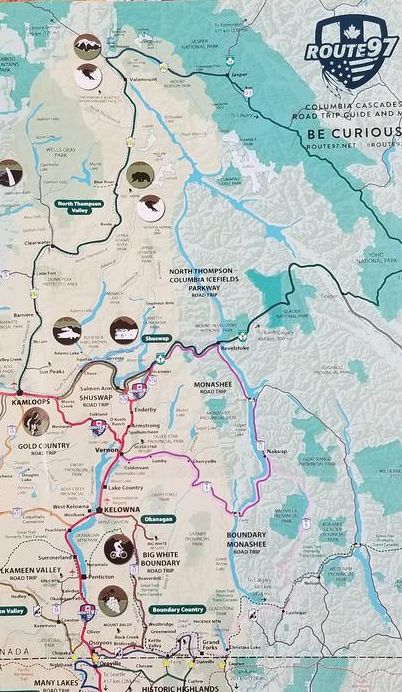 Here is a picture from a Visitor Center Brochure that shows our route from Washington to Salmon Arm on CA97; then CA1 to Kamloops,  and CA5 to Valemount. Over the next few days we'll take CA16 east to Jasper and down to Banff.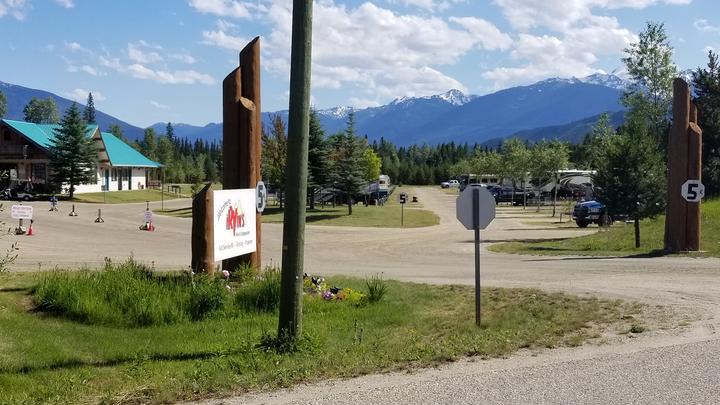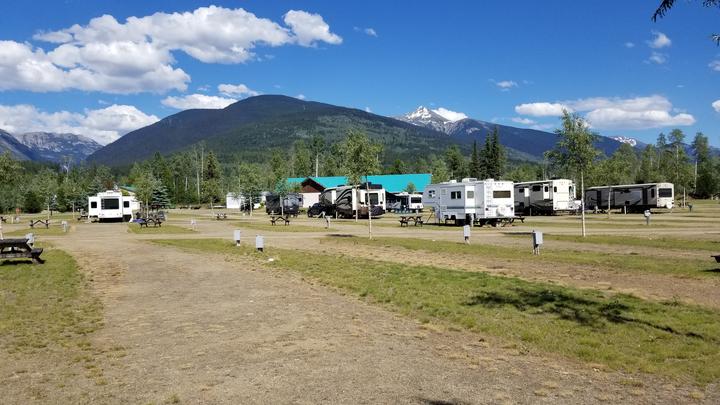 British Columbia is so incredibly beautiful. Wonderful drive up from Salmon Arm to Valemount. Pulled in to Irvins RV park around 3:30pm Wednesday and enjoyed having full hooks ups. A chance to drain tanks, refresh our fresh water tank, do laundry, and run the AC a bit. Haven't really needed AC, but just ran one for an hour or so.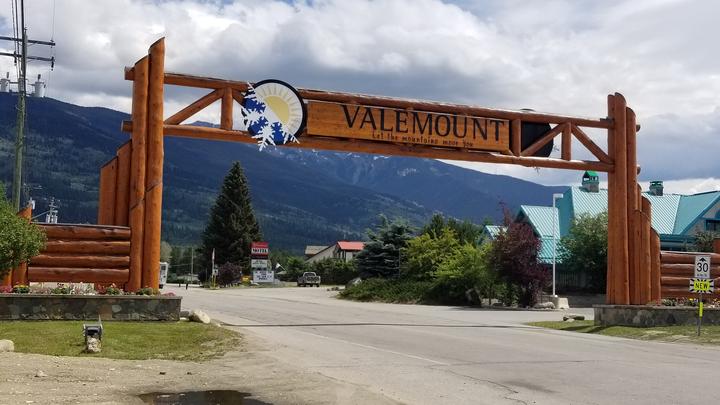 After showers and getting ready, we drove down the road to explore Valemount. First, we headed for fuel (diesel). Wow! $1.379 per LITER. Almost 200 liters for $270C. But US $ is a bit stronger, so after all the calculations, the Visa charge was $211US. A little better, but still a little over $4.19/gal compared to cost per gallon in the US.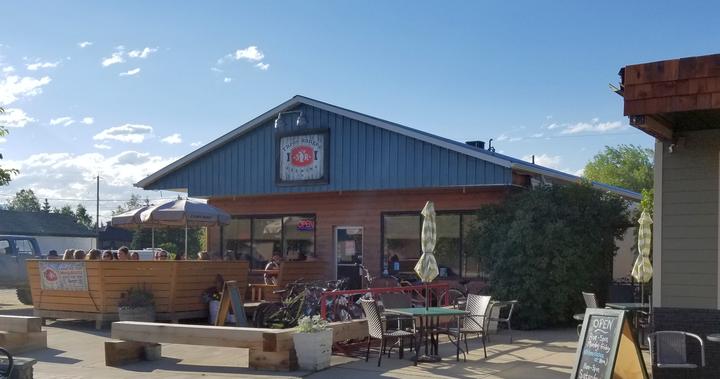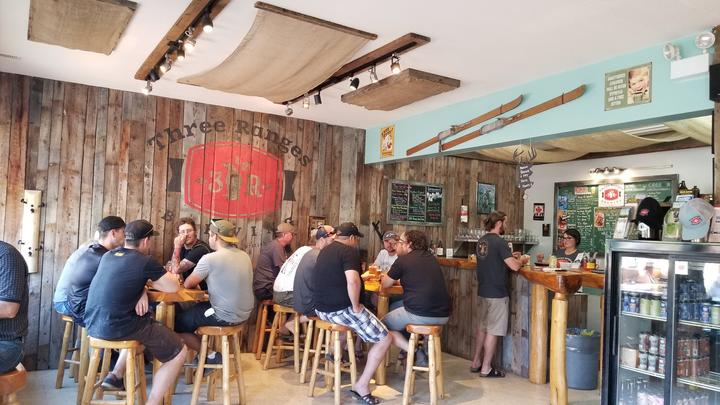 We saw billboards on the way in to town for "Fresh Craft Beer" so had to check out Three Ranges brewery. We tried the "Tail Slap IPA". Pretty good, but not quite up to Arizona Wilderness, or BRI (Beer Research Institute in Gilbert).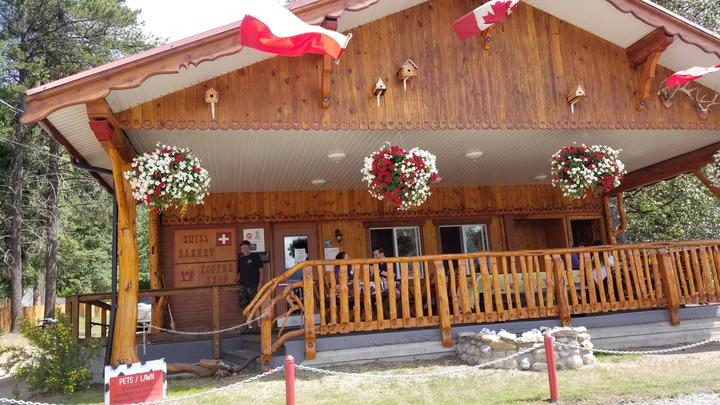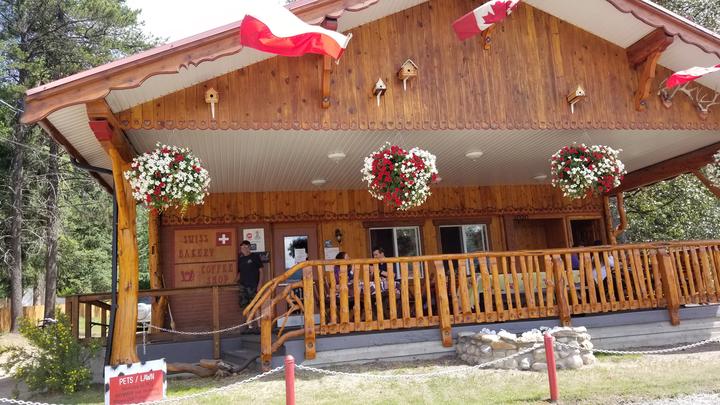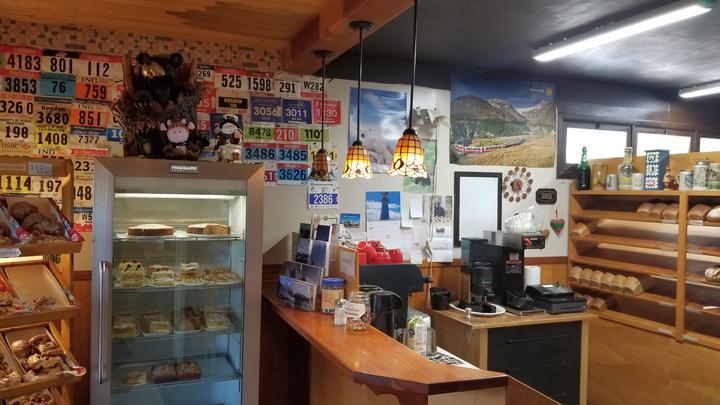 Before leaving for more exploring Thursday, we decided to try this Swiss Bakery we heard about tucked away in Valemount. Quite quaint. A cup of pretty good coffee and sharing a cinnamon pastry was just what we needed to get our morning started.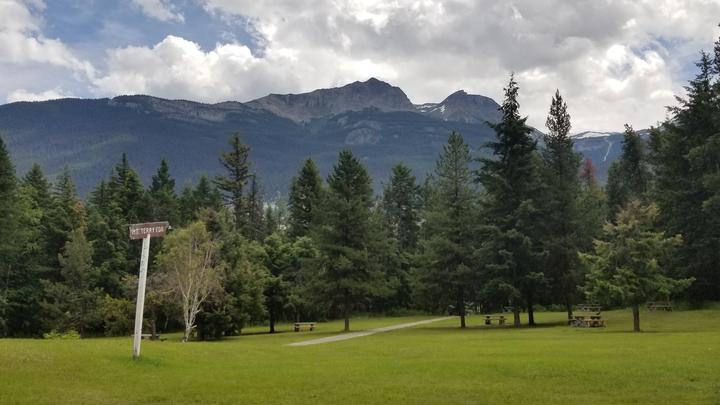 After asking for information at the Valemount Visitor Center, we decided to drive the 30 minutes to Mt Robson Provincial Park toward Jasper. We stopped to view Mt Terry Fox (the 8694′ snow capped peak on the right side of the picture). Interesting story on Terry Fox. He was a Canadian athlete, humanitarian, and cancer research activist. In 1980, with one leg having been amputated, he embarked on an east to west cross-Canada run to raise money and awareness for cancer research. Although the spread of his cancer eventually forced him to end his quest after 143 days and 5,373 kilometers (3,339 mi), and ultimately cost him his life, his efforts resulted in a lasting, worldwide legacy. The annual Terry Fox Run, first held in 1981, has grown to involve millions of participants in over 60 countries and is now the world's largest one-day fundraiser for cancer research; over C$750 million has been raised in his name, as of January 2018.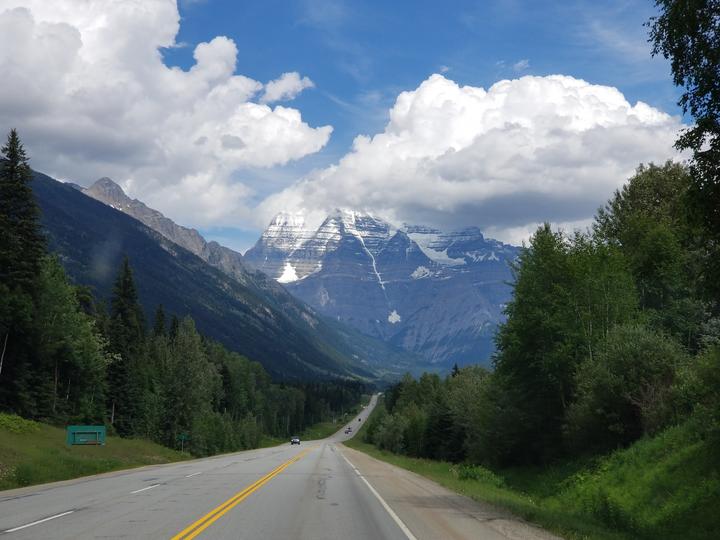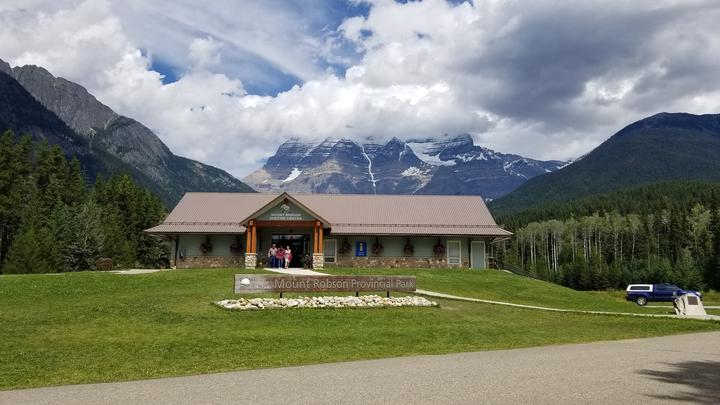 Geez. Mt Robson (12,972′) looks a lot like Denali and Rainier…clouded over. But it is still quite spectacular. We got a couple shots on our way to the Mt. Robson Provincial Park Visitor Center. The center is very nice. Somewhat crowded. Most of the visitors we heard inside were speaking another language.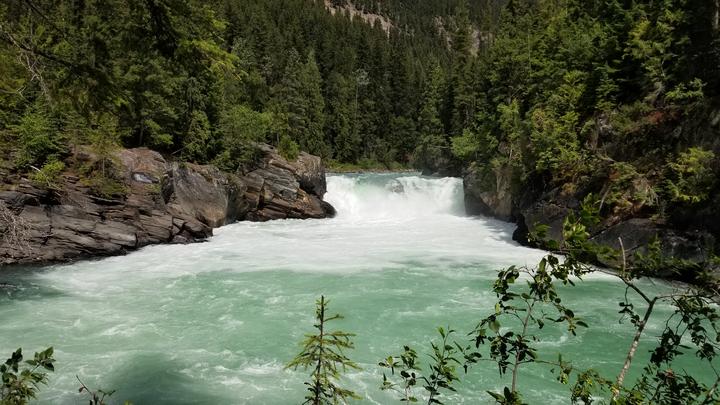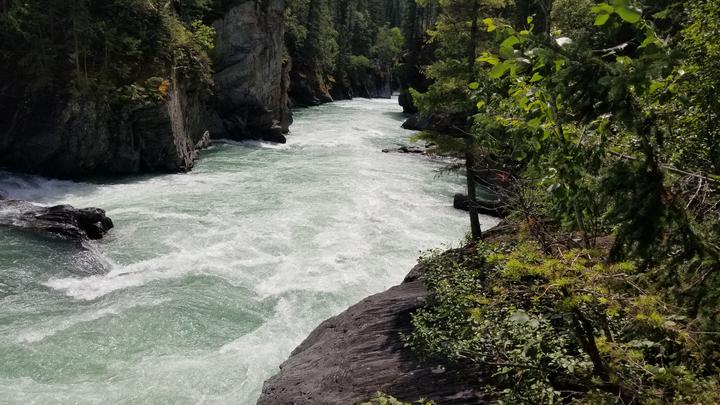 Overlander Falls on the Fraser River is just up the CA16 from the visitor center and called us to try a short trek to check it out.  The falls are named for the Overlanders expedition of 1862. A group of some 175 men and 1 woman from Ontario that traveled across the prairies and through the Rocky Mountains, intending to reach the Barkerville or Cariboo goldfields.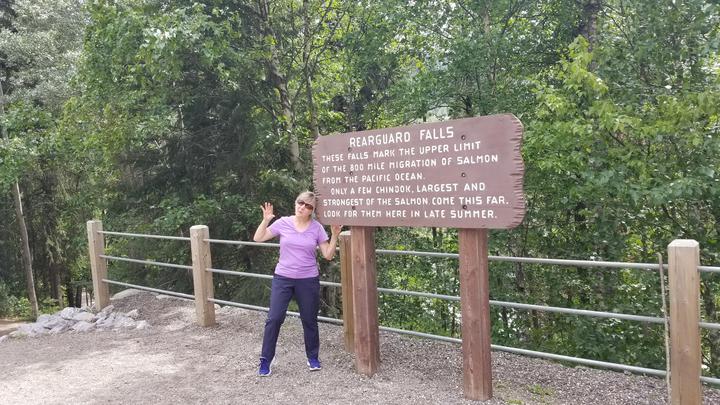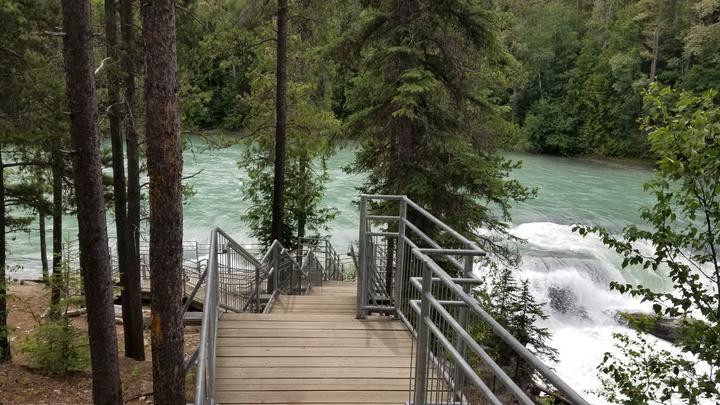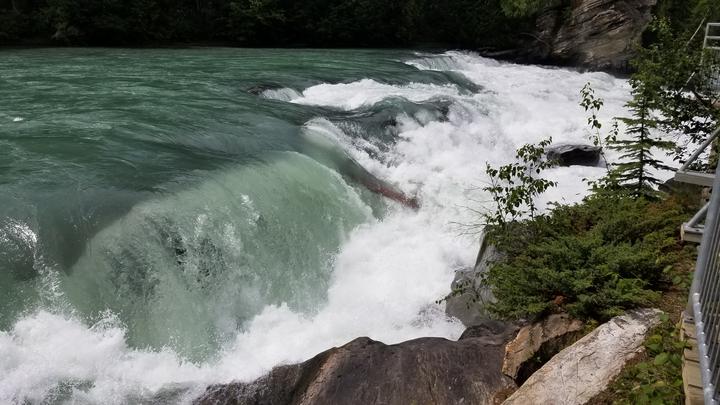 Having a little energy left from the Overlanders Falls hike (really a simple hike), we made one last stop for the day for another short hike at Rearguard Falls. The sign reads that this is the farthest point that salmon migrate up the Fraser River to spawn, about 1,260 km (783 mi) from the ocean.  The Fraser flows into the Pacific at Vancouver BC. It is an awesome river, we think comparable to the mighty Columbia in the US. We were very impressed with the board walk and railing the park installed. Made it a lot easier to get down to where we could almost touch the water going over the falls. We could feel the spray.
Next, on to Whistler and Jasper National Park.
(Visited 175 times, 1 visits today)