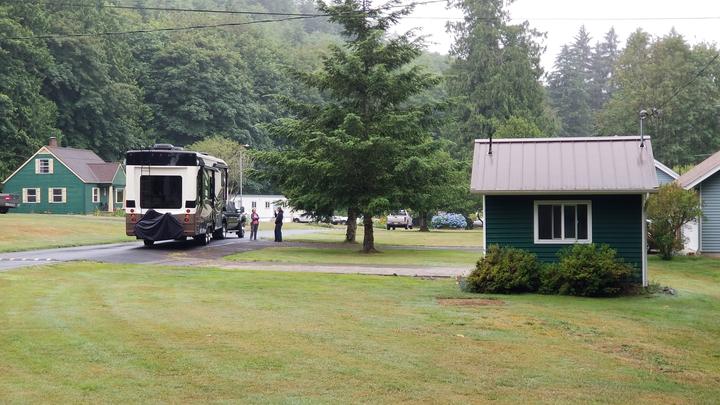 Pulled away from our Big Creek Hatchery site about 7am July 1. Got a chance to say so-long to Jessica and Travis. Bitter sweet as leaving was like leaving family.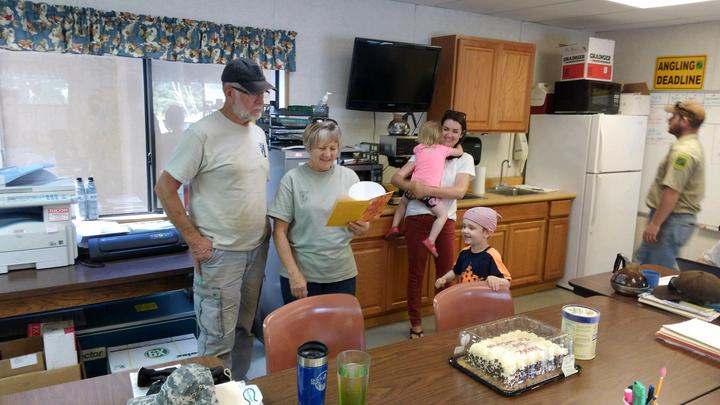 Wednesday before we left, most of the techs and their families surprised us at the 10am break with a good-bye cake, some Tillamook ice cream, and a very nice don't leave card.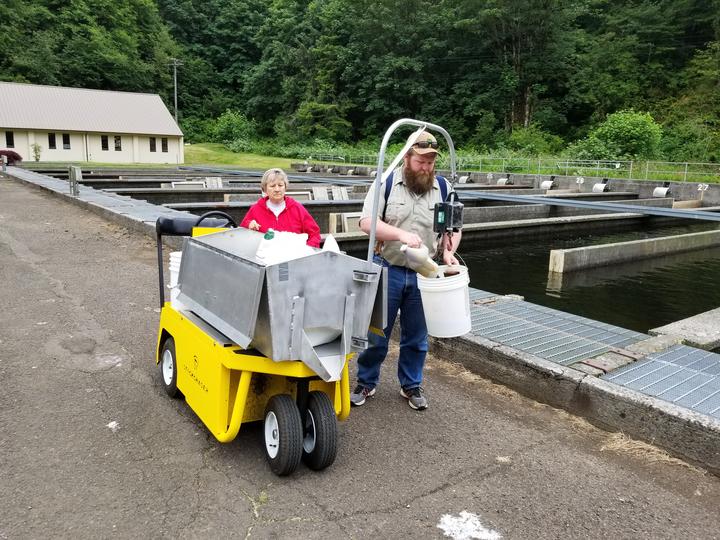 Ross instructed Connie on proper fish feeding the week before we left. Click on the picture or attached video to view the 4 second video.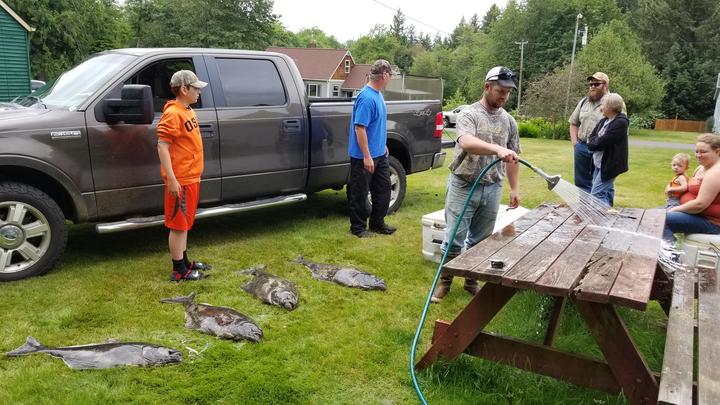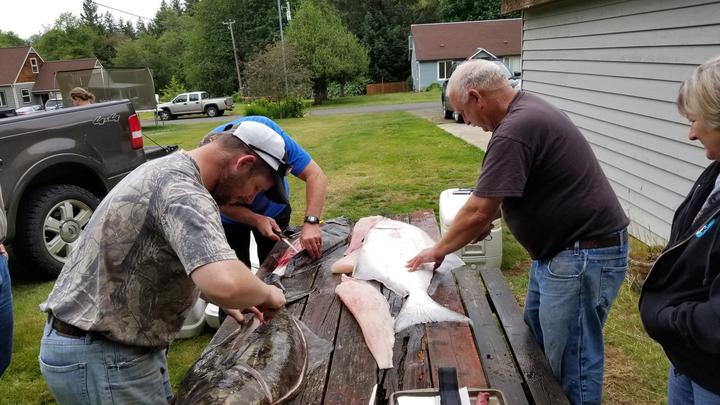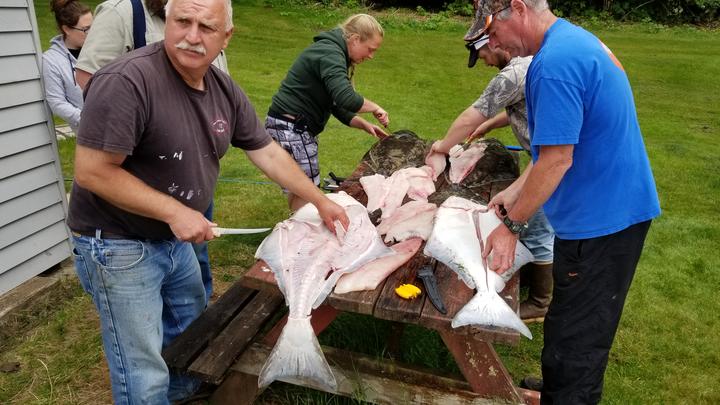 Retired tech Mike (was here when we volunteered in 2016) took 3 techs and Rob's son Jaxson halibut fishing while we were there. They returned with their fish ready to fillet for the pan, or freezer, all in the same day. Jessica was kind enough to give us a couple generous fillets from her catch. We also enjoy some Spring Salmon (Chinook or King) that has been given to us. Yum yum,
Kayla and Ross hosted a crawdad boil the Sunday before we left. They trapped the crawdads in a slough a short distance from the hatchery. It was quite an event getting the live crawdads ready to drop in the pot. Click on the picture or view attached to see Kayla and Connie prepping them.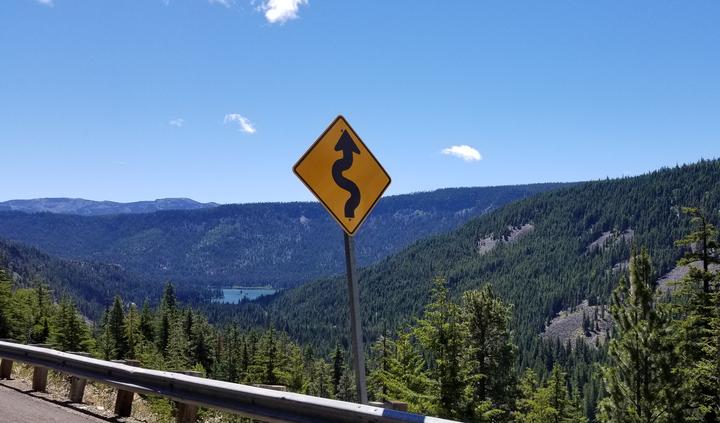 After leaving Big Creek on Sunday July 1, we drove US30 to Longview, then up I5 to US12 over White Pass Scenic Byway, and through the edge of Mt Rainier National Park to Yakima and Bonair Winery.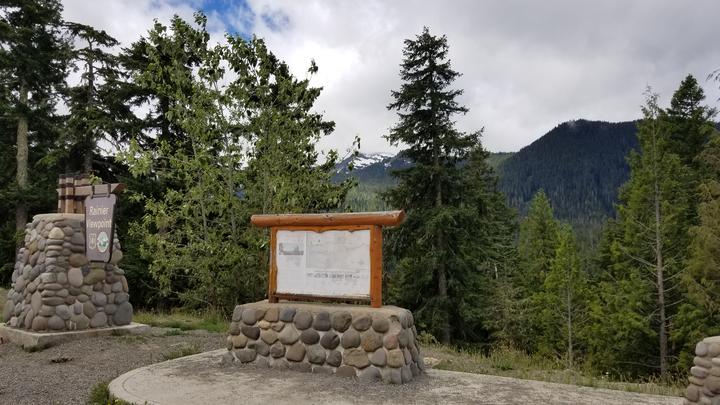 Stopped near the summit at a Mt Rainier View Point. And reminiscent of trying to catch a glimpse of Denali while we were in Alaska, it was clouded over too.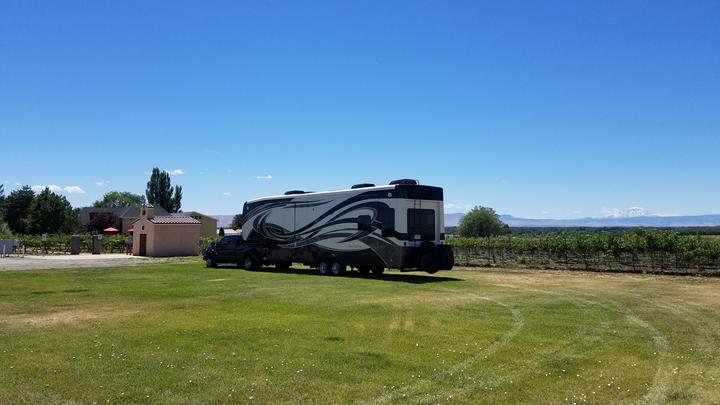 Got set up next to Bonair's vineyards around 2pm. Fantastic! As members of Harvest Hosts, we are good to park here and no cost. The wine was NOT free however!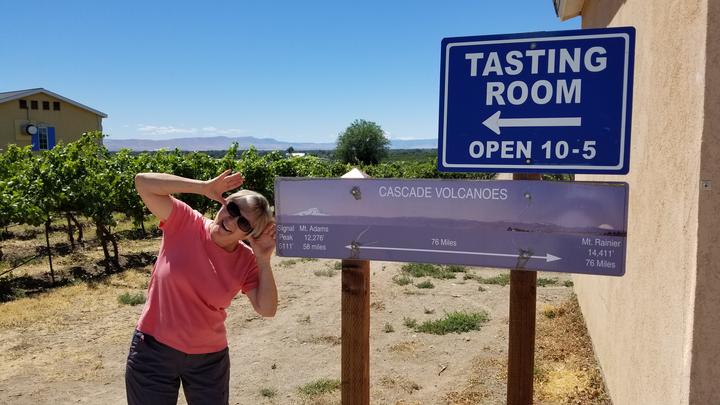 Mt Rainier can be seen from here on a clear day, but not clear enough today. We did get a great view of snow covered Mt Adams which is a little closer. Rainier is over 14k' and Adams a little over 12k'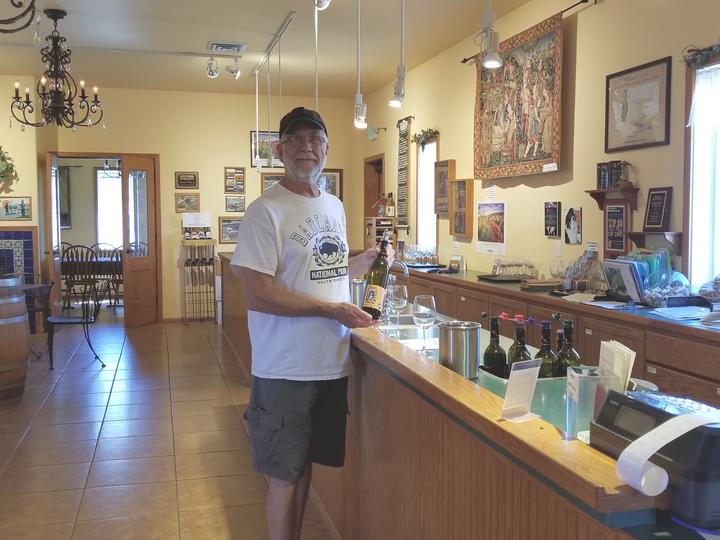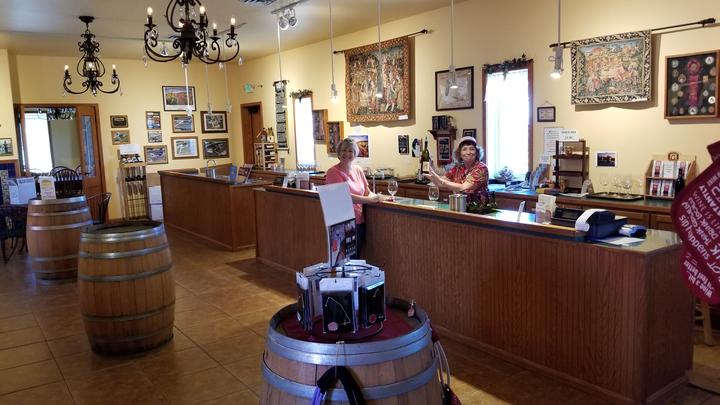 Vineyard/winery owner Shirley was very gracious and served us a variety of their selections. Wonderful wine… and hospitality. Shirley and Gail planted their first vineyard back in 1980 and have been going strong ever since, starting the winery in 1988. They boast that this Rattlesnake Hills vineyard area is on the same latitude as Burgundy, France….noting that the California vineyards are on the same latitude as Baghdad, Iraq!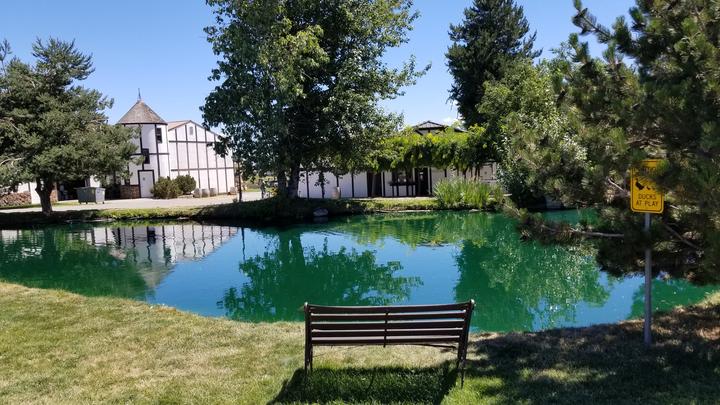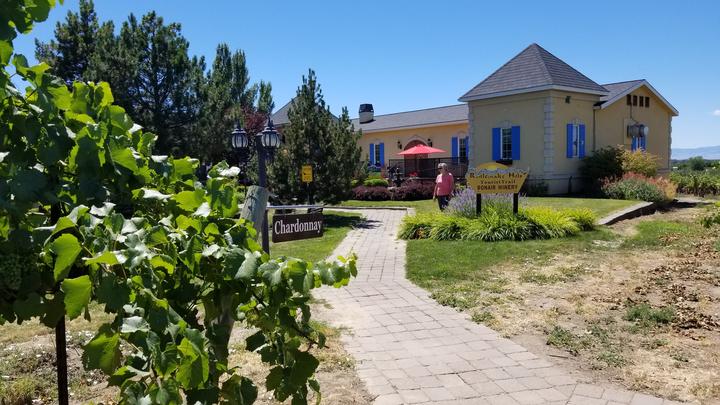 We  enjoyed walking around the grounds on such a perfect day in the low 70s. Later we walked down the peaceful country road along side huge cherry orchards. All agriculture in the area is irrigated with water from the Yakima river. Needed water as Shirley said their annual rainfall is only 6 inches.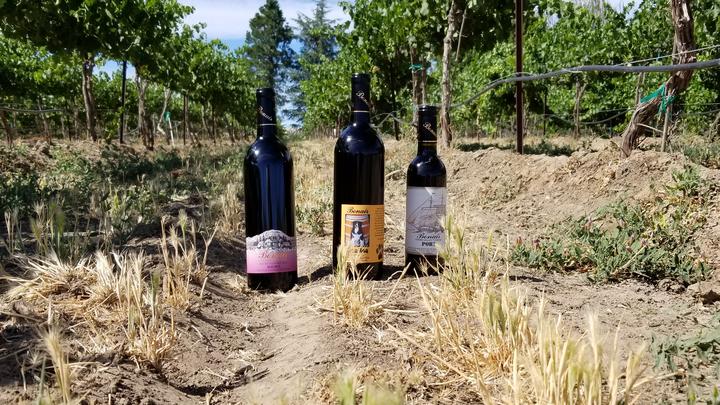 Couldn't resist buying Bonair's  2013 Rattlesnake Hills Malbec (pink label), Touriga Port, and a Bung Dog Red for on the road.
Monday, we continue north a short distance to a Boondocker's Welcome location in East Wenatchee. Another no-cost night, then one more winery before crossing into British Columbia Canada.
(Visited 80 times, 1 visits today)