First of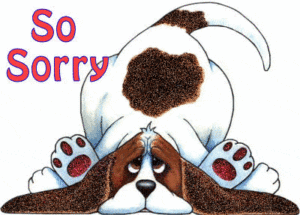 all…So sorry for sending out the last post 3 times. There was a glitch in the Email Plugin and  it continued send to the post automatically…and from Admin at StreamingAround instead of Ed. I think we got it figured out now, so stay tuned.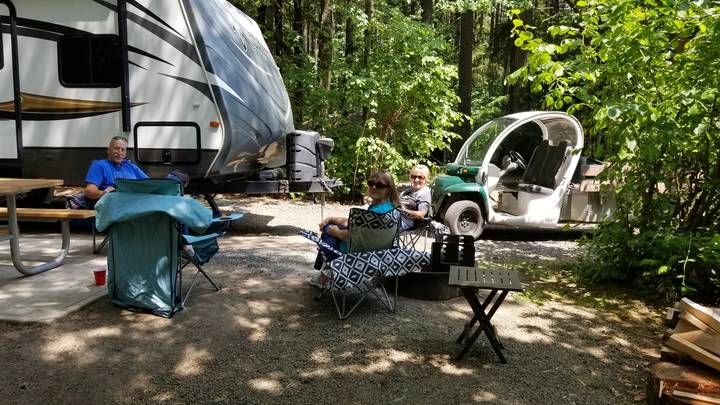 Turns out our RV friends from Mesa are serving as park hosts just 60 miles from us in Washington at Seaquest State Park near Castle Rock, which just happens to be directly across Washington hwy 504 from Mount St. Helen's Visitor Center. We had a delightful visit with Don and Doreen and enjoyed seeing their park. They are there June and July, then will move over to Yakima Sportsman State Park for August. They enjoy the cooler summer climate in Washington, but will be happy to get back to their new home in Queen Creek, Arizona after their volunteer stint.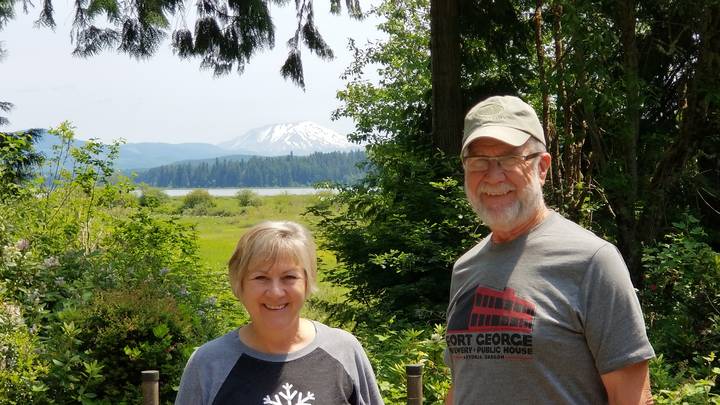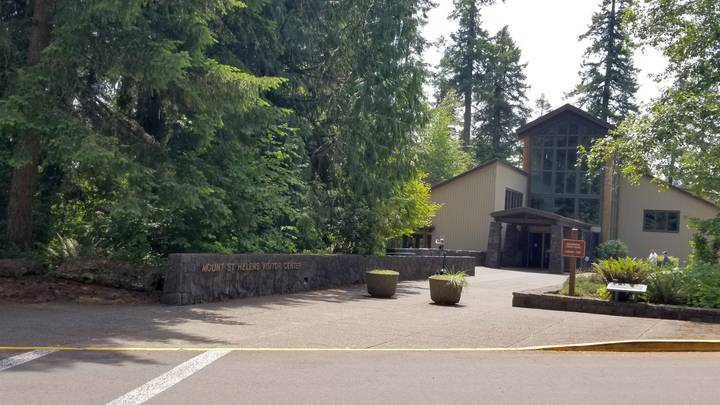 We enjoyed stopping at the visitor center across from the state park to check out the view and a little history. We learned that the US Forest Service's Johnson Ridge Observatory, about an hour up WA504 (end of the road) where you can see the west side of the 1981 blowout. Don told us that it is a beautiful drive and some fantastic views. Next time maybe.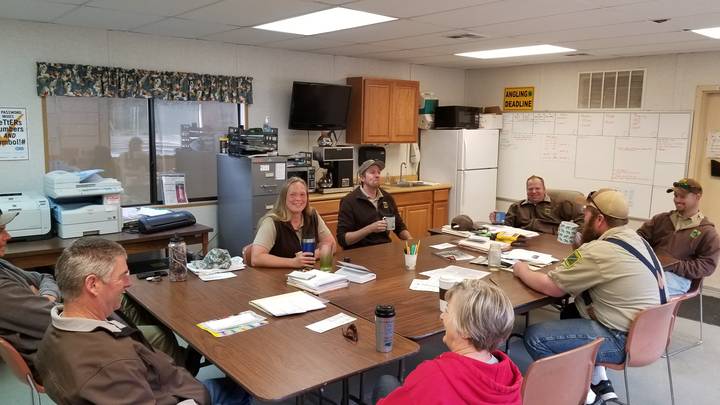 We put in our 20 hours a week by working 4 hours per day M-F. The day starts out in the office with 4-6 hatchery techs and Rob, the hatchery supervisor. Clockwise from Connie is Rob, Tanner (a roaming tech that serves 3 area hatcheries), Jessica, our neighbor and new friend, Nick, Dustin, Travis (our volunteer coordinator) and Ross (the hatchery senior tech). All our great folks, as well as their families we have grown to know. Rob, Dustin, Travis, and Ross were here when we volunteered back in 2016.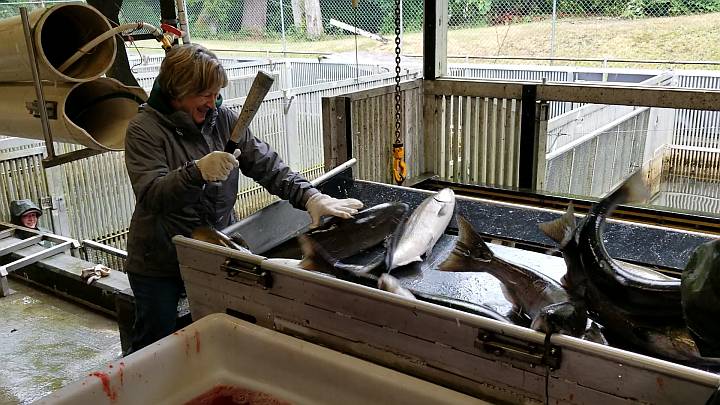 As noted in our May post about "Lost Salmon", Spring Chinook  Salmon stray up Big Creek and wind up coming up the fish ladder and into the pens normally used to process spawning Fall Salmon later in the year. Consequently, Spring Salmon fishing is pretty good in May and into July, but the salmon that get past the anglers, wind up in the pens. We transported them back to the mouth of Big Creek last time, but they were not quite so fortunate this go round. They were killed with a club and bled (one of their gills pulled out). Sounds cruel, but they are destined to die anyway. Like all salmon during spawning time. Connie got in on the clubbing. This video is where the fish are first brought up from the pen and are very active. Click HERE to see the 34 second youtube video.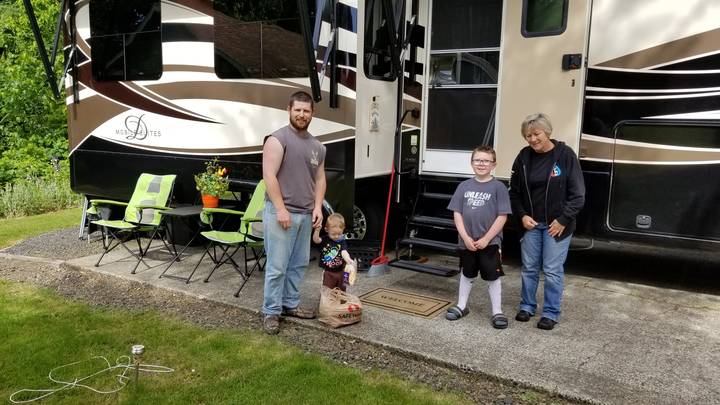 Travis, our host coordinator/tech,  takes advantage of the excellent fishing in Big Creek, as well as other locations around the area. Often rises early before work and goes down to the creek. Note that "work" and "the creek" are closer than some folks walk to get their mail. At any rate, Travis always makes sure we have plenty of salmon. He came by here to drop off a few fillets, along with his son Everett. The boy next to Connie is Benjamin, another neighbor. We're very fond of Benjamin.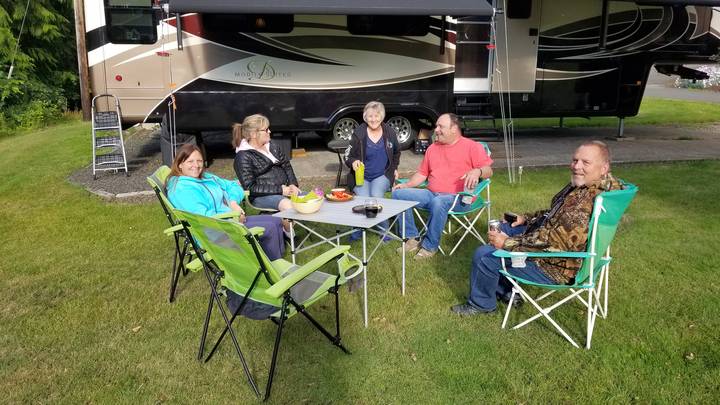 Cousin Lia and Jerry from Klamath Falls brought their motorhome to Astoria for a few days and Cousin Mike and Colleen, came down from Seatac and stayed with them. They all came up for Connie's Instant Pot meatloaf dinner on Friday. Mike was a little boy when Ed last saw him, so it was great re-uniting and meeting Colleen.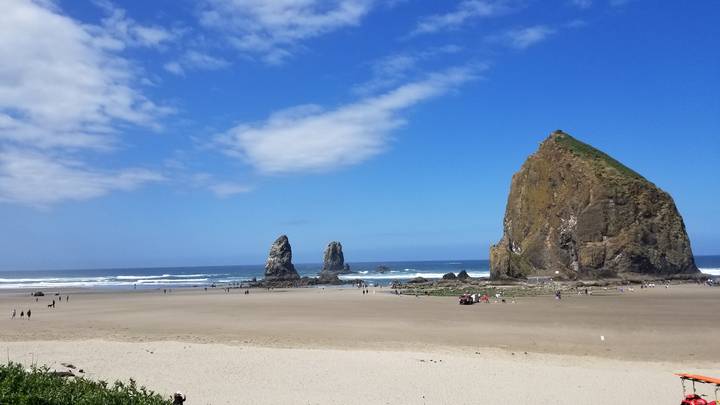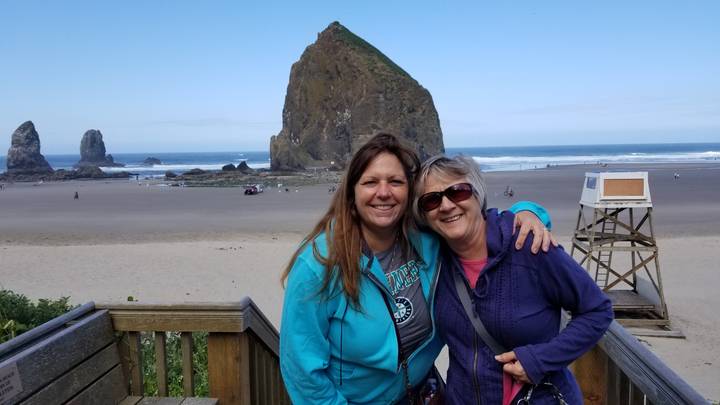 Lia and Connie have really hit it off, as displayed on our trip to Haystack Rock in Cannon Beach. We all drove the short distance from Astoria to enjoy a rather cool (56°), with a little wind, beach combing experience. The tide was very low, enabling walking out to the rock and exploring tidal life (like starfish) that are normally under water.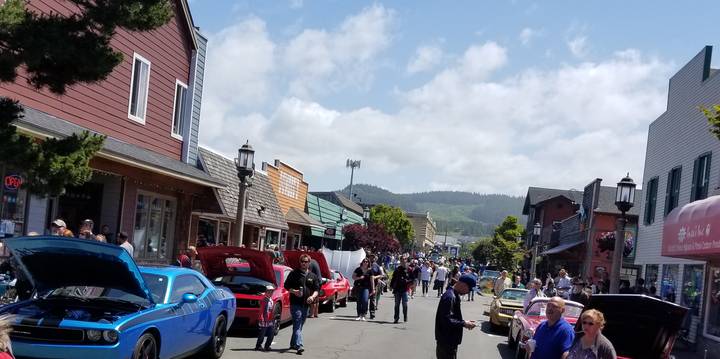 After tide pooling at Haystack Rock, we headed back north to the Muscle-Chrome car show in Seaside. About 3 blocks of vintage cars parked on the street and surrounded by hundreds of folks taking a closer look. Most cars were 1960s thru 1978. We had a great time, taking a break at the Seaside Brewery for lunch.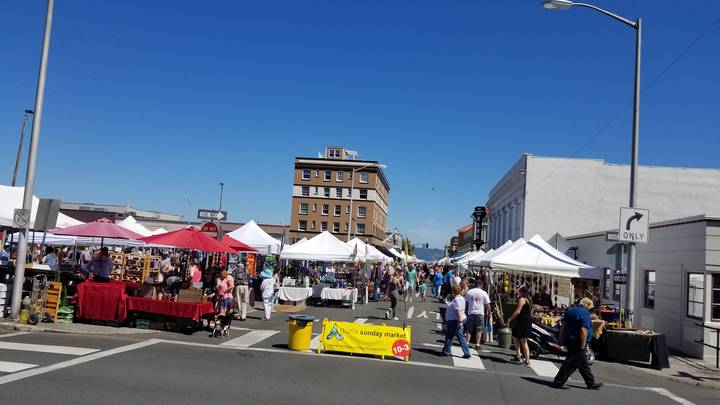 Couldn't get enough of the large crowds, so walked the 3 blocks of vendor tents at Astoria's Sunday Market. Mike and Colleen left earlier that morning, so Just Lia, Jerry and the Allens participated. Ed and Jerry enjoyed a Vortex IPA as we all stopped by at the Fort George Brewery before heading back to Big Creek
(Visited 65 times, 1 visits today)