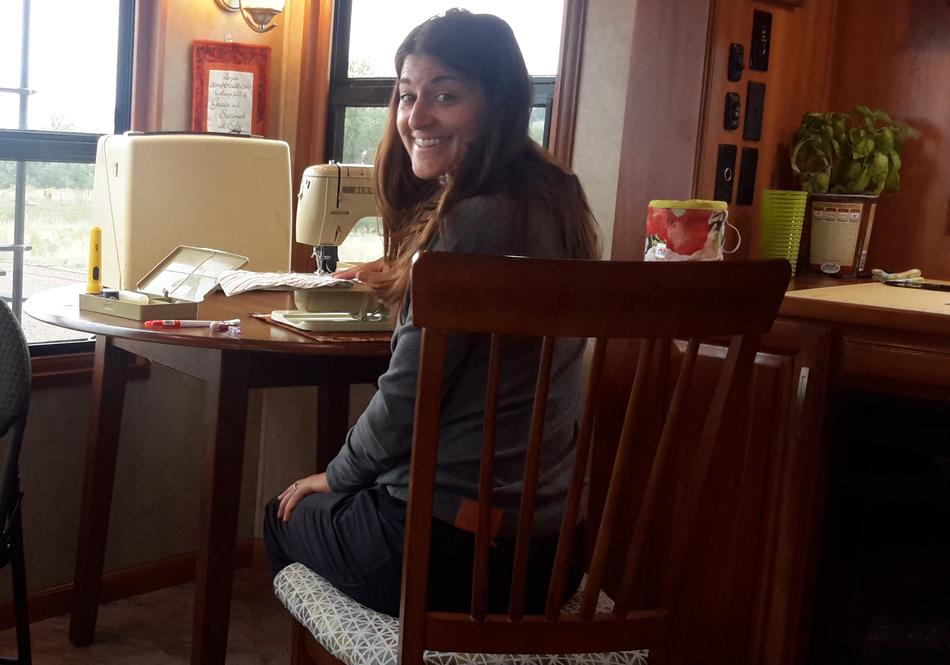 After Connie introduced Angie to sewing when we visited her and Brian in Fraser on Labor Day weekend, she acquired a new passion. She soon bought a used Bernina (what else) 707, circa 1969, then she made a trip to our digs at Bear Creek Lake for sewing 101 with Connie the following Saturday. While Angie passed her sewing precursor intro on Connie's machine during our visit there, 101 was a good for her to get started on her own. Yeah Angie!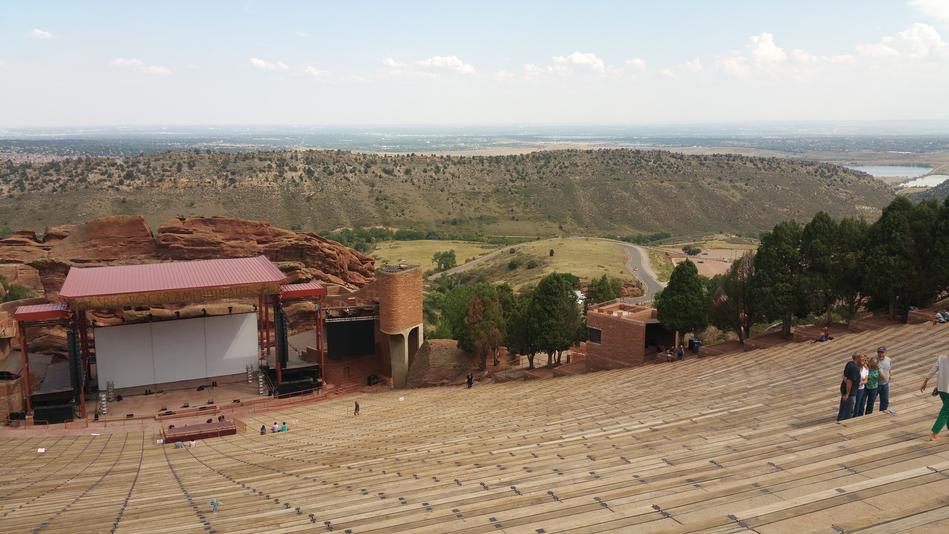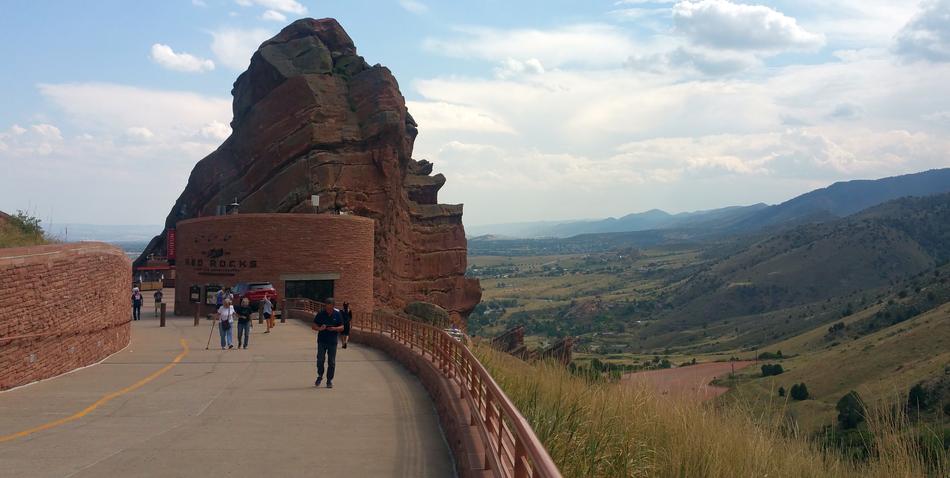 While  our campground is not convenient to shopping (maybe 6 miles to a shopping center), it is very close to Red Rocks Amphitheater. In fact we can see it at a distance from the park. The campground is also across the C470 highway from Bandimere Speedway and the little town of Morrison. We rode our bikes in to town a couple times for breakfast. Connie went with Jodi Gawf to see Chris Tomlin at Red Rocks, and we can often hear the motors revving up at the speedway.
Red Rocks is absolutely outstanding. Highly recommended for anyone to visit, not only to see the engineering foresight that went in to it, but the newly added (circa 2001) museum underneath. Incredible! Lots of pictures and history of so many entertainers through the years. Best of all…it is free to visit and the views are fantastic!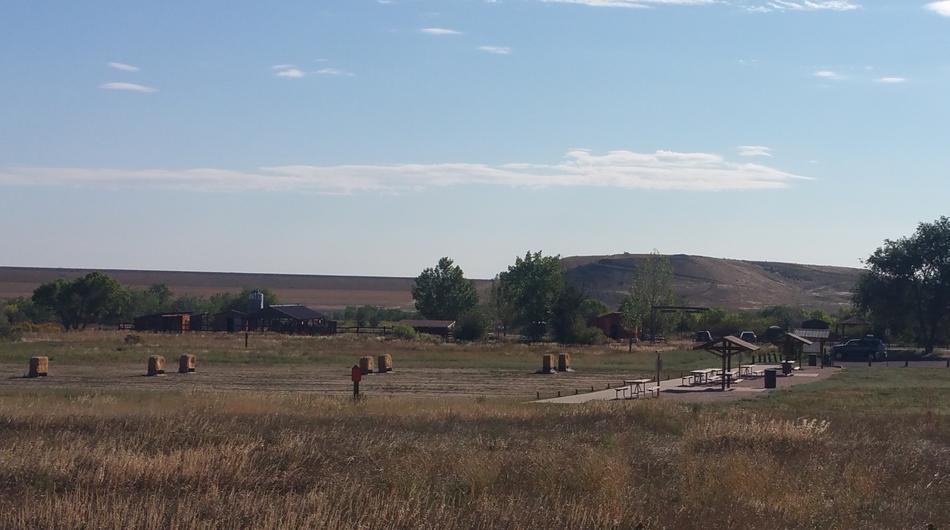 The Archery Range and horse stables are a stone's throw from our site, and we ride or drive by nearly everyday. The stable rents saddle horses and provides wrangler led trail rides…for only $40/hour! The archery range is free to use for anyone with a day pass, which is needed to even enter the park.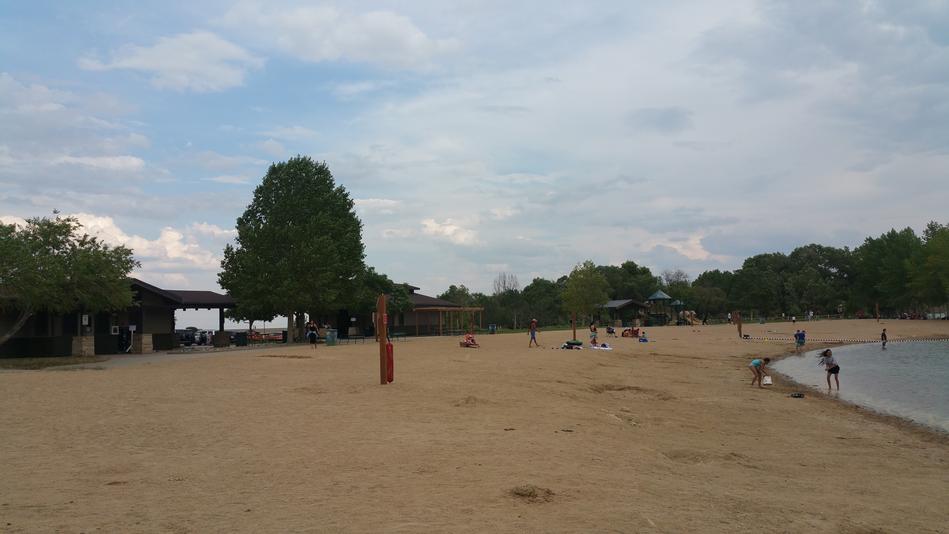 Bear Creek Lake Park offers a very nice swim beach, along with canoeing, kayaking, and paddle boarding. You can bring your own and play on Big Soda lake for free (must have day pass), or you can rent one. Little Soda lake offers ski and wake boarding lessons…again at a price. The larger Bear Creek Lake reservoir is open for fishing and boating (10 horse power limit).
All in all, we love it here. Nice spacious sites, beautiful countryside and trails. Many trails are concrete and provide excellent bike riding, which many folks take advantage.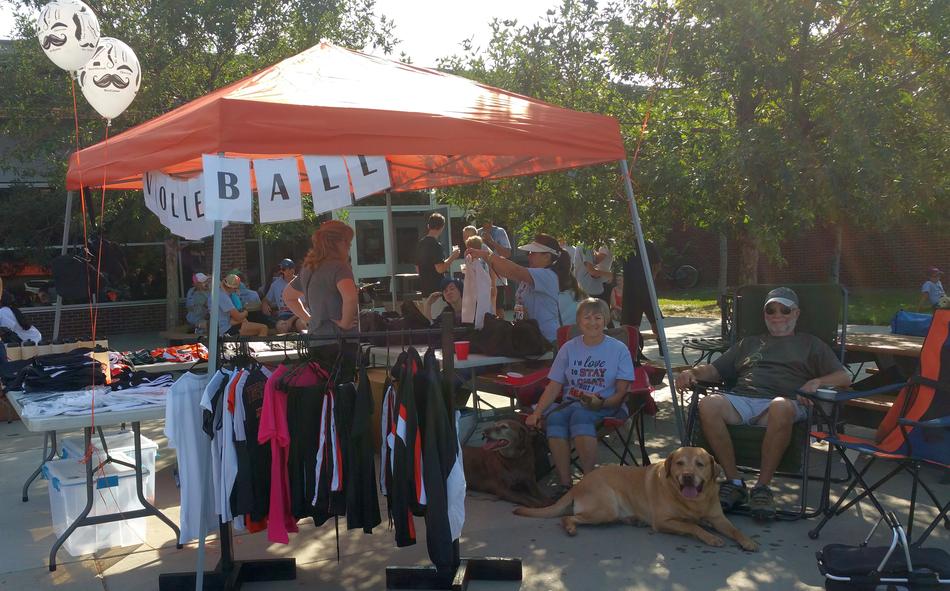 Bear Creek Lake Park provides a convenient place to be, only 10 miles from Lakewood High School to watch our darling grand daughter (Faith) play 5A volleyball. So fun. Her mom, Shannon, is very involved as president of the booster club, and we were able to assist her fund raiser booth at the Tiger Prowl. We mostly watched their 2 mutts…ahh..dogs.
Tomorrow, Thursday September 14, we move back to Loveland RV Resort in Loveland. It will not be as convenient for Faith's volleyball games, but we'll be back near sister Cheri and a more convenient to Grace Coach Lines when Ed has a driving job. Saturday, Sunday, and Monday coming up. But generally he has time to do retired person stuff.
Future plans now include returning to Big Creek Fish Hatchery near Astoria, OR next May and June. We're pretty excited about getting back there and seeing the new friends we made.
(Visited 95 times, 1 visits today)