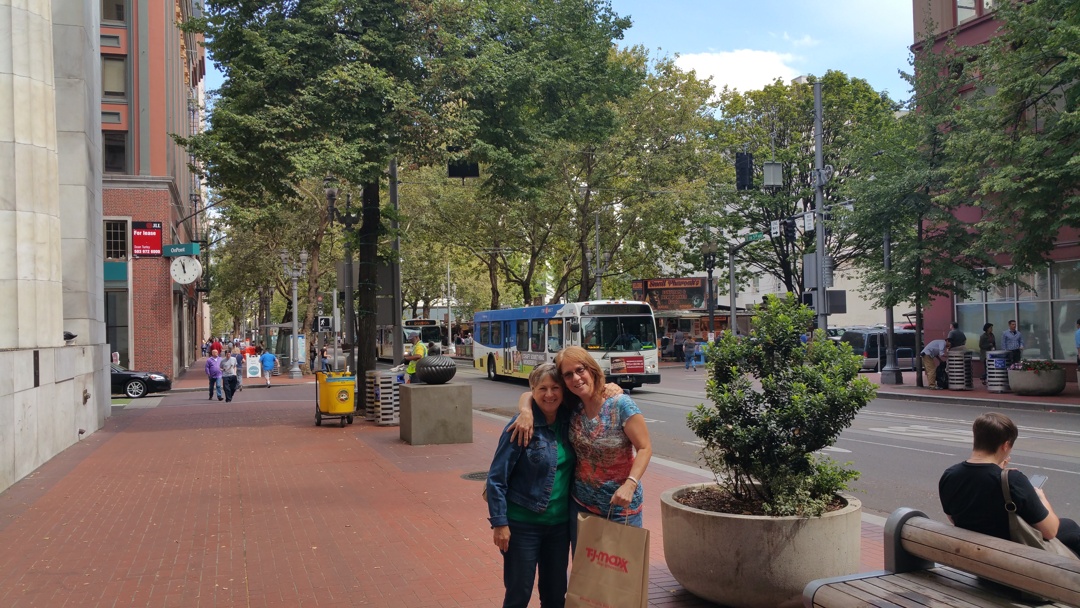 Sister Cheri flew in to Portland August 22 and spent time with us for our last week in Oregon. Lots for us to show her, but we had to experience downtown Portland before heading back to Big Creek. Wherever women are, it must include shopping! Cheri popped in to a TJ Maxx for a shopping fix. We enjoyed a beer and lunch at Deschutes.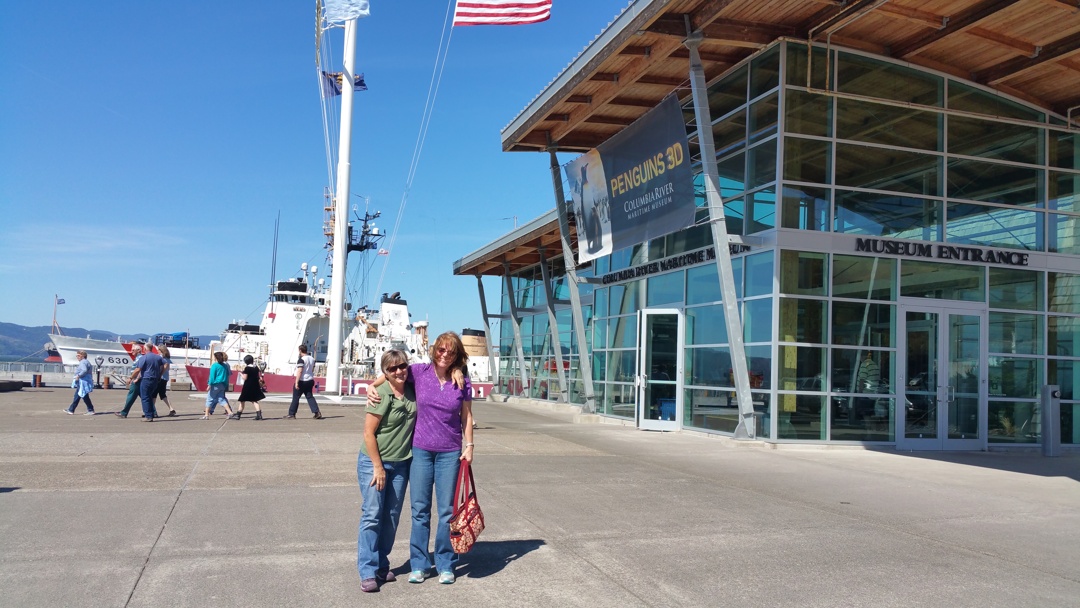 Had to take Cheri to Astoria's Maritime Museum. A fabulous place to visit. We also got to tour the Lightship Columbia in the background. Fantastic history that we never knew about before.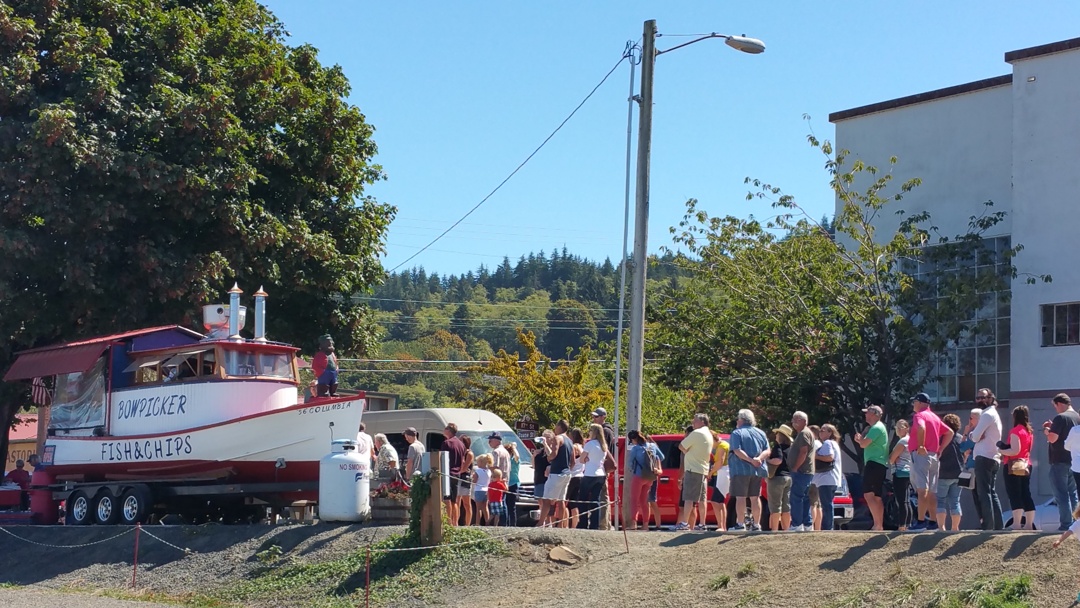 Cheri's visit would not be complete without a stop a the Bowpicker for a basket of tuna and fries. This time it included the typical wait in line.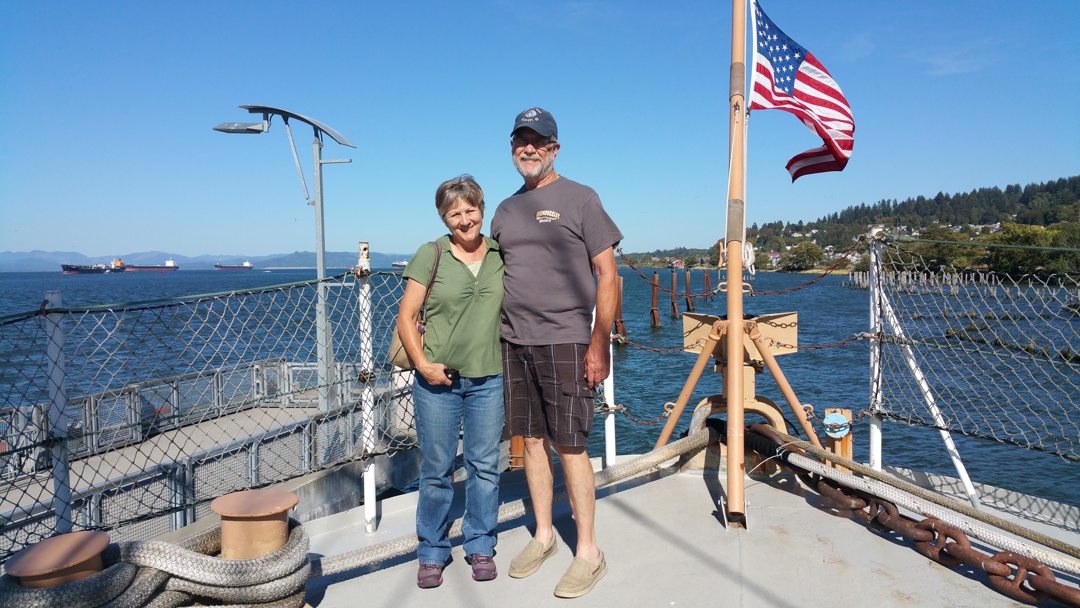 Ed and Connie on the bow of the Lightship Columbia with the Columbia River port in the background.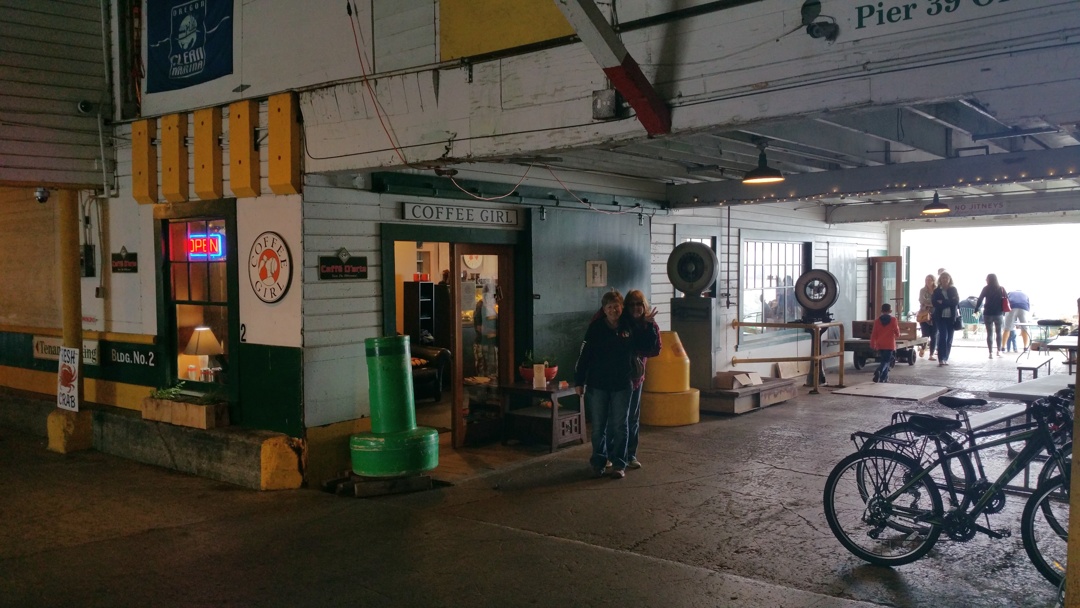 Took time to stop for a beer at Rogue Brewery on pier 39 on Thursday August 25, then visit the historic Coffee Girl and Bumble Bee Cannery the following Saturday, August 27. Made it a morning visit for coffee and a treat prior to driving to Ilwaco, WA to buy some tuna and visit the waterfront vendors. Girls need their shopping fix.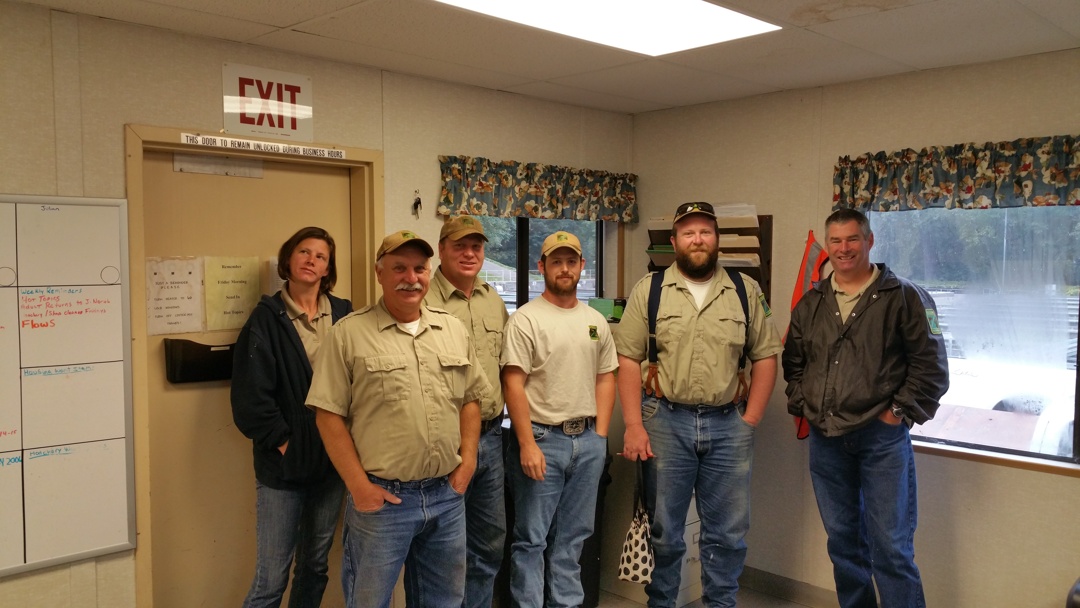 Our volunteer hours didn't cease because we had a visitor. Cheri actually spent a couple days helping out a bit, but soon realized there was no future in it. She did get to meet our wonderful new friends at Big Creek. L/R are: Joy, Mike, Dustin, Travis, Ross, and Rob. A great group to work with.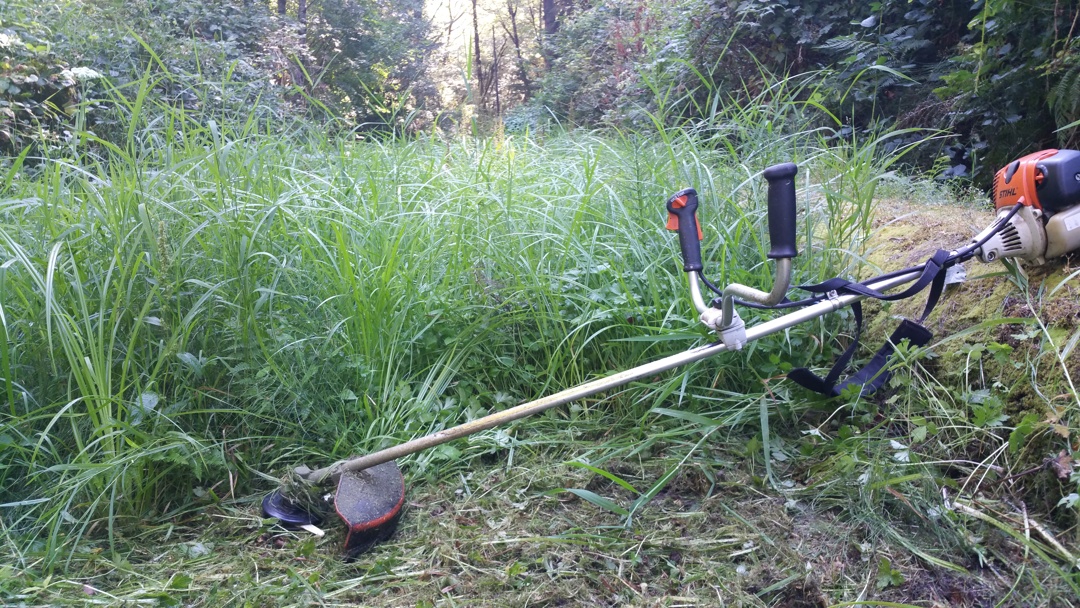 Some of Ed's last days at Big Creek was spent on this weed wacker. Whew! Didn't quite finish wacking this path from the hatchery to the inlet, but got a pretty good start.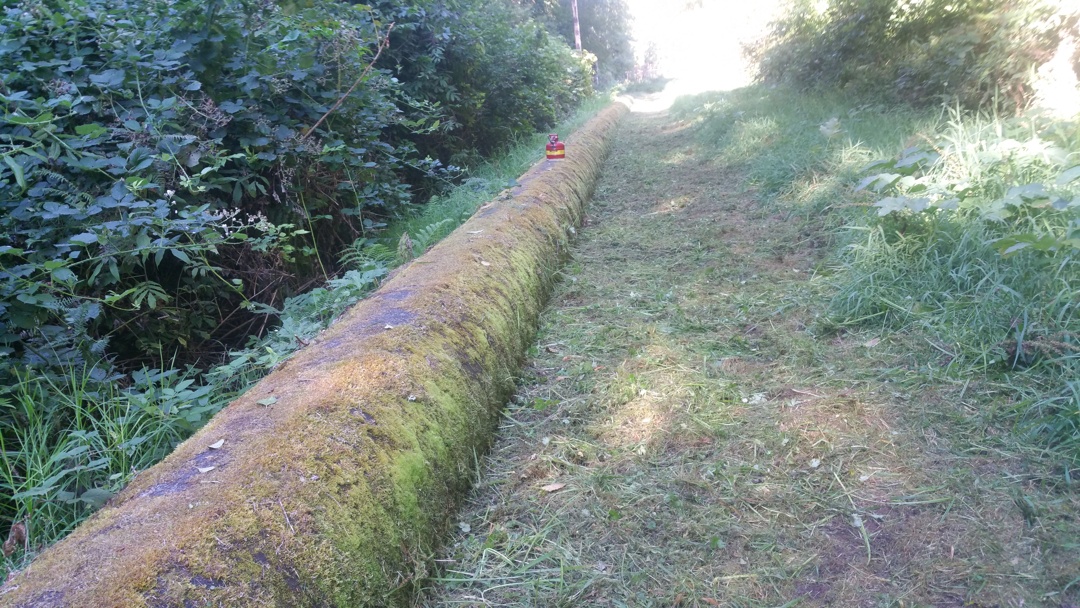 Looking back from the picture above is the "after" wacking look.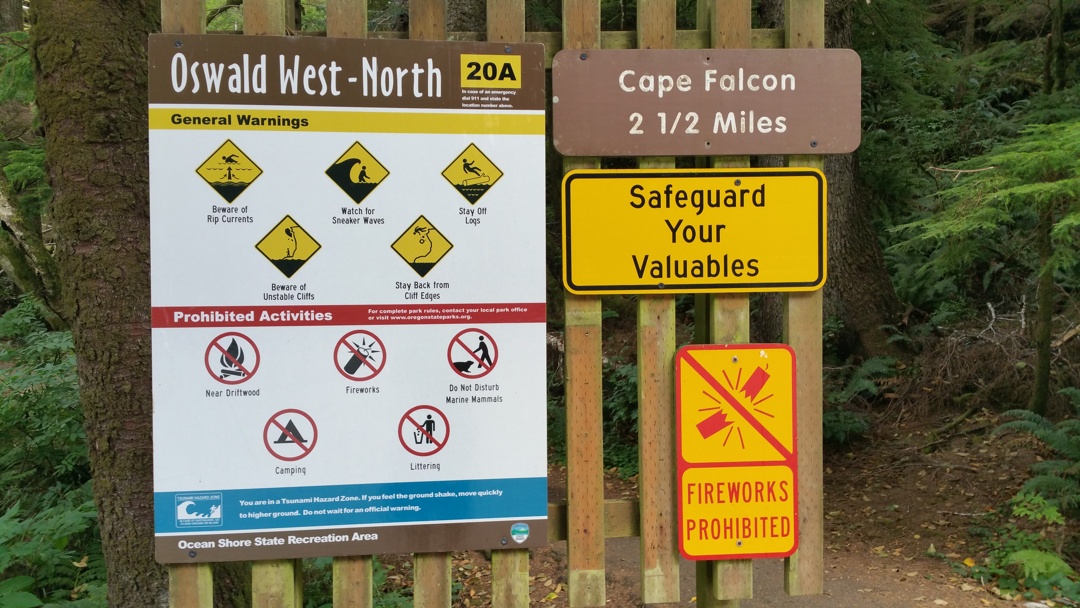 Enough with working and on to more Oregon adventures. Pat, a volunteer at Big Creek (didn't show up for the picture) was relentless that we had to visit Oswald West State Park, just south of Cannon Beach. We found the Cape Falcon hiking trail and were determined we could easily hike the 2.5 miles…and return. In spite of the posted warnings!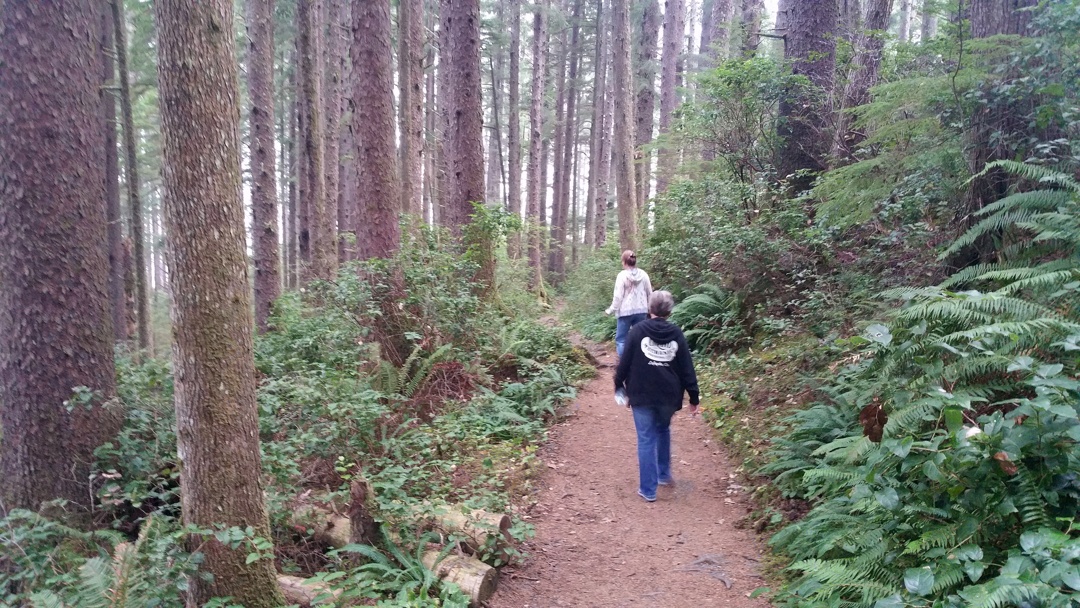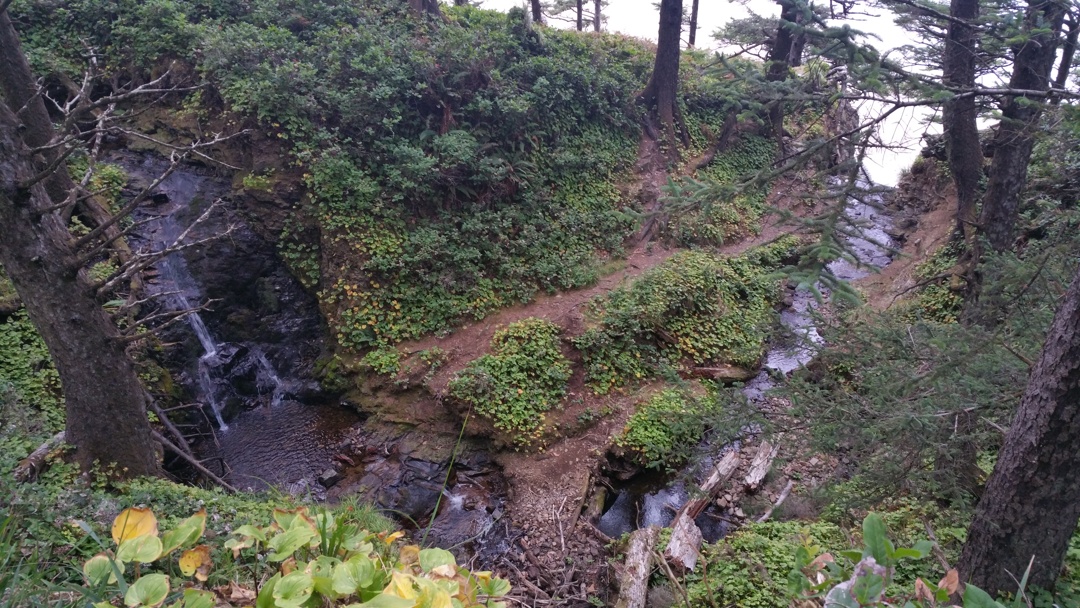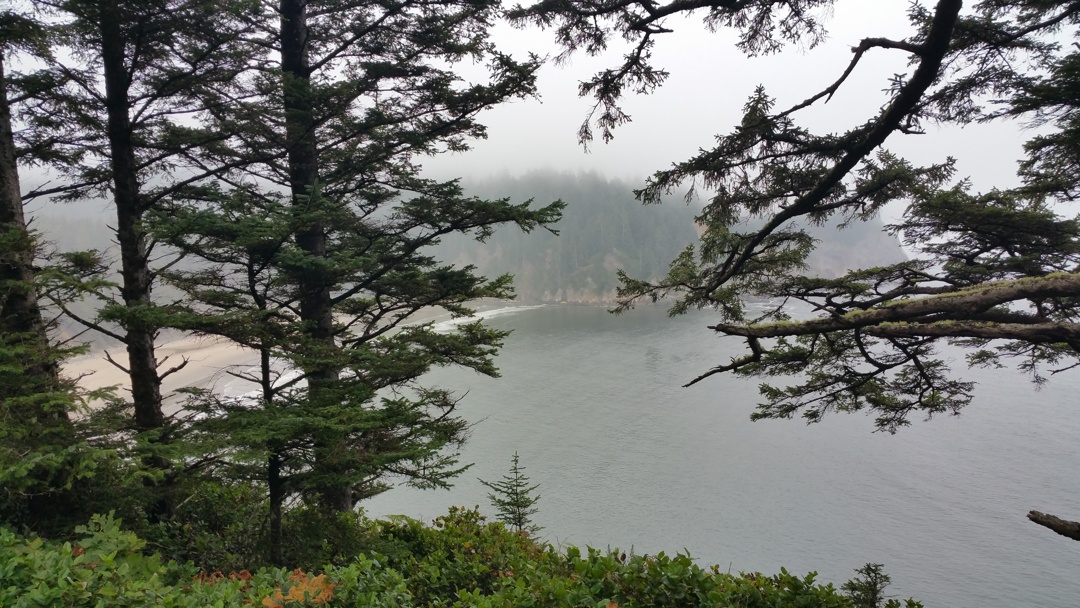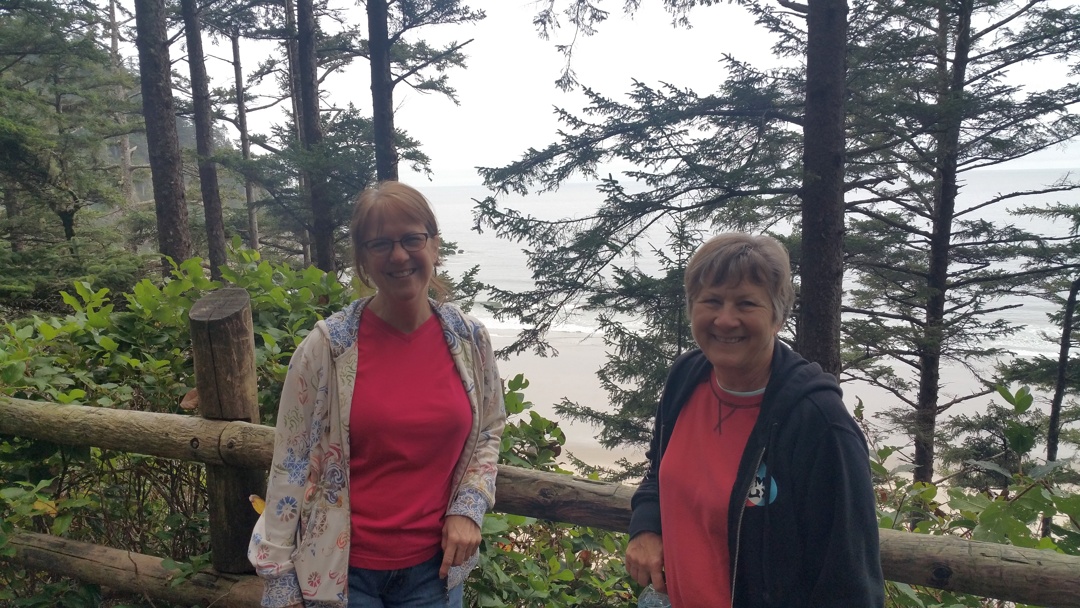 Needless to say, we felt like we had hiked way beyond the 2.5 miles and never did see a sign that said Cape Falcon. We saw some breathtaking views before heading back, including the little waterfall and typical misty view of the Pacific.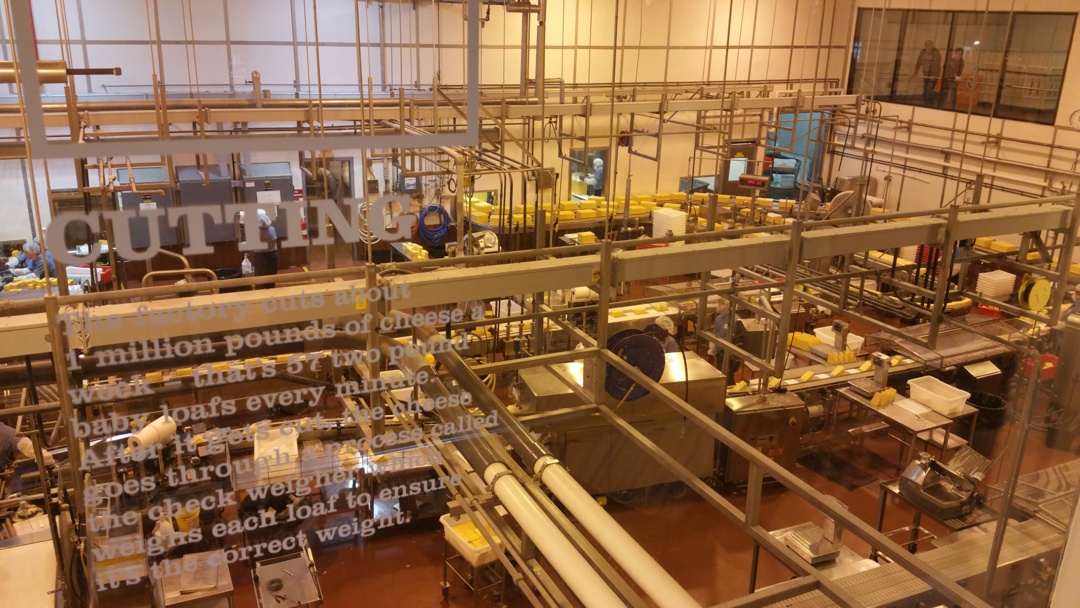 Cheri's visit wouldn't be totally complete without a visit to the Tillamook Cheese factory in…you guessed it…Tillamook, OR. Ed was especially excited for the visit because getting a couple dips of his annual ice cream treat was in store. Vanilla of course.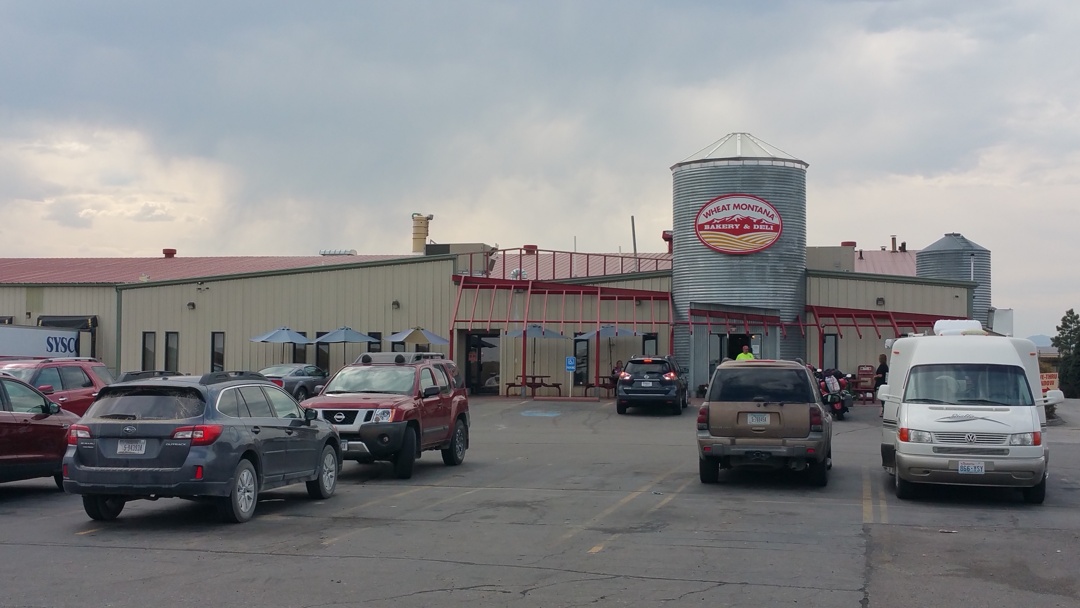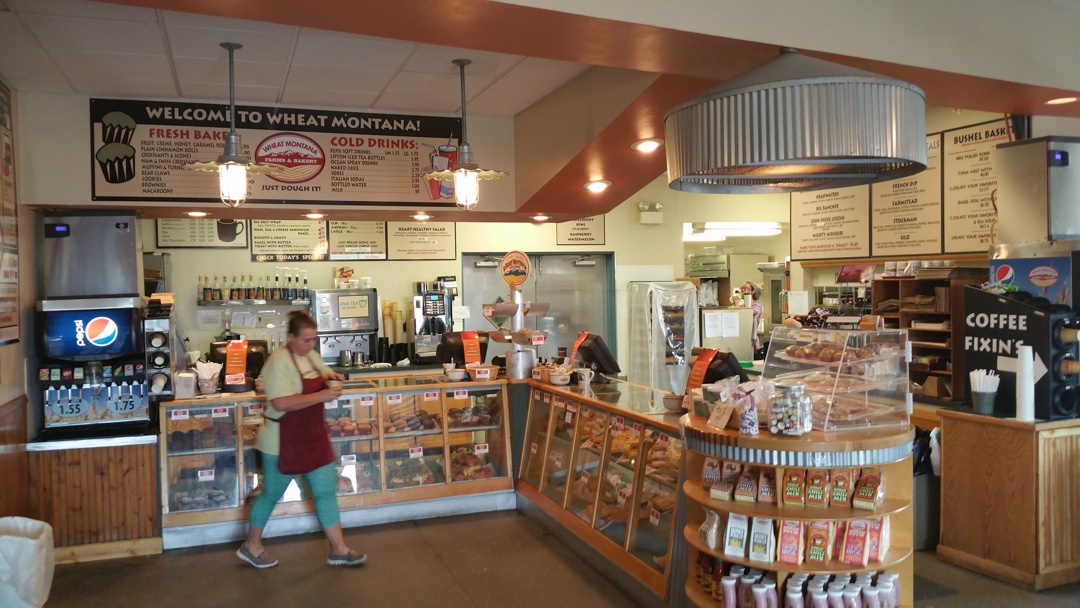 We pulled out of Big Creek around 7am Tuesday August 30, dropped Cheri at the Portland airport and headed toward a Walmart in Spokane for the night. All went well. Even found a Great Clips where Ed could get a much needed haircut.
Stopped at Timeless Quilts in Missoula to get their row by row. Click here to see pictures and comments on bottom of Connie's Quilting page.
Got an early start Wednesday with hopes of making the 540 miles to Billings. However, we had inadvertently failed to latch the refrigerator doors and soon discovered a few things had "flown" out. So decided to stop and a Bozeman Walmart. We had stayed there before and remembered it was walking distance to the 406 Brewery and Wild Rye Distillery. Connie got a jug of their Five Drops Bourbon whiskey.
Oh…the pictures are from our in-route to Bozeman stop at Wheat Bakery in…you guessed it again…Wheat, MT. Always a must. We did refrain from the scrumptious looking cinnamon rolls.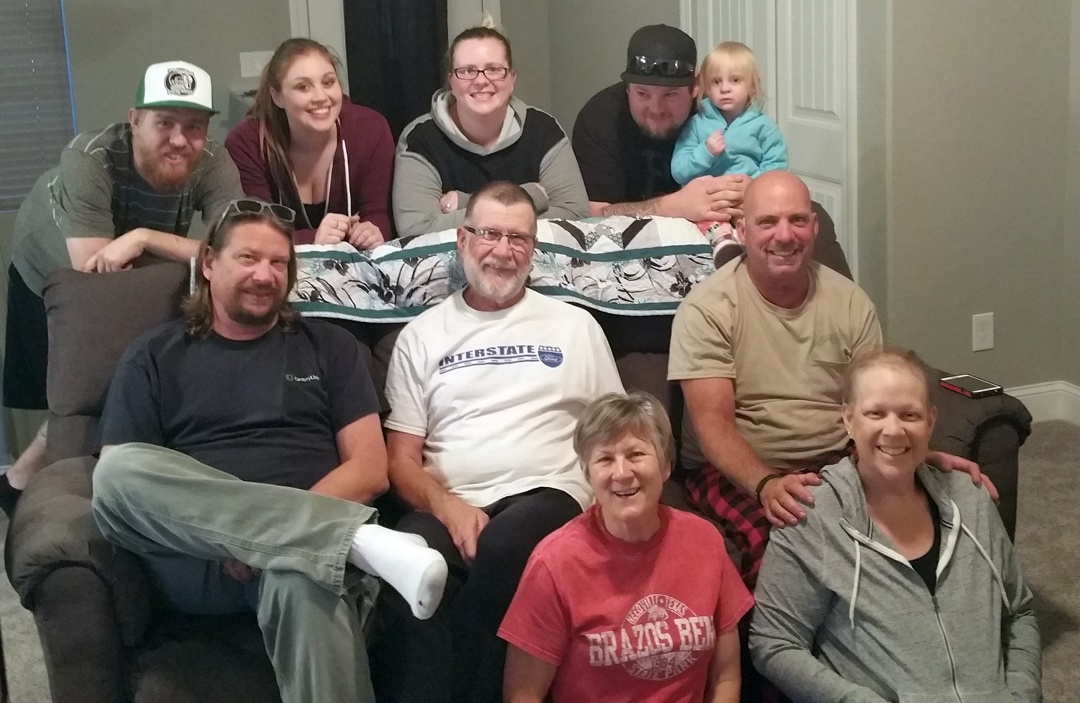 Finally arrived at daughter Kari and Edward's in Gillette, WY on Thursday afternoon, September 1. They were futuristic enough to equip a 50amp hookup for us next to their house. We took advantage and bummed out here for a week. We had time to have several nice visits with family: L/R Hagen, Shelby, Leanna, Brittani, Ed, Connie, Garth, Blakelee, Edward, and Kari.
Preparing to leave Bozeman early Thursday, discovered our inverter had suffered a low-voltage shut off during the night,  and our refrigerator was off. We were pleased that it had only gotten down to 50/28 before we connected to Edward's graciously supplied outlet.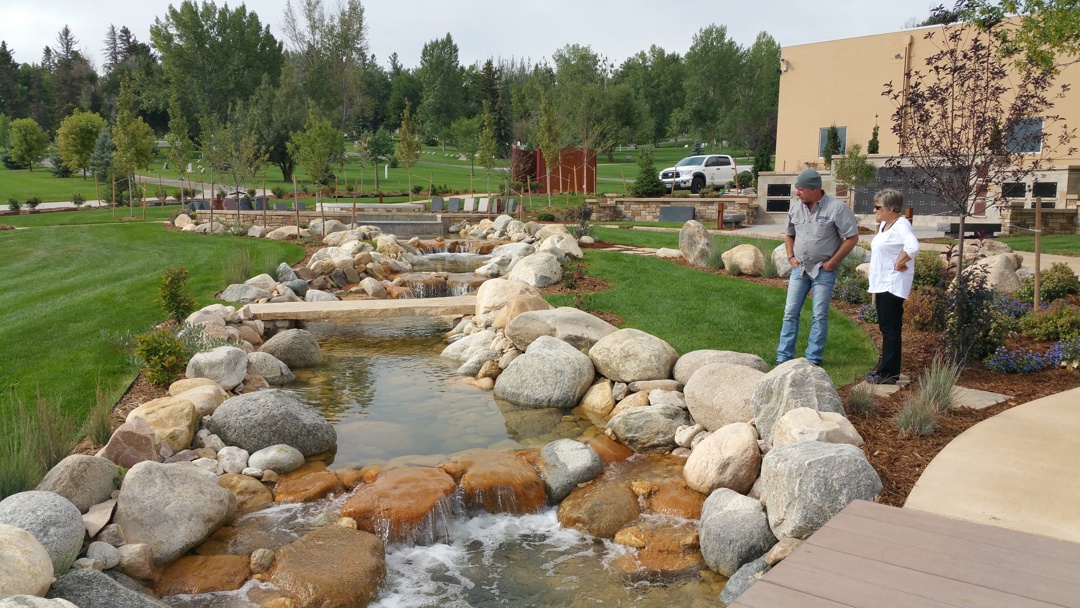 While in Gillette Edward took us on a tour of the city cemetery where he works. Quite impressive for a cowboy/oil/gas town, or any town for that matter! This water feature is just one example. The residents there can't really appreciate it, but their visitors can. Edward does everything well and was proud to show us all around.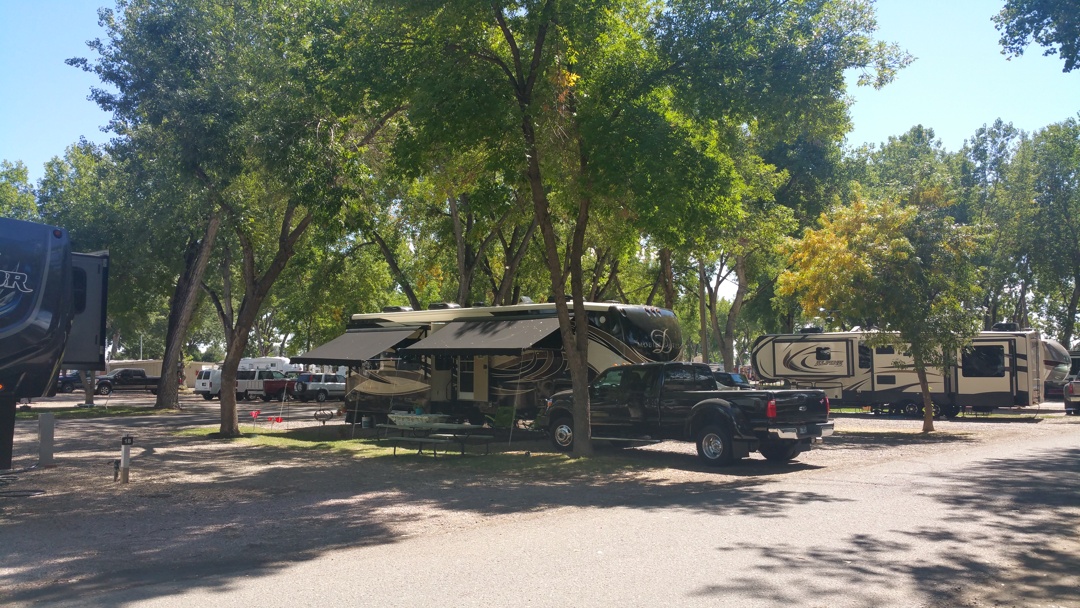 Pulled back in to Loveland RV Resort in Loveland on Tuesday September 8, but site #34 this time. We like the spot. Lots of shade and pretty nice yard, but we have more traffic than our last #213 spot. And doesn't compare to our digs at Big Creek!
Tuesday was busy. Shannon came up from Denver to hang out a few hours before we drove up to Poudre High School in Fort Collins to watch Faith's volleyball game. She didn't get much play time on varsity, but when she was out there, she was awesome.
(Visited 166 times, 1 visits today)