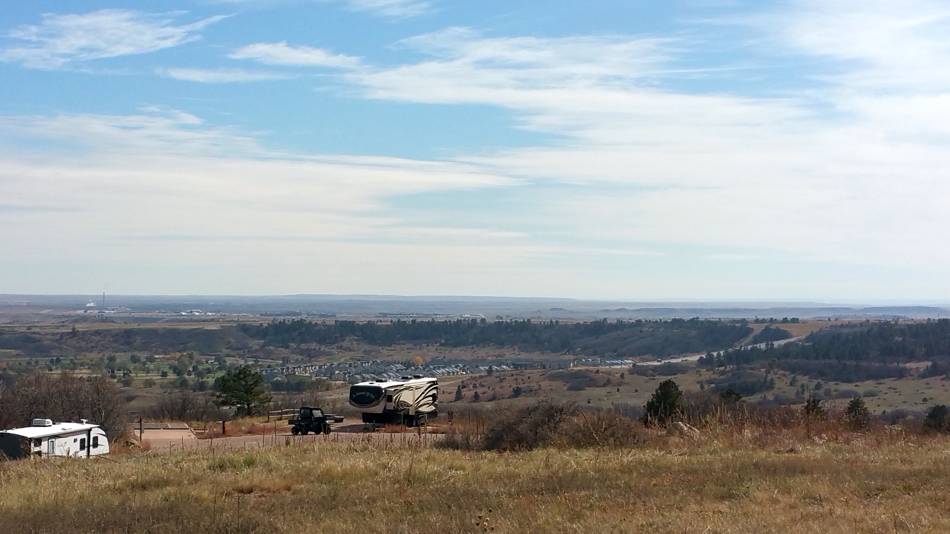 We pulled out of Bear Creek Lake, Indian Paintbrush Campground in Lakewood mid-morning Friday October 27, 2017 and traveled the short distance to Cheyenne Mountain State Park in Colorado Springs. A wonderful park across from a Fort Carson Army Base entrance. Stayed here one night so we could attend Faith's volleyball games that afternoon. Our site had a fantastic view of the valley.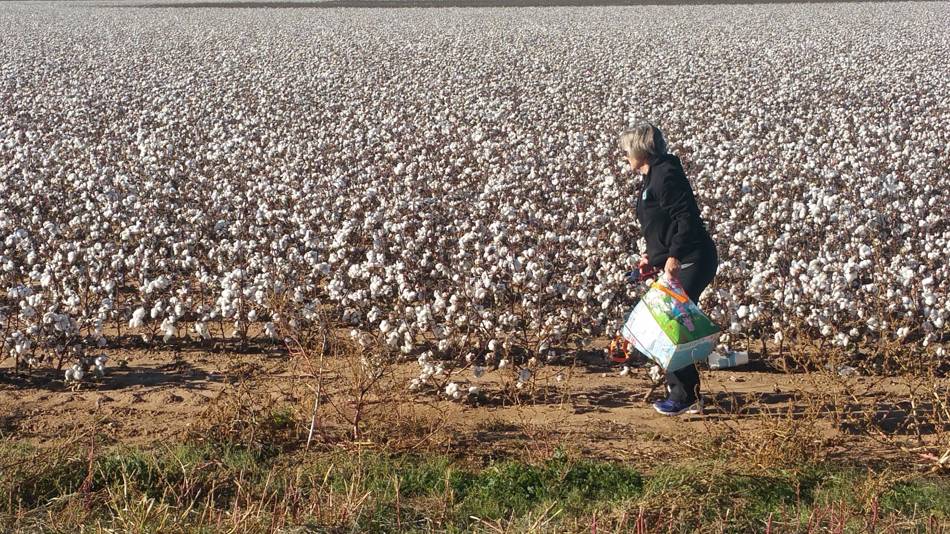 We left Cheyenne Mountain SP just before sunrise on Saturday and began our trip back to Stephenville, TX to visit sister Alice and family. We stopped overnight at the Canyon, TX Walmart. Canyon is just south of Amarillo. We left early Sunday, making  an emergency stop to gather cotton decor while traveling US 84 somewhere between Post and Sweetwater.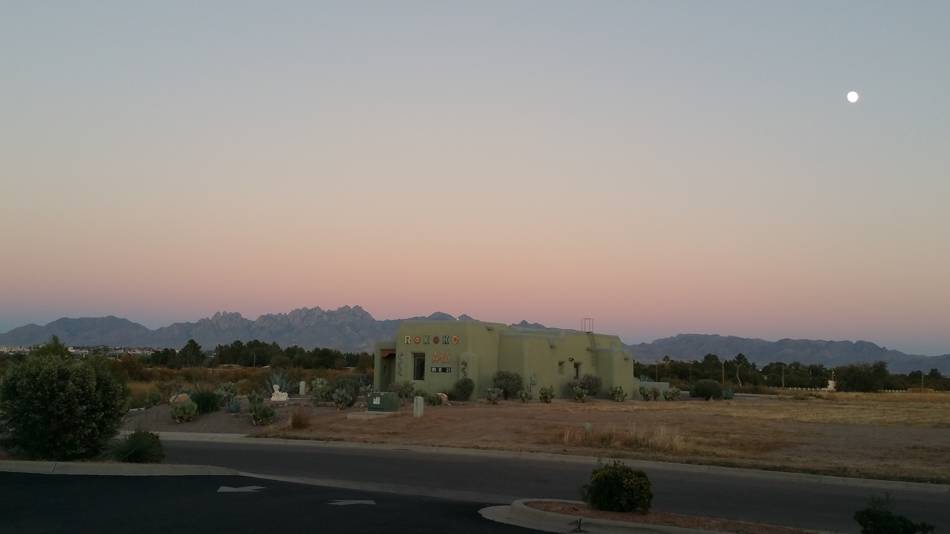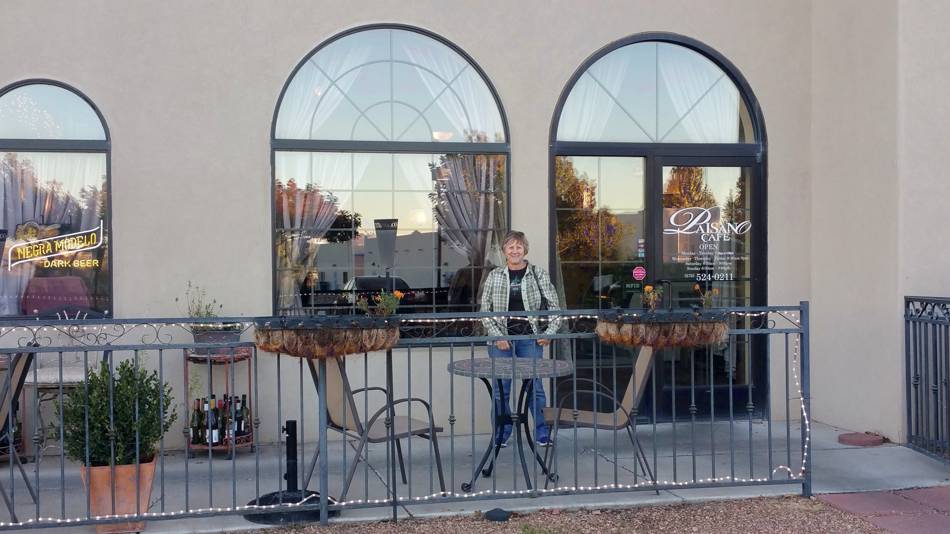 After a brief visit with our Stephenville family, which overlapped Halloween (no costumes were needed), we got an early start for our 600 mile trip along I20/I10 across West Texas to a Las Cruces Walmart. A great stopover point. We walked about a mile to the Paisano Cafe for a delicious dinner. A fantastic night for a walk and enjoying the beauty of God's creation of the Organ Mountains at sunset.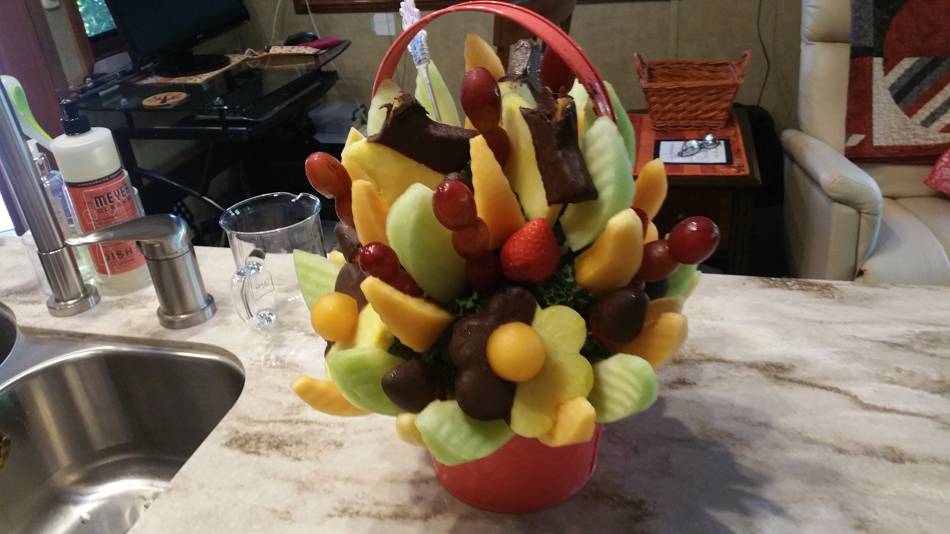 We drove the final 400 miles to our winter home (Twin Palms RV Park) on Thursday November 2, stopping at Blue Beacon for a trailer/truck wash. We were cheerfully greeted by Jenni and Steve with a fruit basket. They were most ready for us to arrive and take some of the park management pressure off.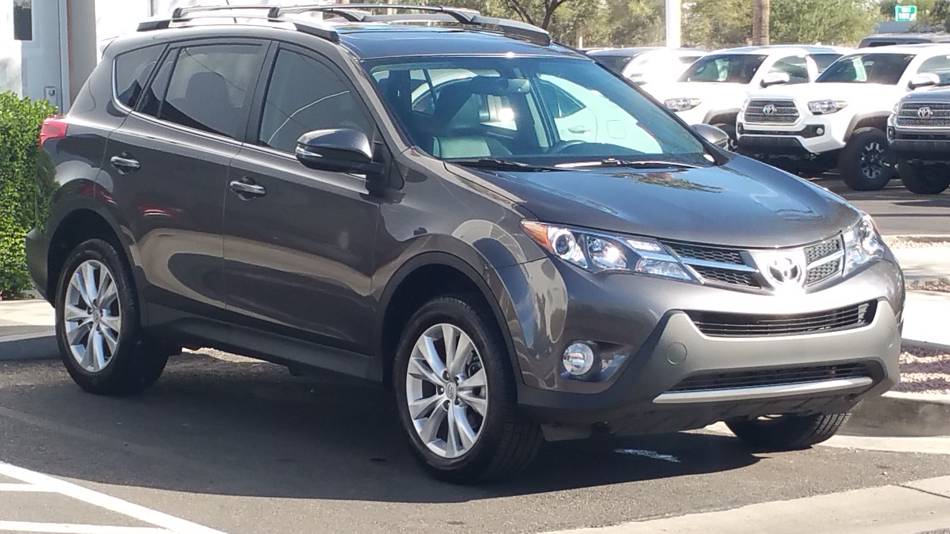 Since we'll be here through most of April, we decided having a car, rather than the dually beast, would work much better for tooling around the area. We were originally thinking of just getting a cheap "beater" to get around, but managed to swing this 2013 Rav4 the first week here. Connie Loves it. Ed has only driven it once, riding his bike to Home Depot a lot.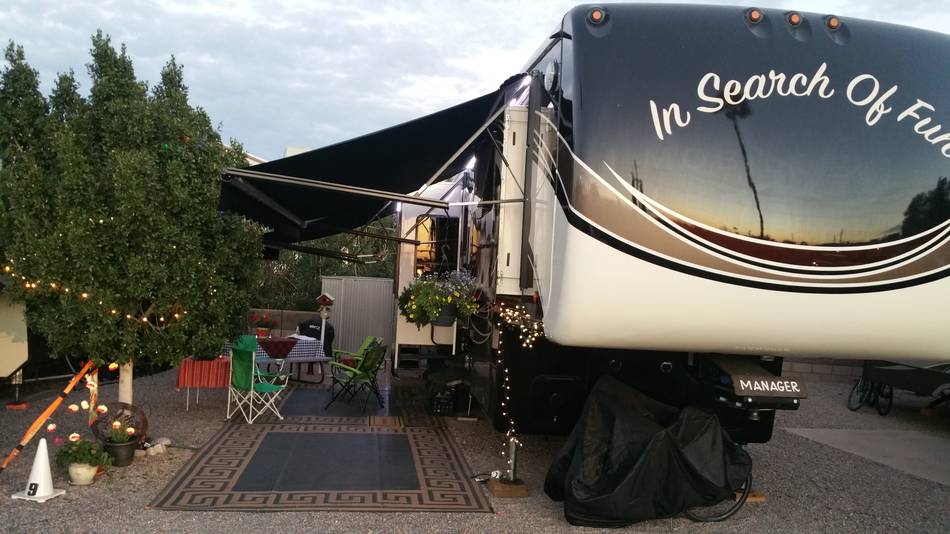 Getting settled in our great little abode.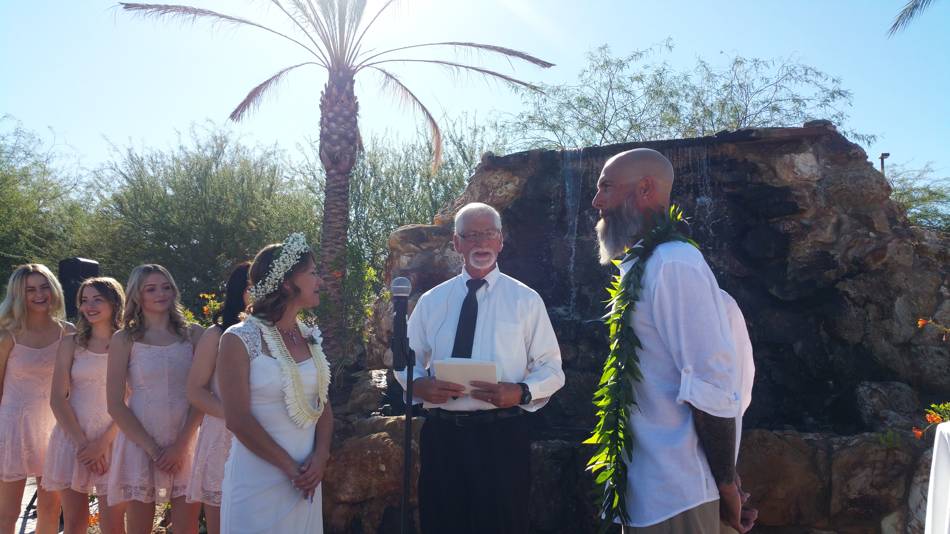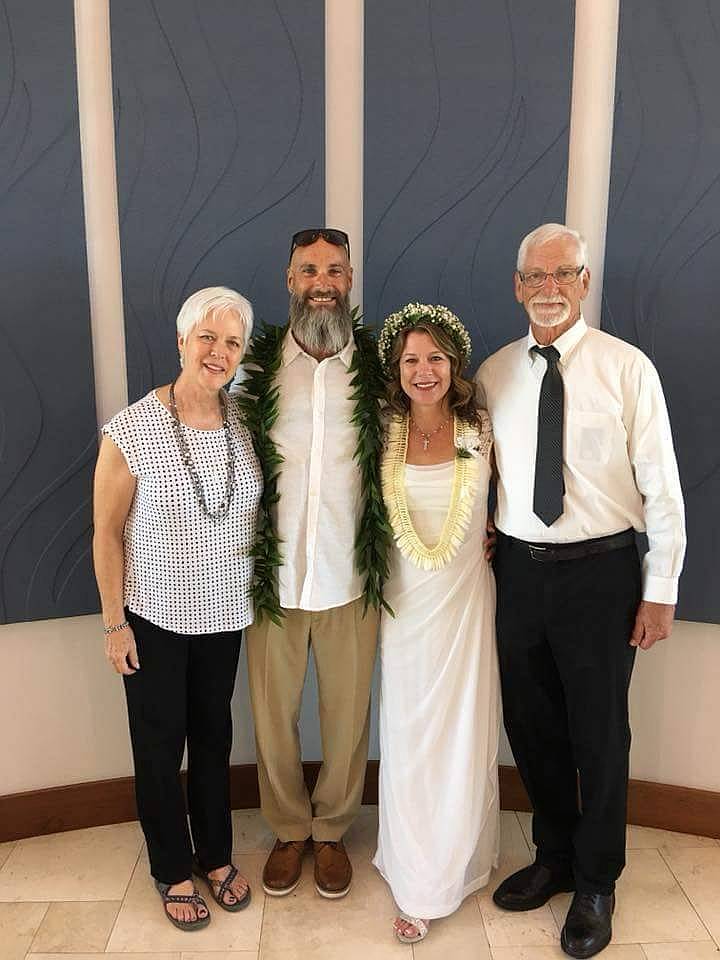 We attended the blessed wedding of Kevin Sauter and Amanda May on Saturday November 11. Kevin is Brother-in-Law Roger's son. It was a quickly planned, yet fantastic wedding and reception. Newly certified Roger performed the ceremony. Roger's wife (Connie's sister) Carol joins in the celebration and joins in a picture.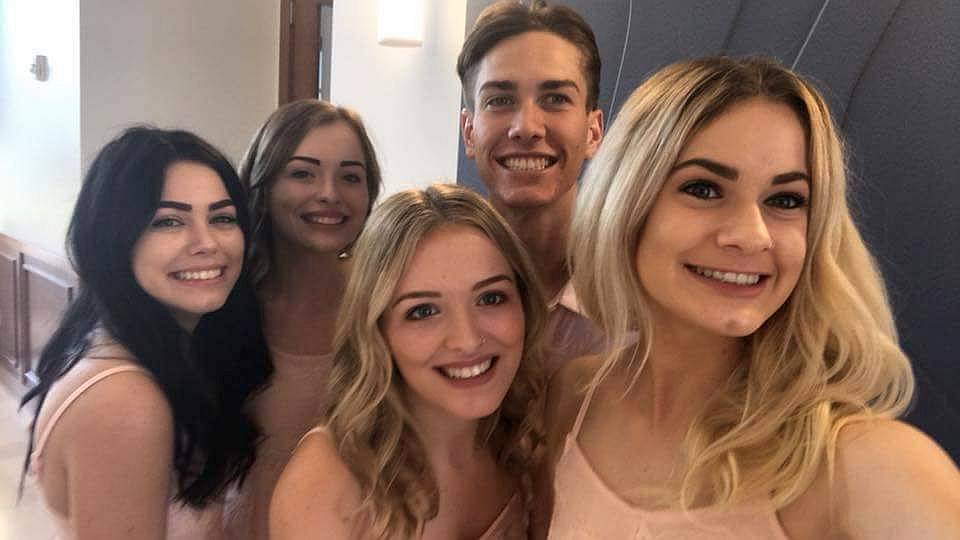 Kevin's son Ryan and daughter Jenna (far right), along with Amanda's twins Rachel and Maria, and oldest daughter Nina are all one family now. Five children (five 1's in 11/11/17) plus Kevin and Amanda make 7 (as 111117). How quaint is that?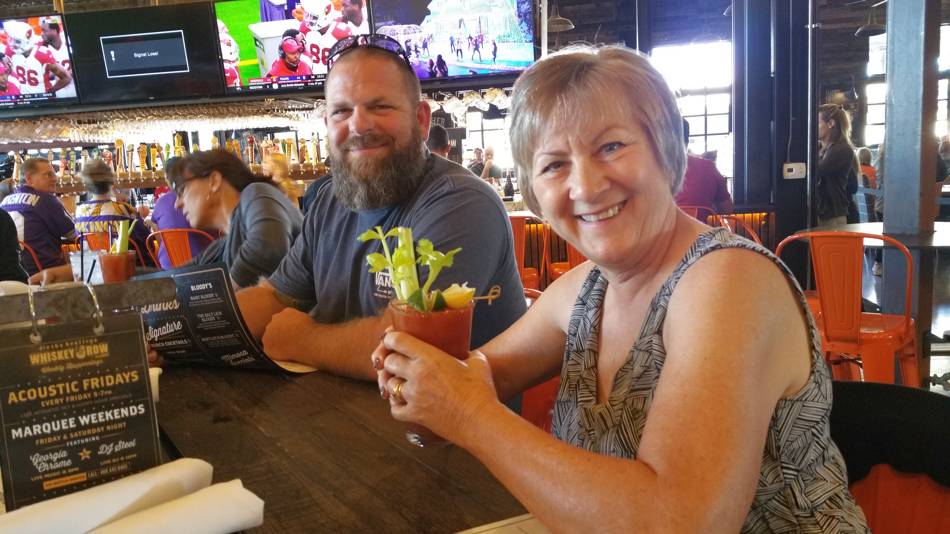 Roger and Carol are very involved here, including serving as head ushers and Sun Valley Tempe. The natural thing to do after church, of course, is head over to Dierks Bentley's Whiskey Row in Gilbert. Connie enjoys her Bloody Mary for breakfast. Oh that girl. The place is quite an adventurous experience, but a little loud for Ed.
Otherwise, we keep quite busy here at Twin Palms. We just re-planted and mulched the bed along the west wall. Ed keeps the pea gravel raked up in the spaces and is busy with general maintenance stuff; Connie cleans restrooms once a week and cares for all the flowers. We both fraternize with the residents here.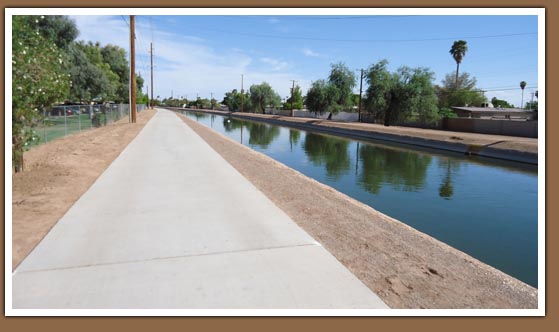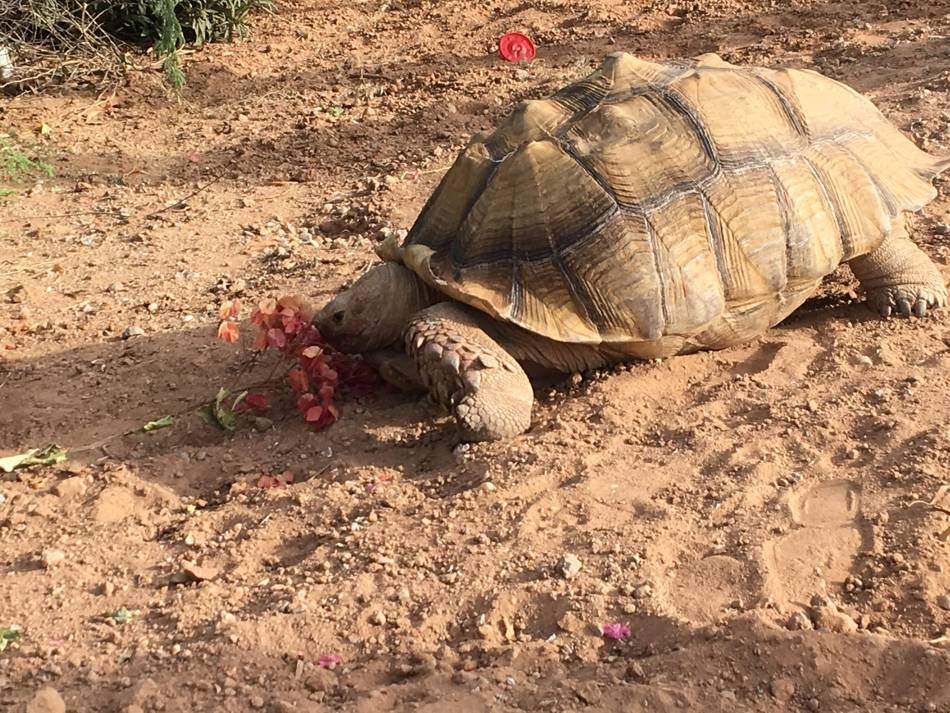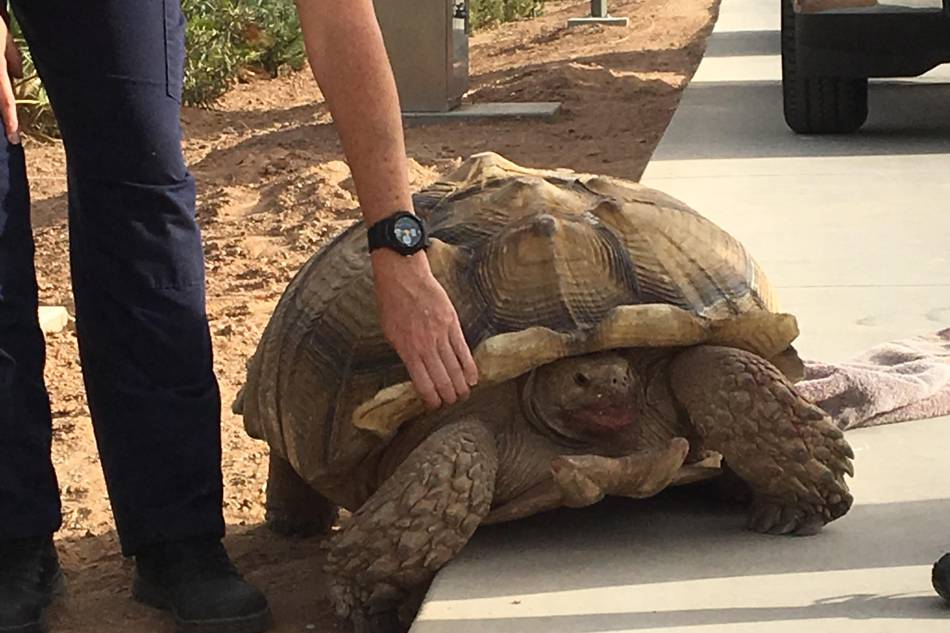 A Twin Palms RV Park gate leads directly out to the Consolidated Irrigation Canal and walking path. Low and behold, Ed saw this tortoise along the path. Surely not out of the canal! It turns out that he (she?) got out of his yard and escaped! Animal Control had quite a job getting him off the path.
(Visited 107 times, 1 visits today)