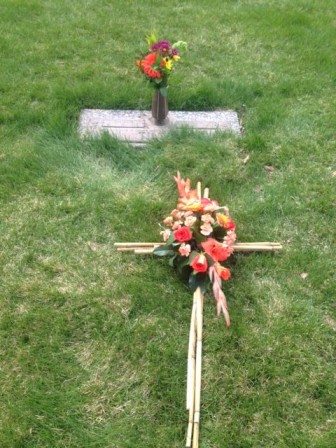 Connie's mom did pass away early morning on April 25. Didn't quite make it to her 94th BD, but led a full and wonderful life.
Connie and her 2 sisters, Cheri and Carol, were all with her. While it is a sad loss, it was a joyous day as Vera's certainly of everlasting life is finally realized. The family rejoices with her.
She had a blessed funeral in Loveland with interment of her ashes, next to husband Harold, in Cheyenne April 30.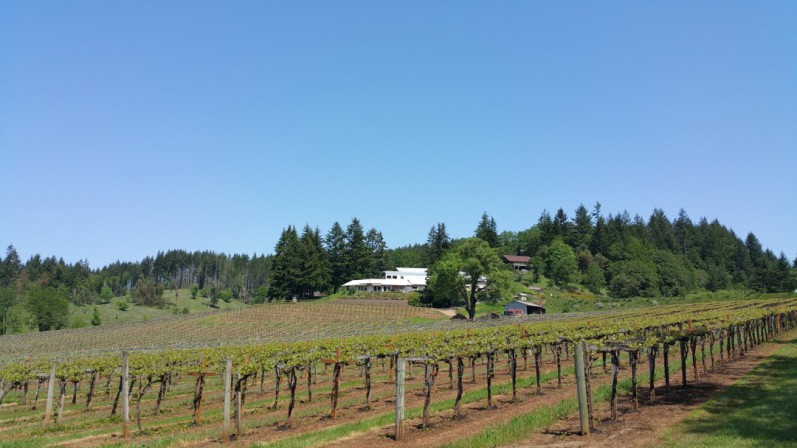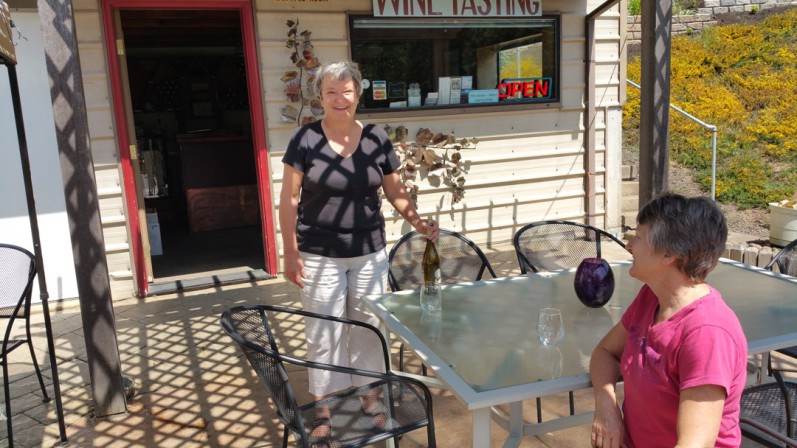 About 30 miles from our site at the Alsea Fish Hatchery is Arlie Winery. The owner is former U S West Vice President, Mary Olsen, that we both worked for back in Denver. She gave up that executive position to buy the winery back in 1996, and couldn't be happier. We took the oppotunity to visit the winery and with Mary. She poured us several tastes as we listened to her charming wit as she told us about Bob the cat, as well as a little wine trivia. Excellent time!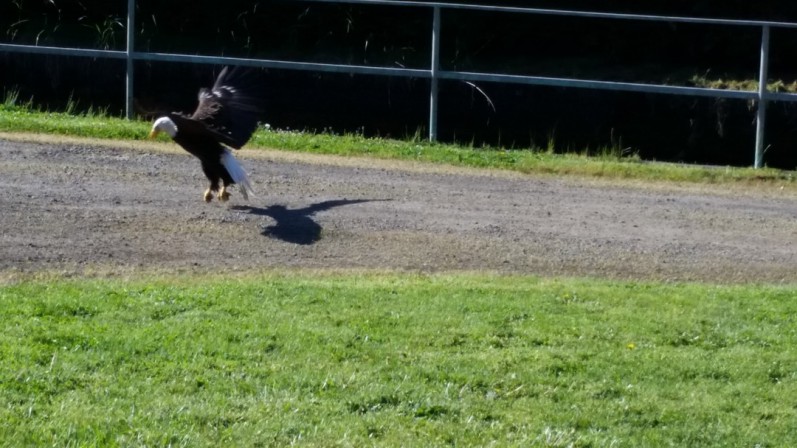 Connie snapped the picture of the local bald eagle that likes to swoop down and pick up dead fish (removing dead fish from the ponds is part of our job) we throw out. The next time he swooped, he got so close Connie was afraid he would pick her up.
We are on our last week at Alsea and say our good byes and depart on our Alaska trip next Saturday, May 16. Getting very excited. So far our trek will follow the schedule below, but is subject to change, or course.
Oregon to Alaska 2015
May 16 – Alsea Fish Hatchery to Bellingham (Walmart)
May 17 – Bellingham to Quesnel, British Columbia (Walmart)
May 18 – Quesnel to Hazelton, BC (Cataline RV)
May 19 – Hazelton to Meziadin Provincial Park
May 20 – Meziadin to Nugget City, Yukon Territory
May 21 – Nugget City to Whitehorse,  YT
May 22-23 – Whitehorse, YT
May 24 – Whitehorse to Beaver Creek, YT
May 25 – Beaver Creek to Glennallen, Alaska
May 26 – Glennallen to Valdez, AK
May 27 – Valdez
May 28 – Valdez to Anchorage, AK
May 29 – Anchorage to Sterling, AK
May 29 – June 8  – Sterling area
June  9 – Sterling to North Pole
(Visited 101 times, 1 visits today)