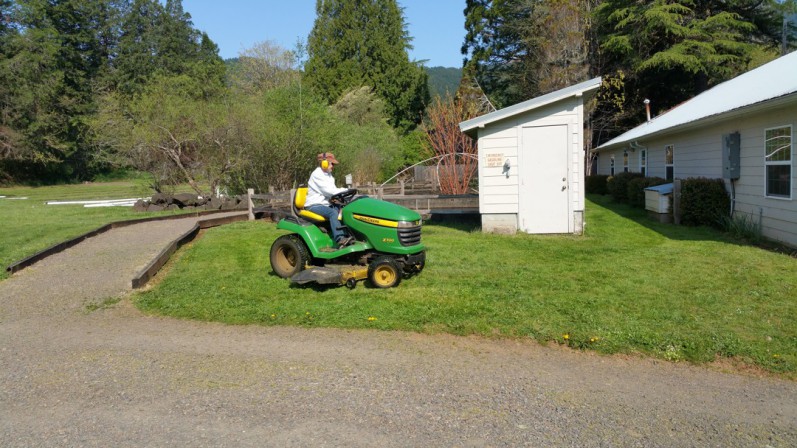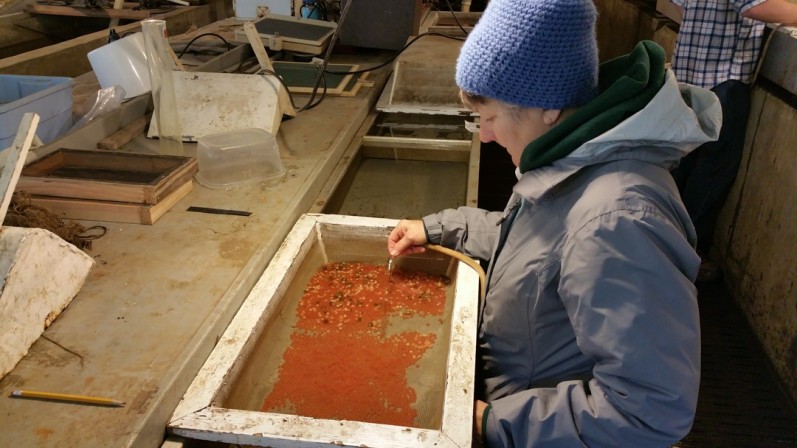 We have zero internet here, and intermittent phone/text, so posts are delayed till we can get to a local library. Life at the Alsea Fish Hatchery continues to keep us busy doing some everyday tasks, like lawn mowing, and some new experiences as well. Connie is the main mower and can spend hours on the huge area around the hatchery. She also enjoys pulling out doomed pre-hatched fish eggs. The red ones are healthy, but the white ones are duds and need to be removed…and counted. They count all the fish from spawning to when they are loaded on a transport truck; subtracting the duds and dead ones (maintaining mortality records).
Above is a video of fish being loaded for transport. Note the fish in the uplift pipe.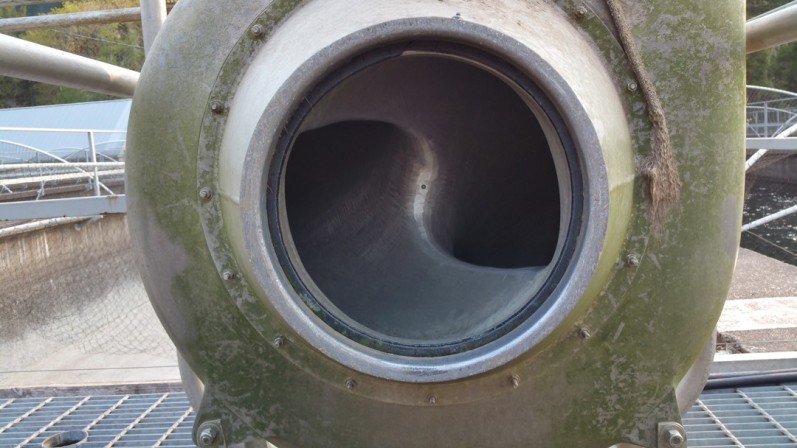 Looking inside the module, when it is not in the water of course, the fish are pushed into when loading the transport truck.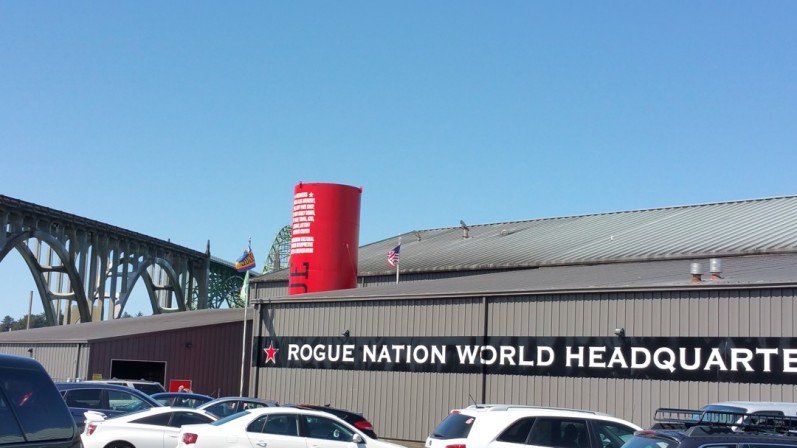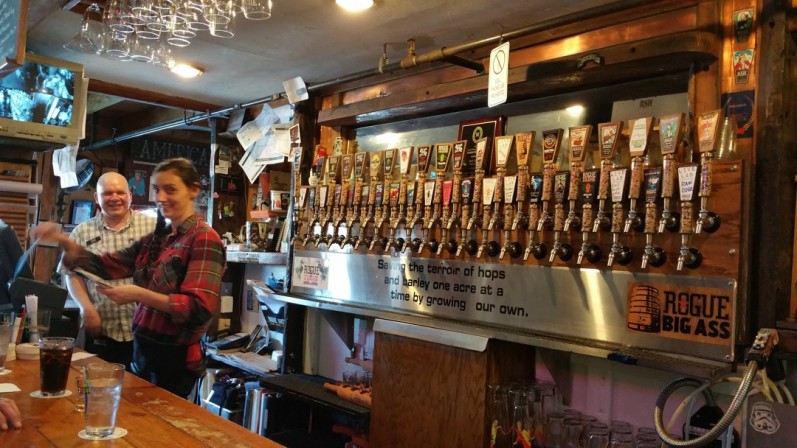 Cliff and Cyndy Mills, our full time friends, also from Colorado, are work camping at the Trask Hatchery, near Tillamook, Oregon. Doing much the same as we are, but they're at a Salmon hatchery…and much closer to Tillamook cheese AND ICE CREAM! We have met up with them a couple times. On one visit we met at Newport, where the Allen's visited Rogue Brewery's World Headquarters. Note the cool bridge over the Yaquina Bay to Newport.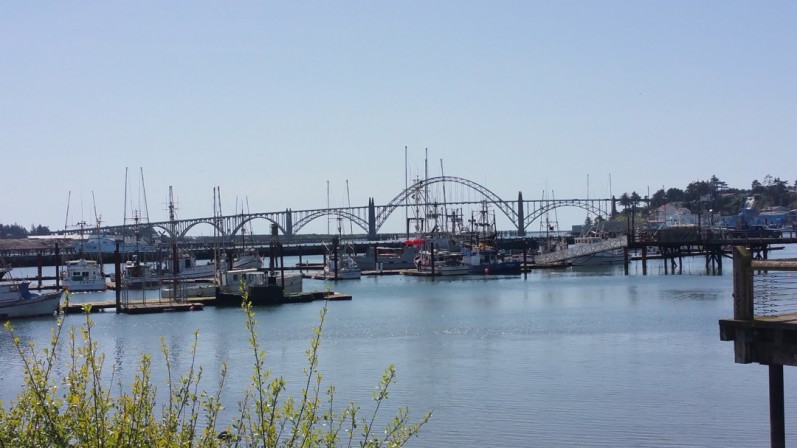 Newport is a cool port town with several tourist things to do. We met Cliff & Cyndy at Mo's. Mo's is somewhat famous with several locations around western Oregon. Note Yaquina Bay bridge again.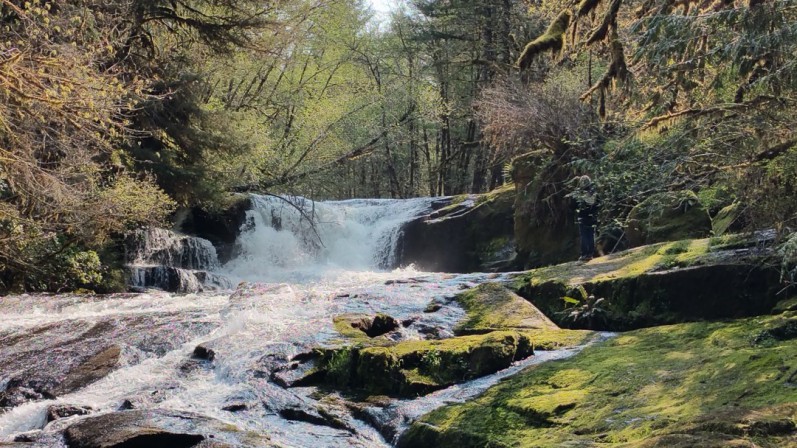 We are only 5 miles from the small town of Alsea. Small, yet much larger then our last work camp location: Bend, Texas, home of Bad Bobs and not much else. About 10 miles from Alsea is Alsea Falls. Not that spectacular, but we enjoyed getting out and seeing some flora and fauna, whatever that is supposed to really mean 🙂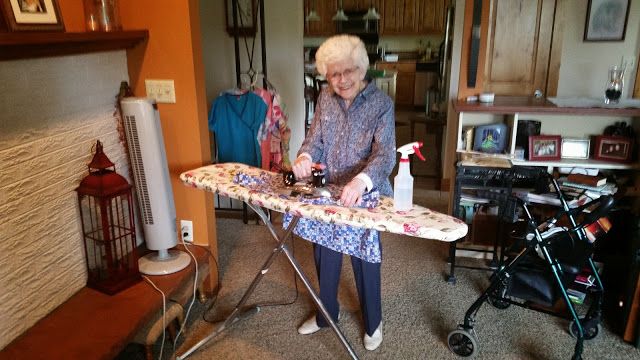 Connie's mom Vera Tilton, has had a full and wonderful life. A strong believer in Jesus, always with the hope of life everlasting with Him. Shown here helping with some ironing back in July, but it appears eminent that her hope will soon come to pass. She will be 94 Sunday April 26, and we're not sure she'll make it till then. Connie flew to Loveland on Thursday, and sister Carol flew up from Phoenix on Tuesday. So the 3 sisters are together with their Mom during these final hours. Vera has been at sister Cheri's home in Loveland for the past year. Cheri has been a relentless care giver. Vera has no food or drink for several days as she lies in her bed, unresponsive. As might be expected from Vera's incredible will, her heart rate and blood pressure remain near normal. She will be missed by many.
(Visited 164 times, 1 visits today)