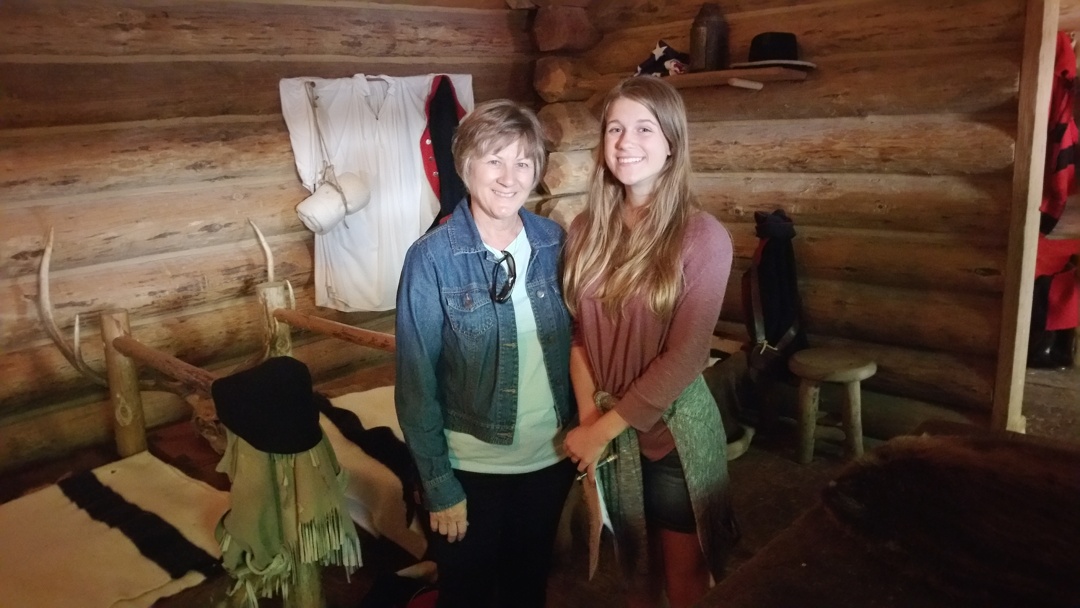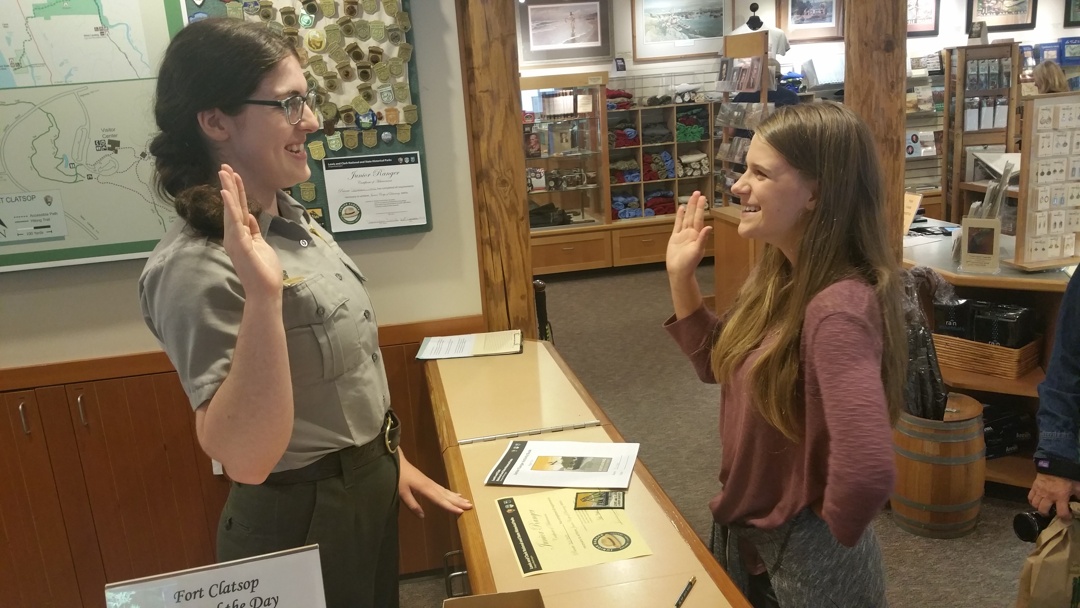 Sunday, July 3rd – Took Faith to the Lewis & Clark Historic National Park where she toured Fort Clatsop. Along the trip she completed a Junior Ranger questionnaire and was sworn in as an official Junior Ranger. Her certificate is invalid, however, she gave her name as Melina  Meade. First and last names of two celebrates she likes.
We all found the history of Lewis and Clark's journey fascinating; learning that Fort Clatsop is where they spent the winter of 1805/1806. It rained nearly everyday.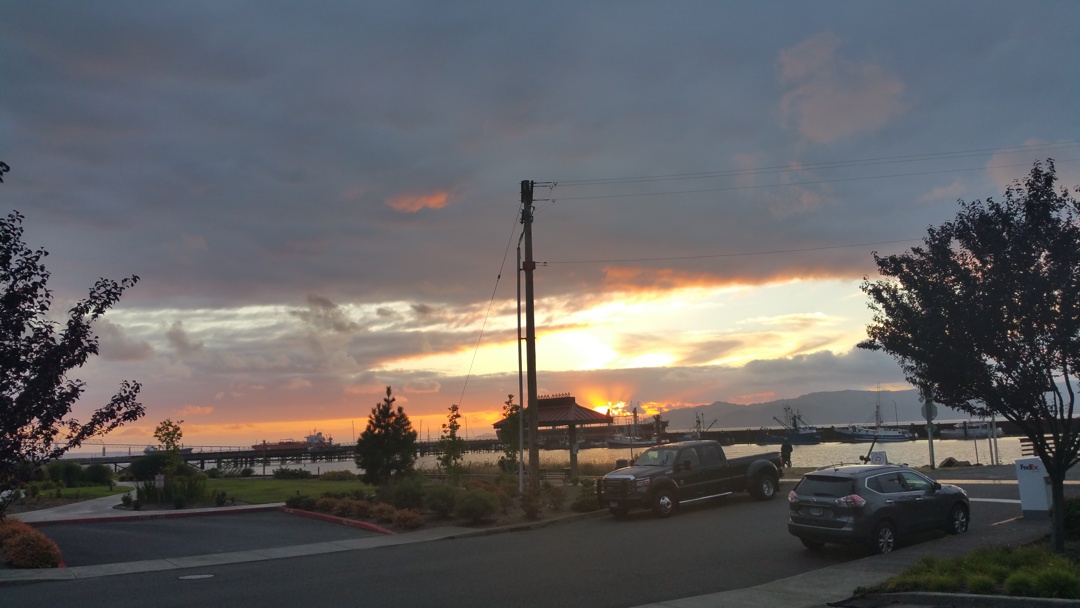 July 4th – Waiting by Columbia River docks in Astoria for the fireworks.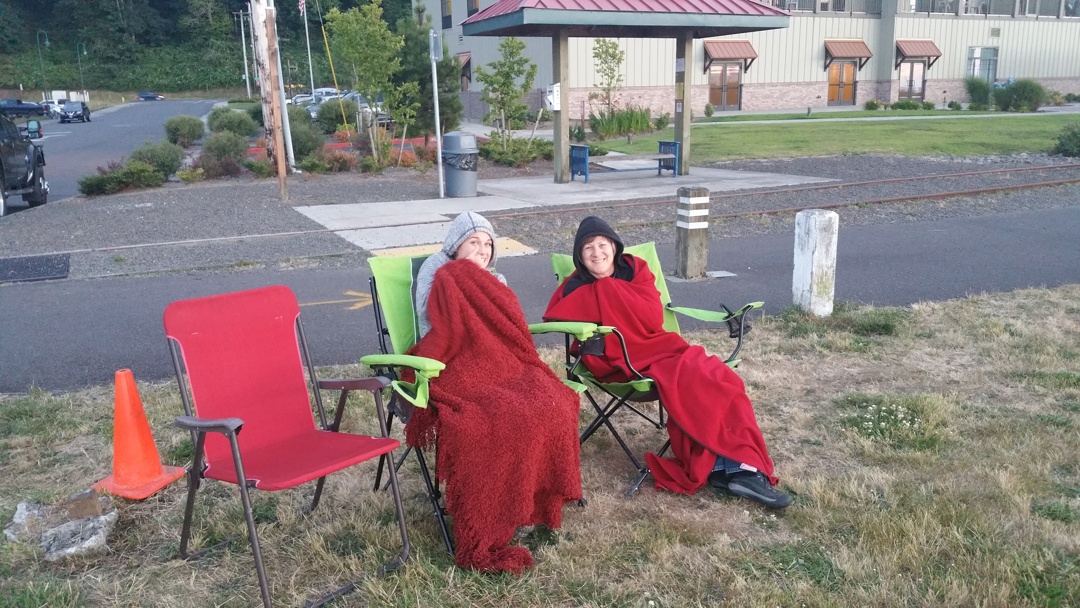 Still waiting…reminded that you don't have to go to the mountains to escape the heat! A cool night on the river.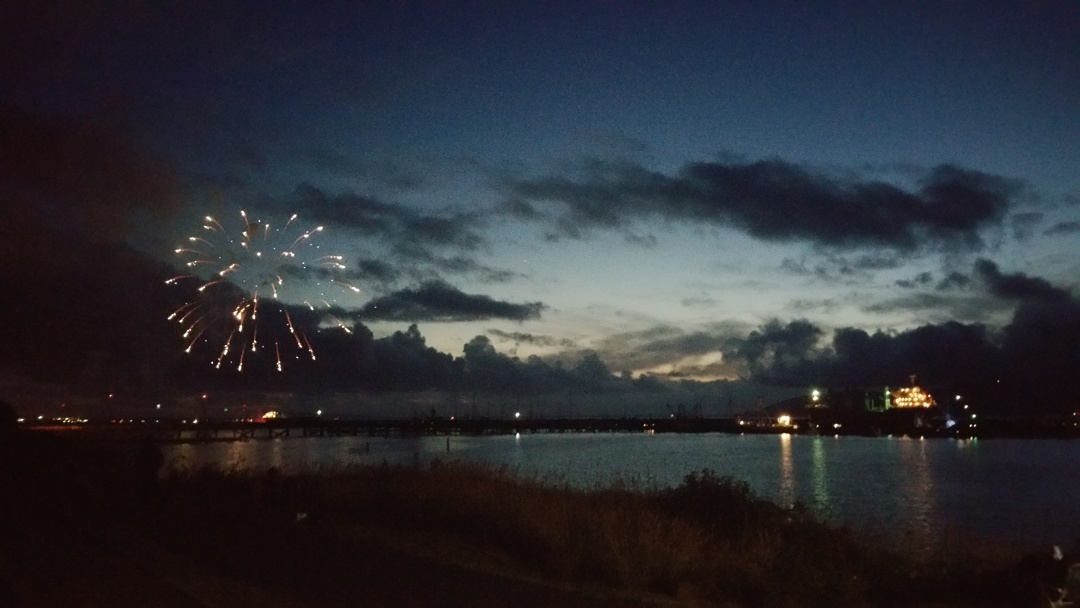 Finally! Enjoyed a wonderful display to celebrate our Independence. We got home late and have an early day tomorrow. But a great time to spend with our grand daughter.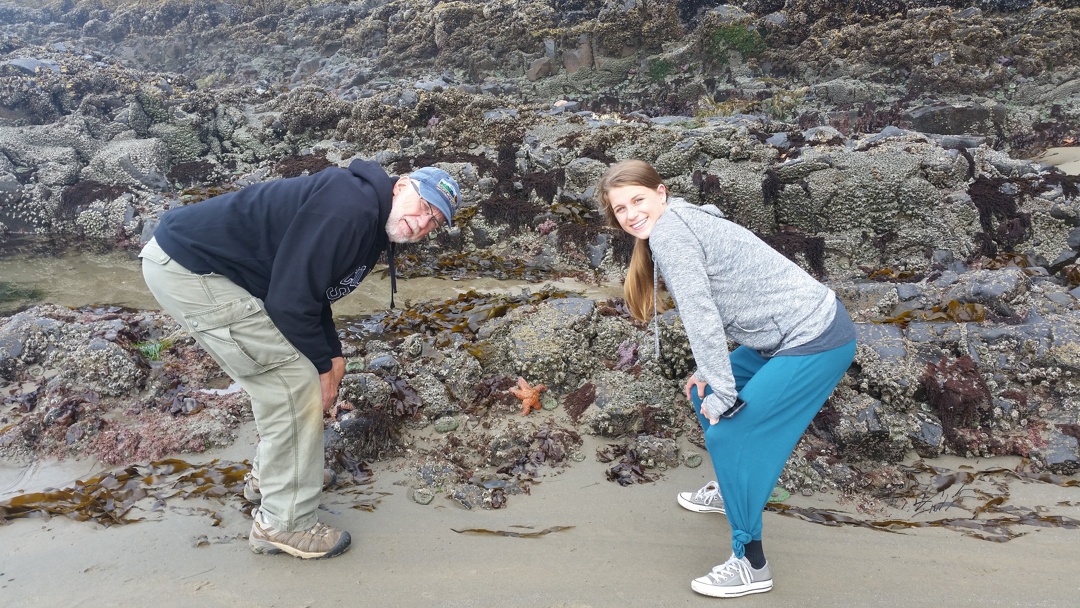 July 5th – Coming back late from fireworks, then having to be on the road again by 6am didn't set well with Faith, but she was able to sleep on the way to see the tide pools near Seaside, Oregon. The goal was to be at Ecola State park by 6:45am, an hour before low tide. Otherwise the tidepool critters  would be covered with sea water. Here, Faith and Grandpa observe one of the many starfish clinging to the rocks.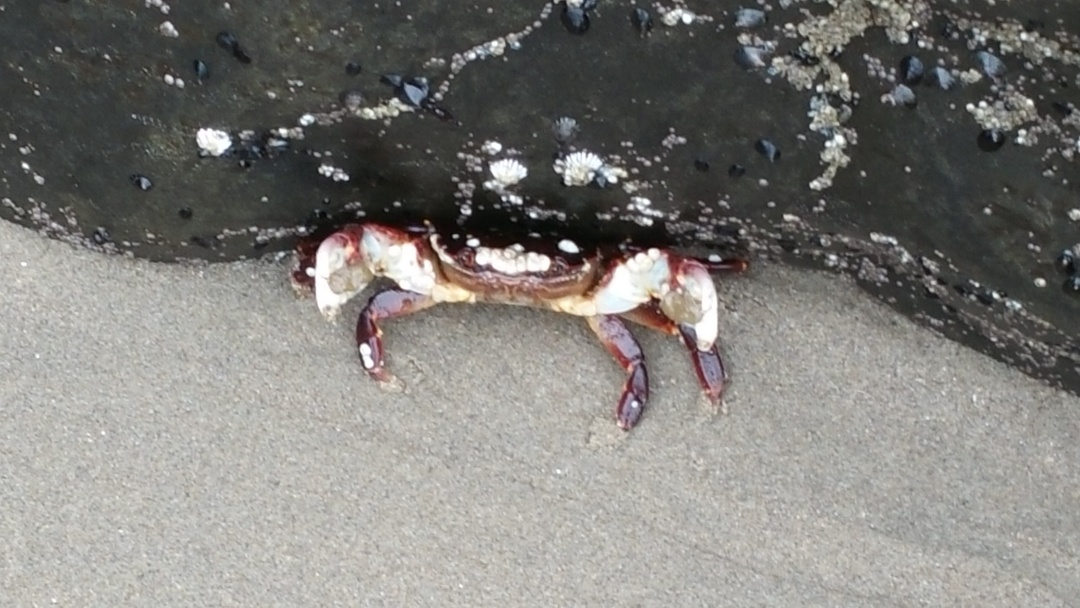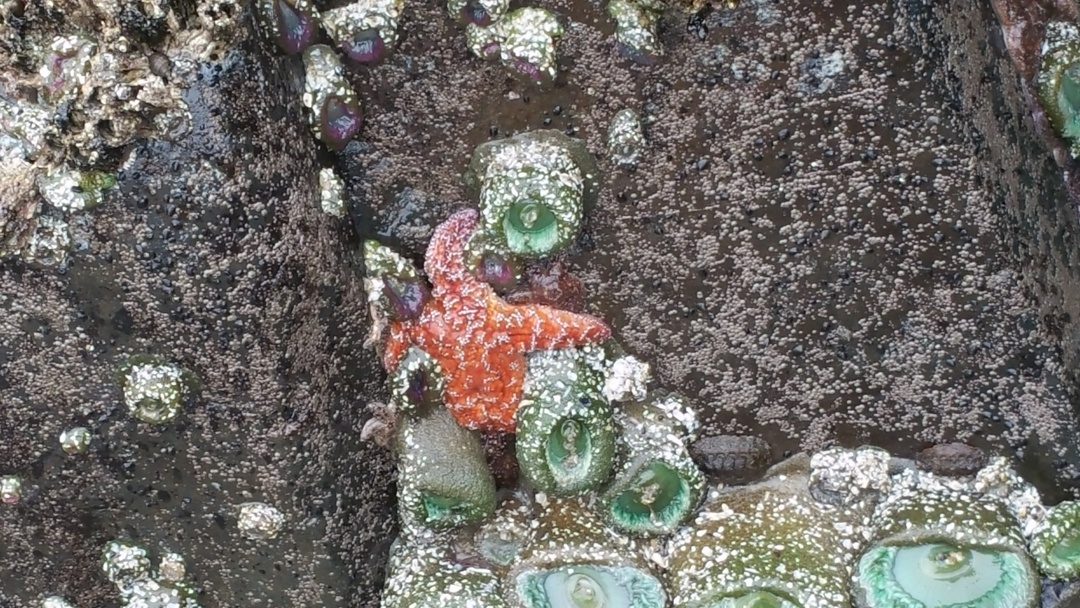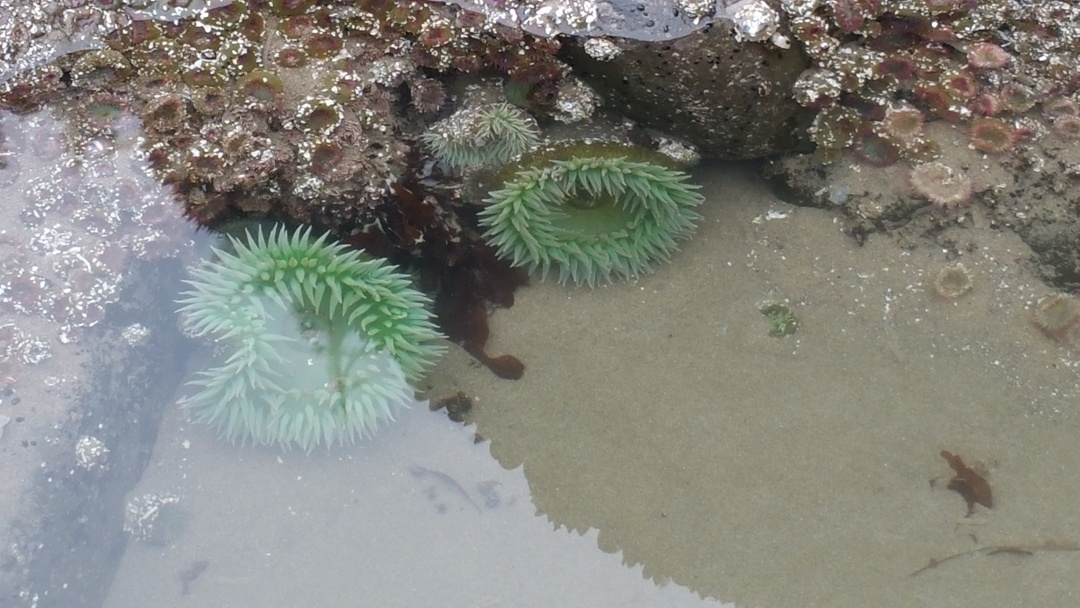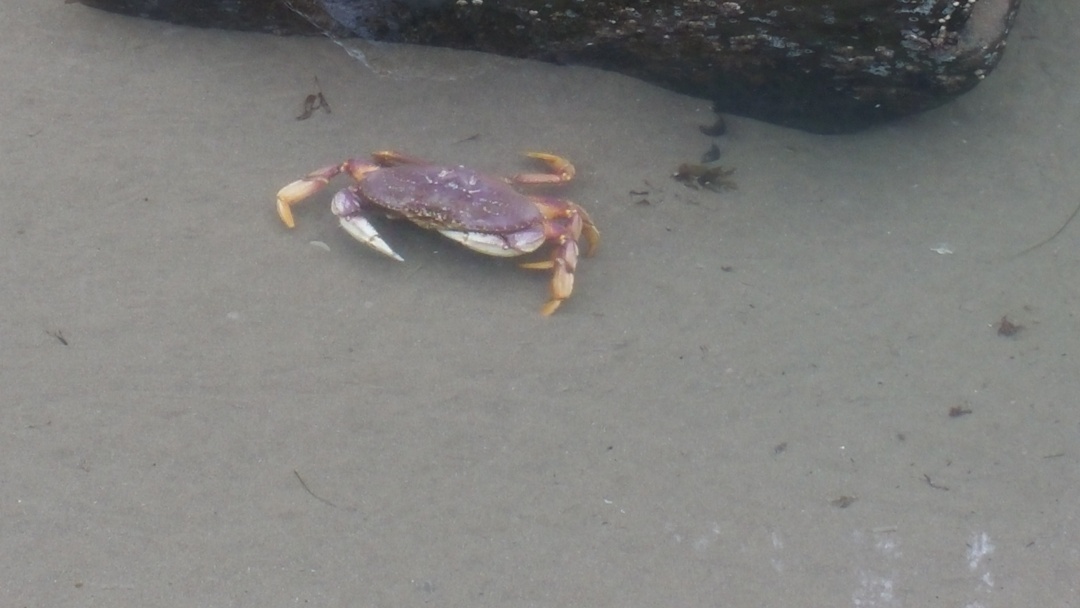 We saw many anemones. They close up when not in water, but blossom when in a pool. The first picture is a sand crab (I think) trying to hide, and the bottom picture is a Dungeness crab that must be lost. Connie picked up a discarded shell in the sand…she thought it was discarded, but it was a live crab! Faith said she enjoyed the trip very much and it was really worth getting up early. But Ed and Connie had to put in a few hours at the hatchery when we got back. Realizing our age more now days.
Wednesday July 7th – We made another round trip to the Portland Airport to get Faith headed back to Colorado. She enjoyed her stay, but we're sure she's be happy to be back home.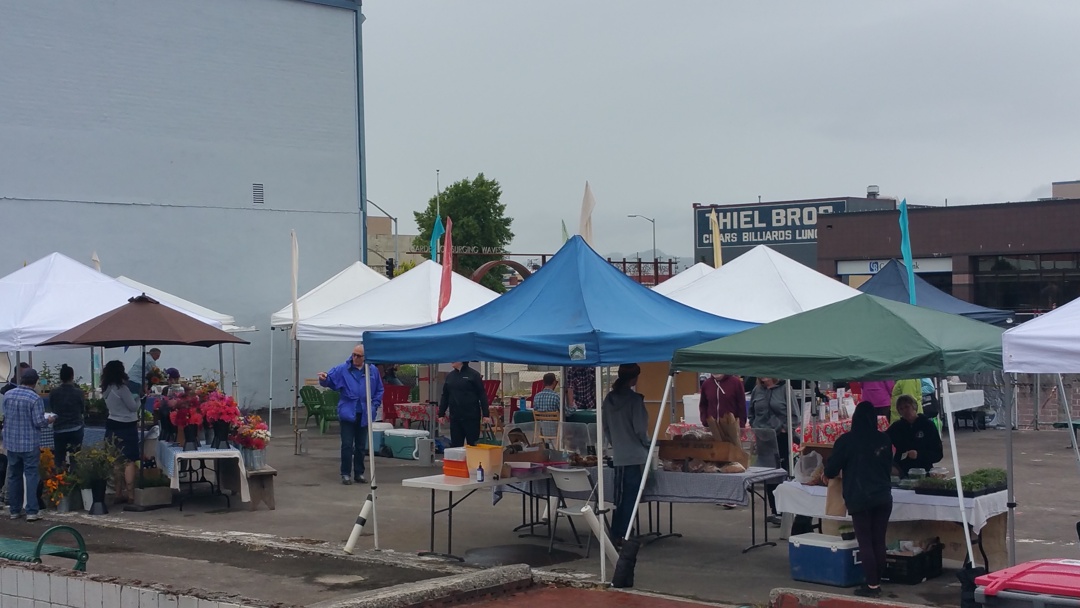 Thursday July 8th – Made another 17 mile trip in to Astoria. This time to check out the Thursday afternoon Farmer's Market. Another cool day (we've been in the mid 60's) and somewhat small, but Connie purchased a beautiful head of cabbage, and got a recipe for fried cabbage that we both like. In addition, we stopped at Homespun Quilt, the Bernina Store, for another "Row by Row",  and met Zac at the Astoria Brewery. Zac poured our beer and told us about his paintings. He reminds us so much of nephew Marshall. Another bearded bear.
Later, we enjoyed another beer with our dinner at the Buoy Brewery and restaurant. We found that we could google the name on a ship anchored in the bay and learn about their cargo, home country, and much more.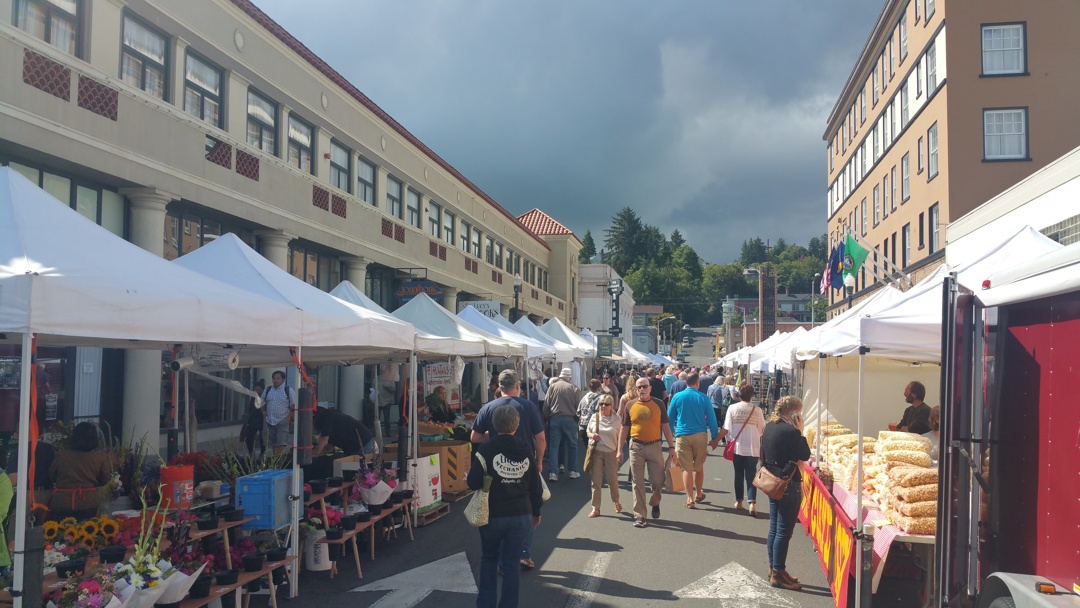 Sunday July 10th – Back to Astoria. This time to check out the Astoria Sunday Market. Wow! About three blocks worth of all sorts of stuff. Mostly crafty and innovative, but there were a few stands with produce and fruit. We, of course, had to visit Zac again. He filled our 64oz growler with their Ichiban IPA for $10. Very good.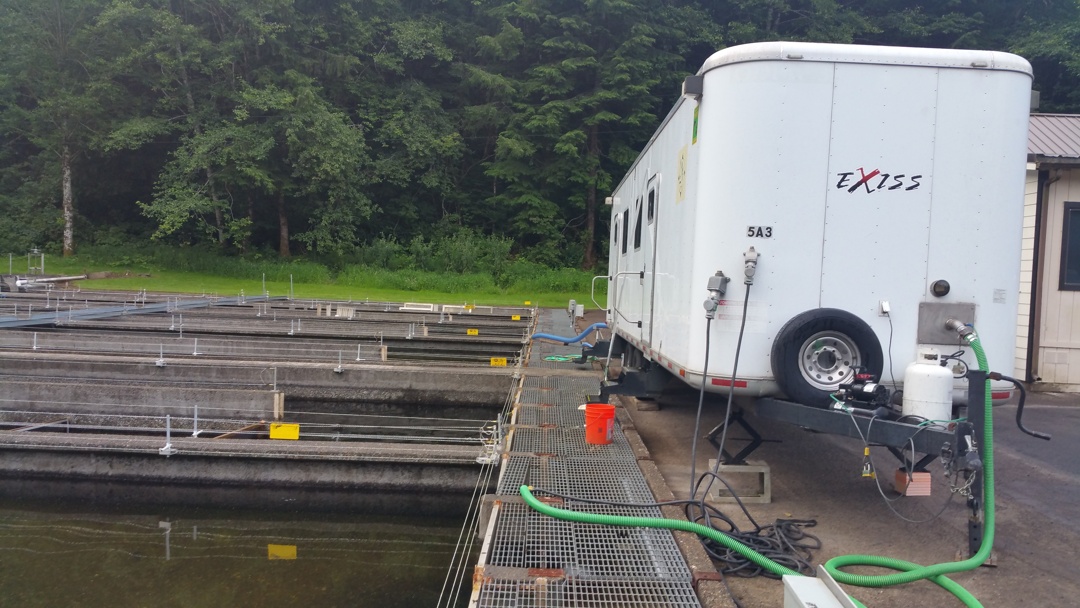 Meanwhile, back at Big Creek Hatchery. Ed and Connie continue with their chores. Mostly mowing and landscaping. But this semi trailer came in over the weekend, so we're learning about how the small hatchery fish have a fin clipped to identify it as a hatchery fish when it grows to be 20 plus pounds.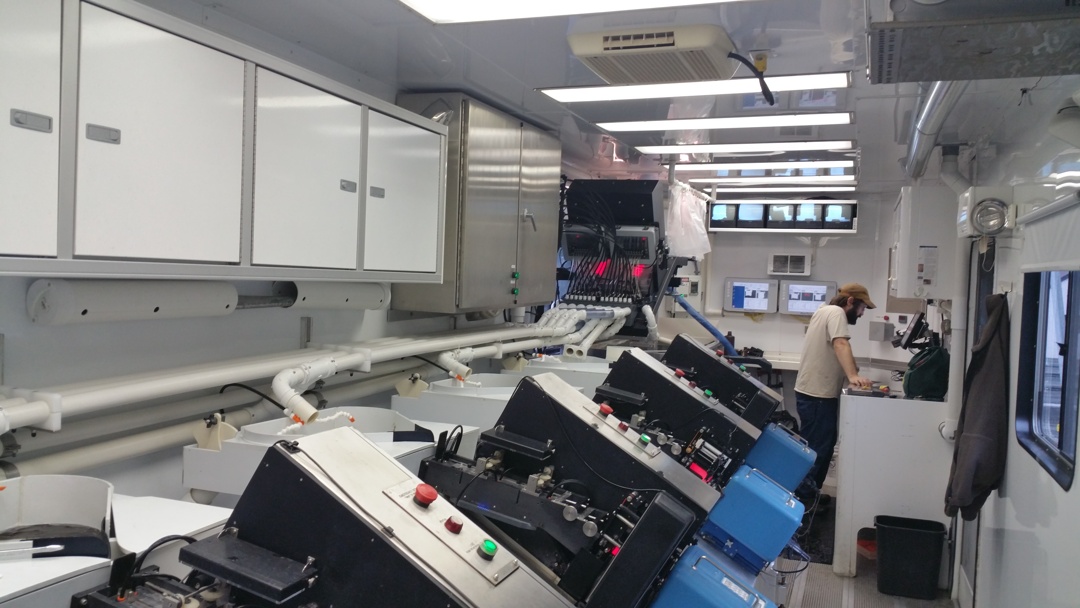 Inside the clipping trailer is quite impressive with all the fish clipping automated machinery and computers.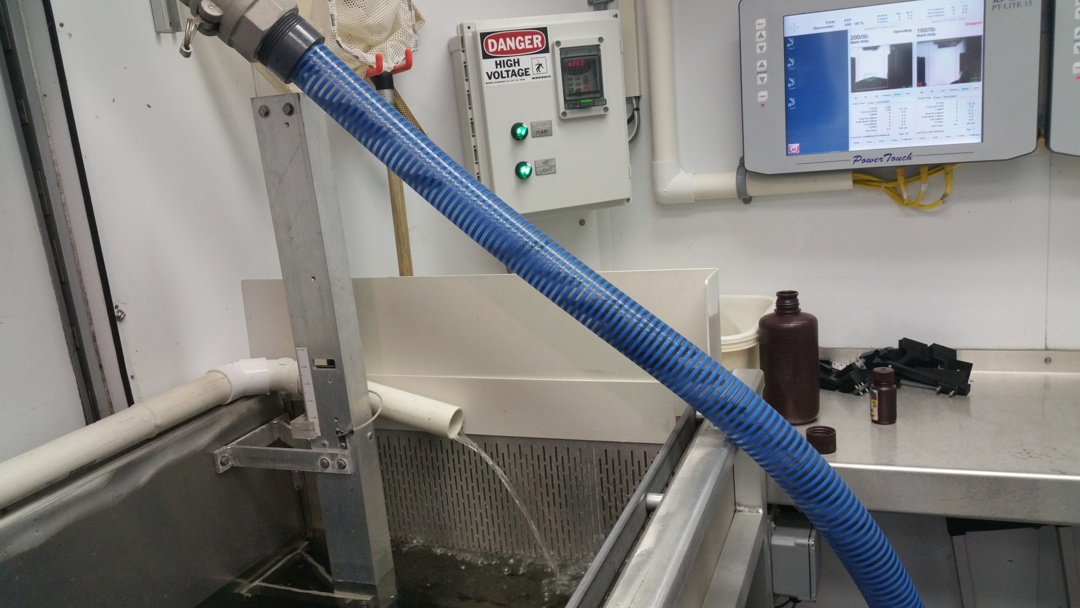 The fish start their journey by being hand dipped out of hatchery ponds just outside the trailer. They are poured into a large basin, a little smaller than a bathtub, the sucked through this blue hose (see the fish in the hose?), which begins the process. The fish are distributed to the clipping step through the white tubes (see the previous) picture and on to the clipping machines.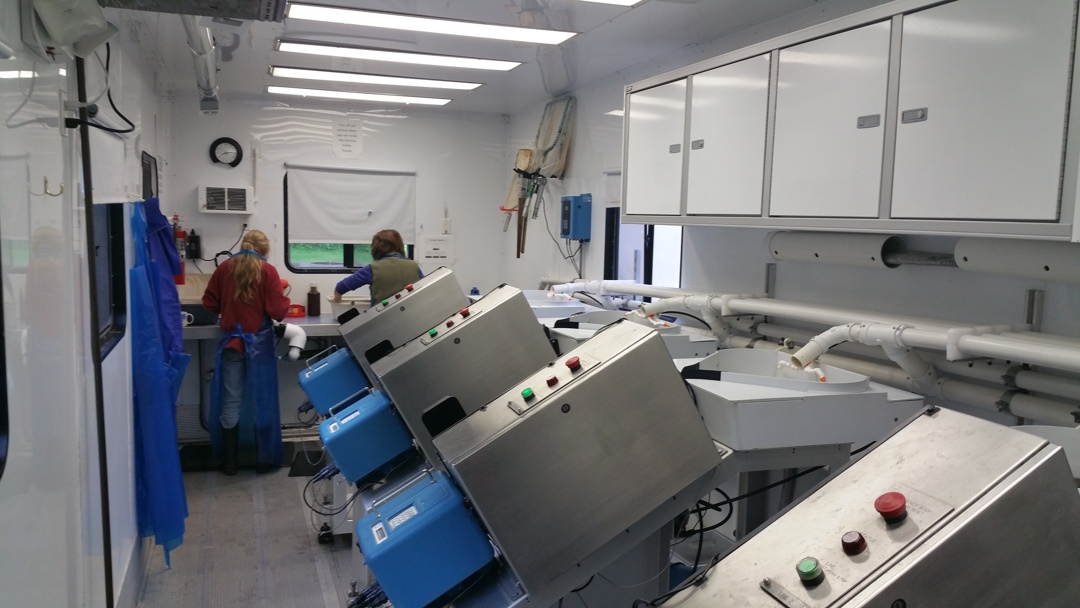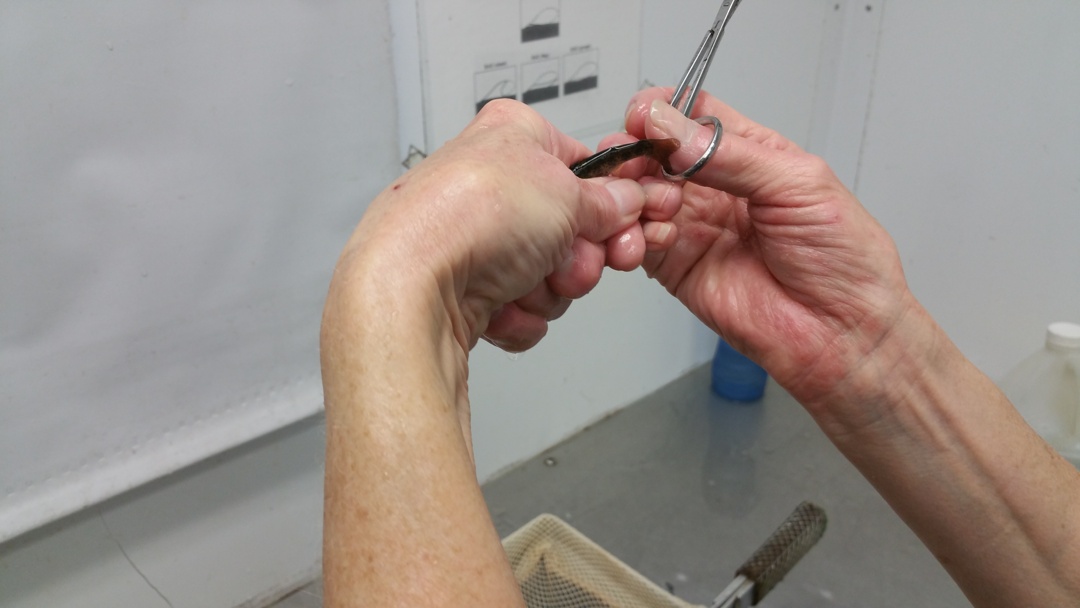 Any overflow, or fish missing the machine clippers, wind up being hand processed by the two employees at the rear of the trailer. What a tedious task. This trailer will count and clip all the Steelhead at the hatchery. Over 100,000! After their ordeal, they are discharged though the large blue hose at the back of the trailer (5 pictures earlier).
(Visited 155 times, 1 visits today)