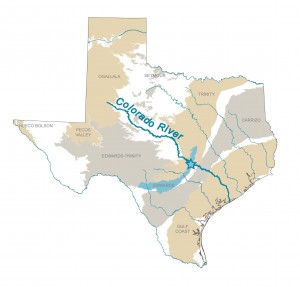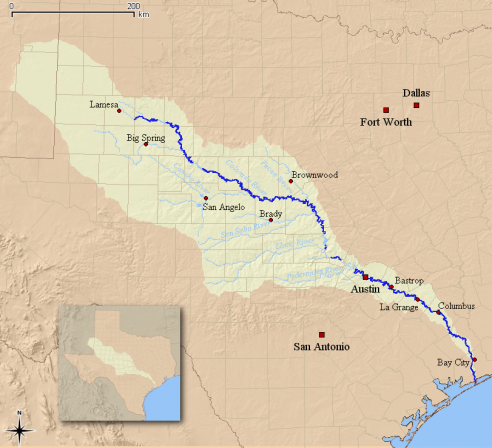 When we first looked into serving as Park Host at Colorado Bend State Park, we didn't understand how it could be on the "Colorado River?" It just didn't make sense to someone familiar with the river and all that goes with it…like Lake Powell & Hoover Dam for example. We couldn't visualize the Colorado in the Hill Country of Texas. Something just wasn't right.
So on further review, we came to realize this is the TEXAS Colorado River and has nothing to do with THE Colorado River. But what we did find out is that this Colorado River does have some interesting points of study.
The Colorado River is the 18th longest river in the United States and the longest river with both its source and mouth within Texas; its drainage basin and some of its usually dry tributaries extend into New Mexico. The 862-mile long river flows generally southeast from Dawson County through Marble Falls, Austin, Bastrop, Smithville, La Grange, Columbus, Wharton, and Bay City before emptying into the Gulf of Mexico at Matagorda Bay.
I suppose Colorado Bend State Park is named because of the Bend it the river here, but also after the town of Bend, TX, which has a dramatic history of it's own. Bend and the State Park are located in San Saba County; one of 254 counties in Texas. That's a lot of counties, but Texas is a huge state.
So why is it called the Colorado? Well that's a point for further review. If interested, one can check the Texas State Historical Association page. In the mean time, we continue to enjoy our time here; including the peace and quiet, the beautiful night sky, the deer, turkey, fox, other hosts, and the cedar covered country side. Oh…and then there is Bad Bobs too.
(Visited 2,706 times, 1 visits today)