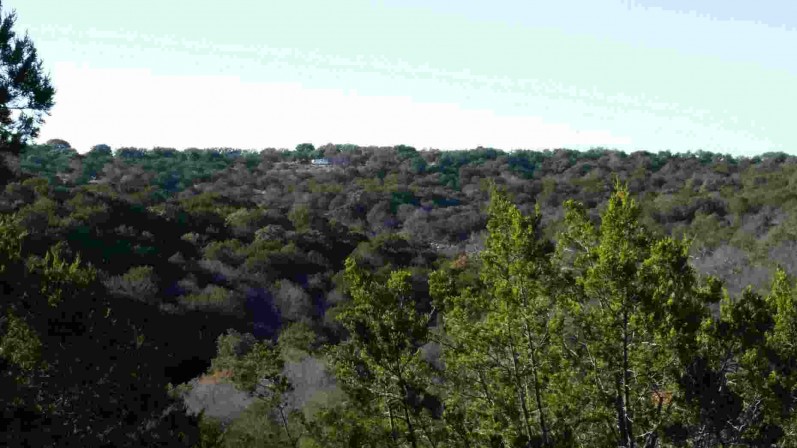 We took a 3  mile hike  with our host neighbor Tywla Tuesday (Nov 18); starting here at the maintenance site where we hiked on the former access trail to get to the main trail. The main trail is a new one that goes around the canyon we see from our front door, then up the other side. There is a small pool at the mouth of the canyon. The pool is called a Tinaja, hence the name of the trail. It is a great trail with lots of scenic views. Tywla's husband Bob drove over to pick us up so we didn't have to walk back.
Look closely at the picture above…see the silver shiny thing? That's our Airstream from across the canyon. Look closer and you can see our red Ford truck.
It's difficult to see that there is a canyon in the picture, but we certainly knew it was there walking down and back up. The Tinaja trail, and many others here were built by a volunteer group called Friends of Colorado Bend. Click on the link to see some great trail building pictures, including one of the actual Tinaja pool.
Our host neighbors Bob and Twyla pulled out Friday (Nov 21) and headed off to man an oil field gate near Cotula, TX. Rather remote, but they are paid $160/day for checking trucks through the gate; plus full hook ups for their RV are provided. We'll miss them but it sounds like they've settled in well.
(Visited 84 times, 1 visits today)