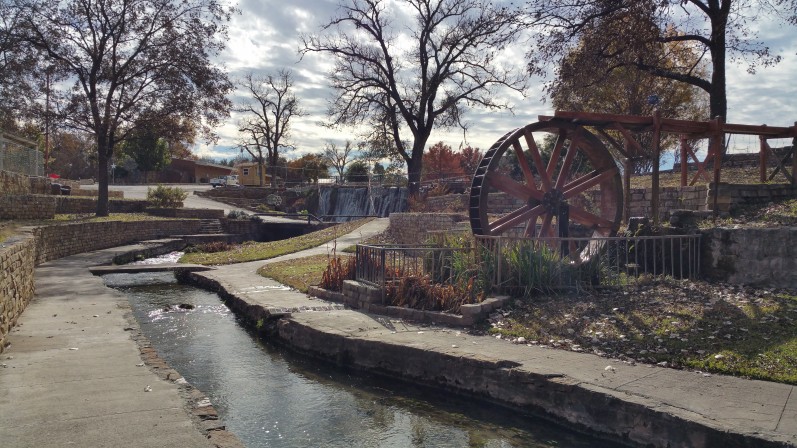 We're supposed to have Sunday, Monday, and Tuesday as off duty days, but generally we still wind up doing some of the chores around the park. However, the Monday before Thanksgiving (November 24) we made a 180 mile circle around some small towns (i.e 3000 to 6000 population). The first stop was San Saba. We had been here before, but took a little time to enjoy their park and Oliver's Coffee House, newly opened in a restored bank building downtown.  Oliver's is primarily a large pecan production company in San Saba.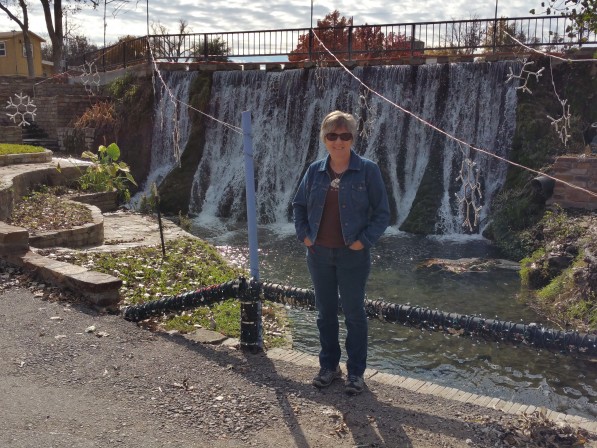 Couldn't resist snapping a picture of Connie standing in front of the park's waterfall.

After San Saba, we headed to Llano for lunch at the famous (around these parts anyway) Cooper's BBQ. Wow! What an experience. You select what cut you want before going inside. The grill guy throws your selection on a tray that you then take the tray inside to pay. They weigh it and give it to you wrapped in butcher paper. But wait, we didn't want it to go! No matter, that is the way it is served. But where are our plates? Just use a sheet of butcher paper an sit at the picnic table to enjoy…along with many all the other folks enjoying the cuisine. A bonus is all the bread and pinto beans you want. Yumm.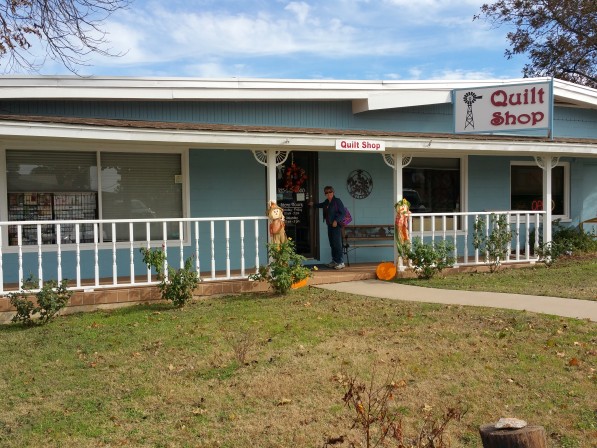 Finally! Connie finds a delightful quilt shop after lunch in Llano. Shopped around for a few things, making a mental note of what she needs for her next visit; keeping in mind we don't have any storage area at "home."
From Llano we drove to Inks Lake State Park near Burnet, TX. We were doing a little research to check if it might be a good place for us to host next November/December. A very nice park, but has over 300 campsites and perhaps a little too large for our taste.
Then over for a quick stop at the Double Horn Brewery in Marble Falls, my favorite town in the area. Not just because they have a brewery! Got home after dark. It is white knuckle time driving in this country after dark. Deer are everywhere and we don't want to hit one, even with my new grill guard!
(Visited 76 times, 1 visits today)