A well known Mesa landmark that always catches our eye when we're driving on Main Street is the historic Diving Lady neon sign. It has quite a story. Originally erected in the 1960's but came down with a crash during a storm in 2010. Mesa Preservation Foundation was instrumental in restoring the landmark in 2013,  and it now stands proud in front of the Starlite Motel…that no longer has a pool.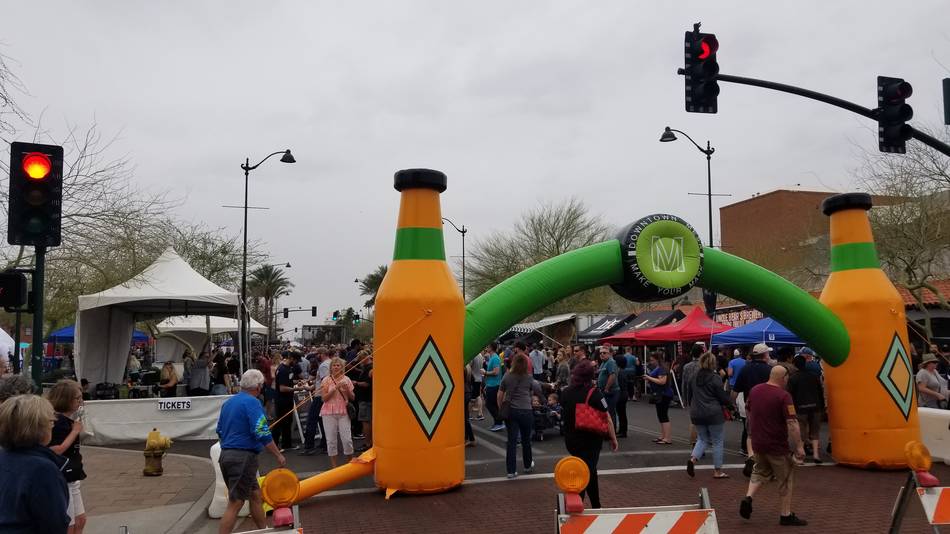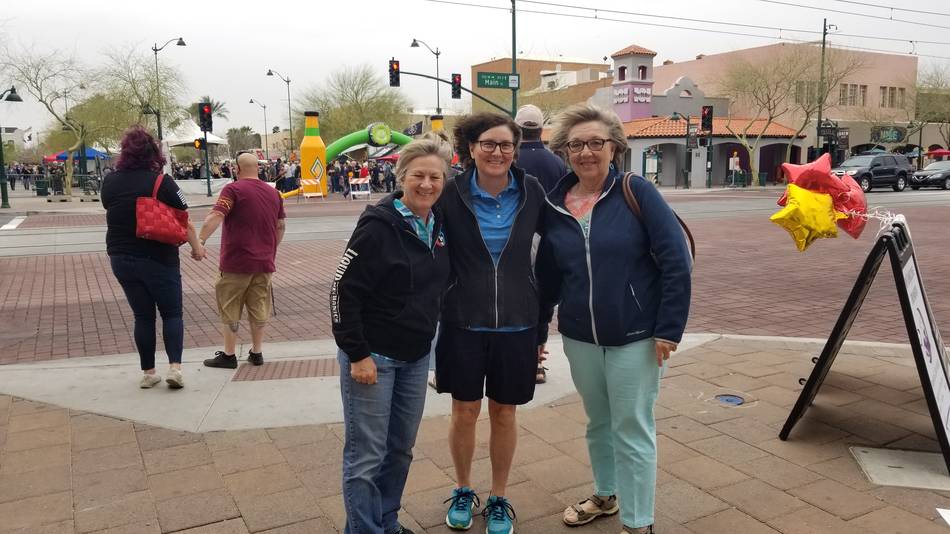 We've had several visitors since our arrival last November. Janet and Nancy from Utah stopped by the afternoon March 10. We took them to the Mesa Beer fest and our favorite BRI brewery.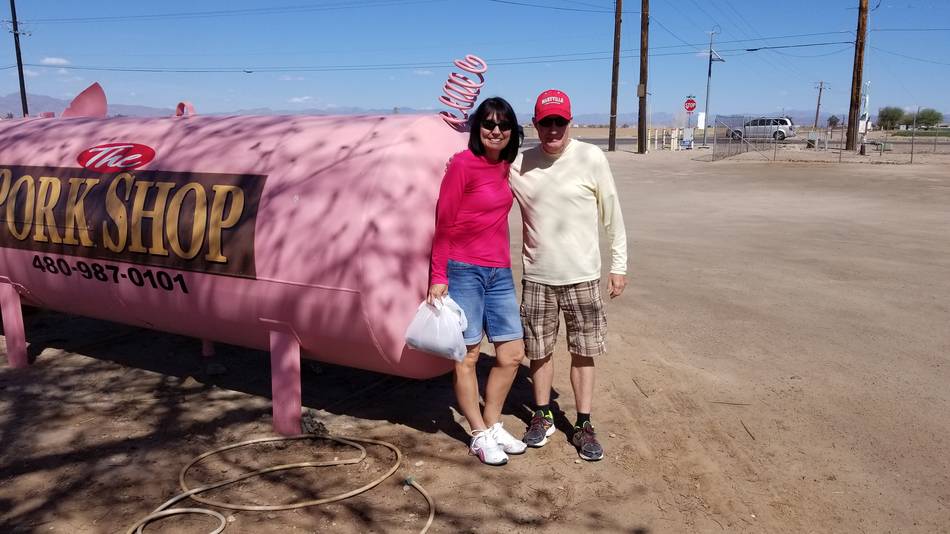 We got together with Mike and Marva a couple times in Mid March. They are friends we met at Brazos Bend State Park near Houston mid-March. We served with them there Nov-Dec 2015. Mike and Marva parked their RV trailer down the street and we had an awesome time with them in the area…including the Olive Mill Farm, the Pork Shop, and riding bikes to the Gilbert Farmers Market. Great seeing them again.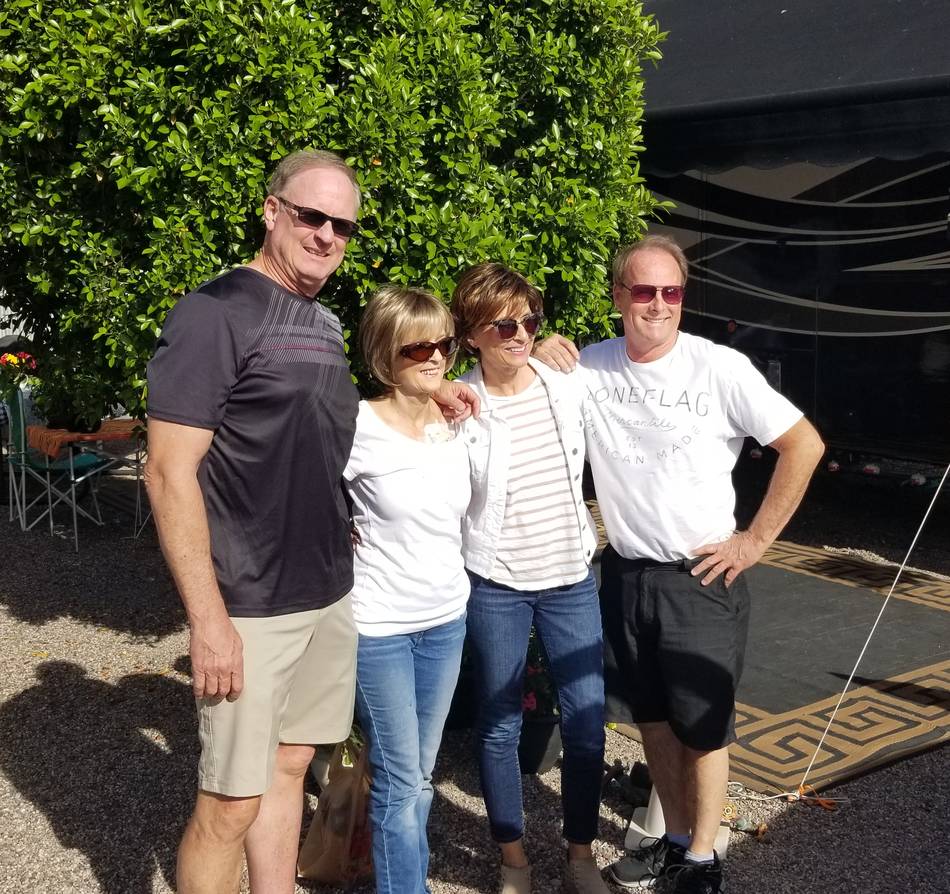 We are thankful that Colorado friends Jann and Jeff Fox that have their RV parked across the valley (Goodyear) and we are able to see them from time to time. They came to see us Friday April 6, bringing Jann's sister Jeri and her husband Bruce. Great visit, meatloaf, and beer.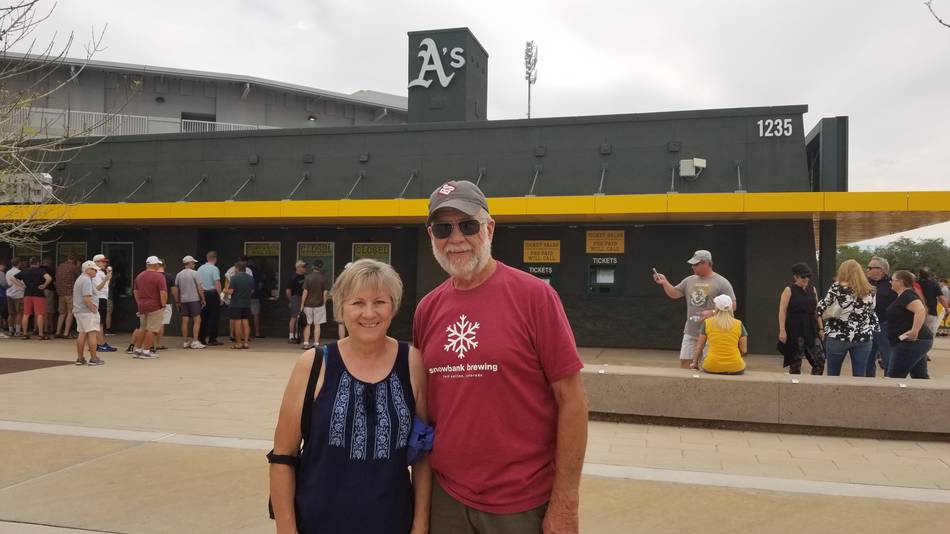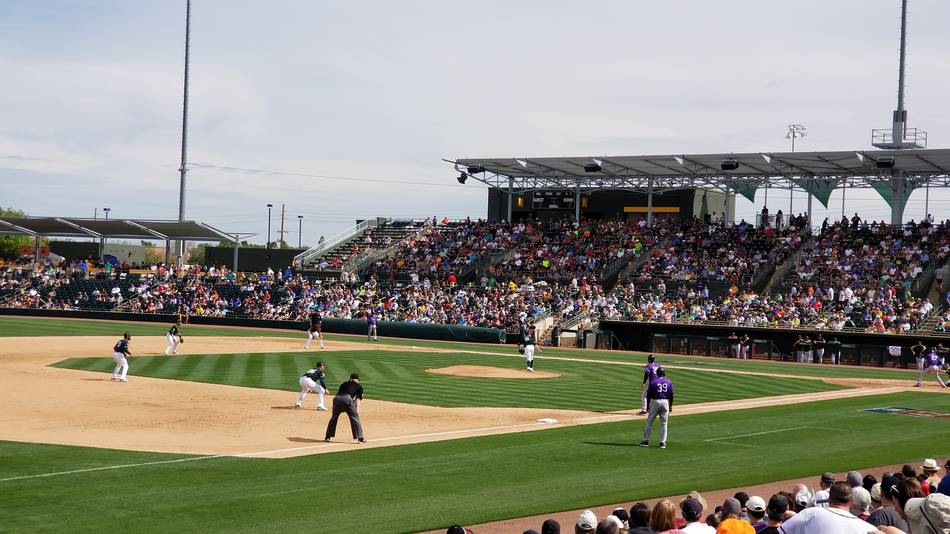 On Thursday March 22 we road our bikes the 4+ miles down the Consolidated Canal path to the Oakland A's Hohokam Stadium to watch the Rockies beat Oakland 4 to 2. Nice day to enjoy a beer, hotdog and the ballgame.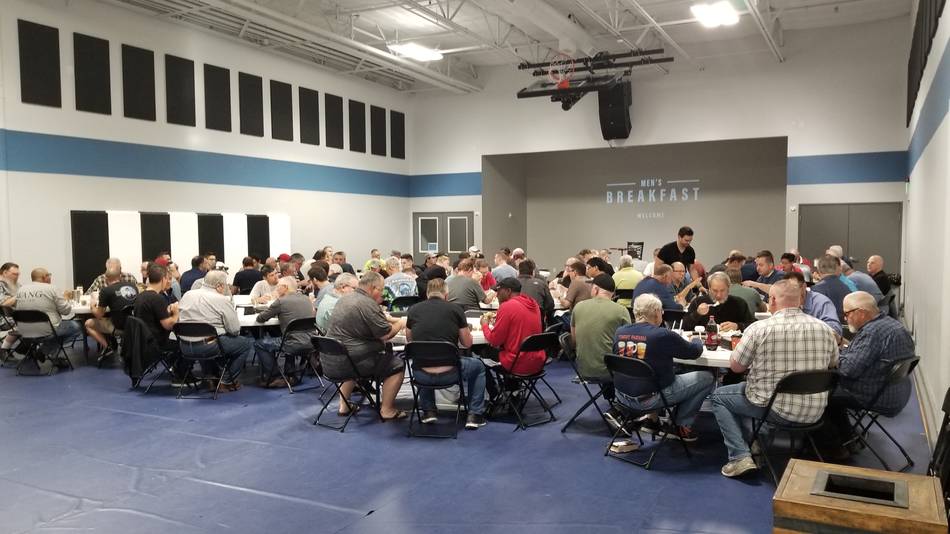 Ed took Connie to Phoenix Sky Harbor Airport on Saturday March 24 for her flight to Colorado and a family connection fix. Her flight was 5:15am, leaving Ed plenty of time to attend the Men's breakfast at Christ Church in Gilbert. He had a great time meeting and sharing with some other Men. Connie enjoyed her week with sister Cheri and daughter Shannon and family.
We took a long drive to Wickenburg and Jerome on Thursday April 12. From Mesa we drove the freeway to Scottsdale Rd and the Carefree highway (highway 74), then over to 60 and up to Wickenburg. We loved walking around Wickenburg a bit, stopping at the Chamber of Commerce located in the old train depot. Shopped a couple antique stores before moving on toward Jerome, through Yarnell and Prescott via winding highway 89. Yarnell is known for the 19 Granite Mountain Hotshots that died fighting a wildfire back in 2013. Josh Brolin stars in Only the Brave, a movie about the tragedy.
Drove highway 89A from Prescott to Jerome. Now Jerome is quite an interesting town. Reminded us a bit of Central City, Colorado. An old copper mining town built on the side of a hill. In the old days it was sometimes referred to as the Wicked City. Brothels and such you know.
Our drive happened to coincide with Arizona Bike Week so we saw lots of Motorcycles.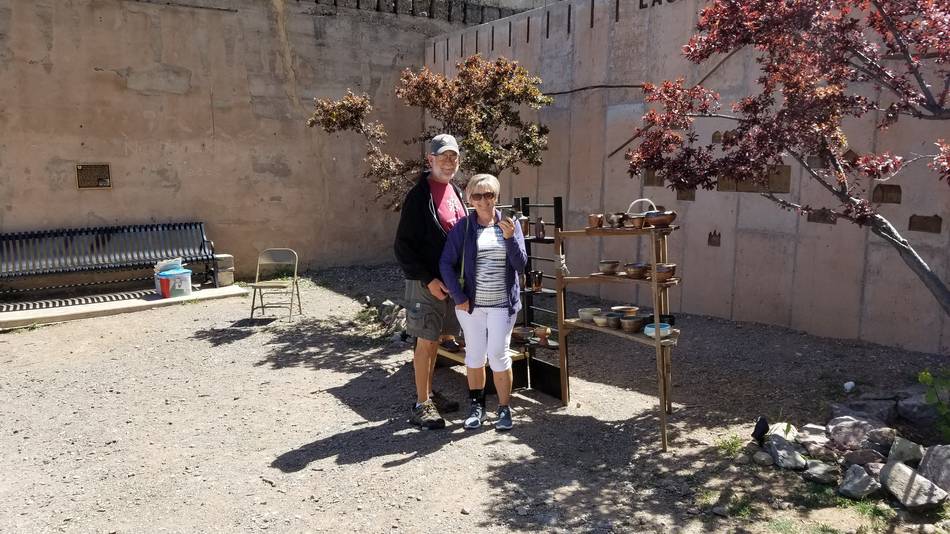 A potter had a few of his things set out in a spot between two buildings. Connie couldn't resist buying yet another unique cup.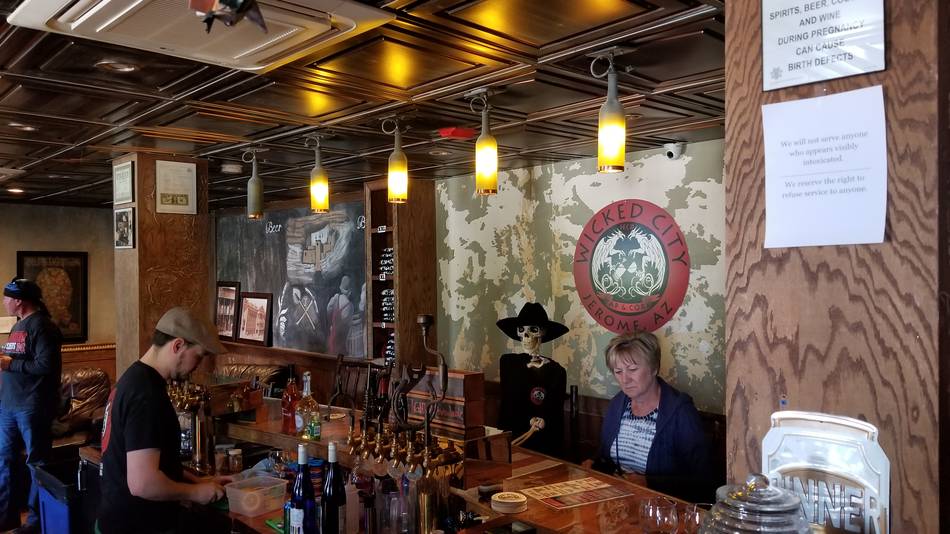 The Wicked City Tap House is up yet another hill we had to climb, but was worth the walk to get a little refreshment. Connie found a stool next to a very bony fellow.
We're saying good bye to friends and family in Arizona April 24 and going back on the road. God willing, we'll be back here November 2.
4/24 Depart Mesa. Drycamp at a Desert Diamond Distillery in Kingman
4/25 drycamp at Millers rest stop near Tonapah, NV
4/26-4/29 Silver Sage RV Park Reno, NV for Faith's VB tournament
4/30 Lia & Jerry's place Klamath Falls, OR
May-June – Big Creek fish hatchery near Astoria, OR
7/1 – Bonair Winery 500 S Bonair Rd, Zillah, WA (near Yakima) bonairwine.com (509) 829-6027
7/2 – Boondockers Welcome Pearts Wenatchee, WA
7/3 – Harvest Hosts Esther Bricques Winery & Vineyard Oroville, WA
7/4 – Harvest Hosts DeMille's Farm Market Salmon Arm, BC
7/5-7/6 Irvins Campgroud Valemount, BC
7/7-7/8 – Whisler CG Jasper – diyr 30GG confirmed no hookups
7/9-7/10 – Tunnel Trl Court CG Banff FHU
7/11 – Boondockers; Canal Flats BC
7/12-7/13 – Glacier Sun Winery Kalispell, MT
7/14 – Harvest Host Miracle of America Polson, MT
7/15-7/16 – Peggy & Tom's DoubleArrow Golf Course near Sealy Lake
7/17-7/20 – Helena Fairgrounds space 20 w/electric
7/21-7/24 – Sunrise Campground Bozeman, MT
7/25-7/26 – 7th Ranch RV Park Garryowen, MT
7/27-7/30 – Gillette, WY
7/31-8/1 – Spearfish City Park RV campground
8/2 – City Park Wheatland, WY first come first camp
Aug 3-4 Hi-Camp campground no hookkups-Cheyenne for Connie's 50th HS reunion
8/5 – Cheri's Loveland
Aug 6-Sept 6 Loveland RV
9/7-9/10- Monument RV Campground , Fruita, CO
9/11-9/13: Ridgway State Park site 18 confirmed
9/14-9/21: Fraser
9/22-10/6: St. Vrain
10/7-10/10: Bear Creek Lake Rec Area Lakewood, CO
10/11-10/25: Chatfield SP
10/26-10/27: Cheyenne Mtn SP Colorado Springs
10/28: Childress, Tx
10/29-10/31: Stephenville, TX
11/1: Las Cruces, NM
11/2: Twin Palms
(Visited 140 times, 1 visits today)