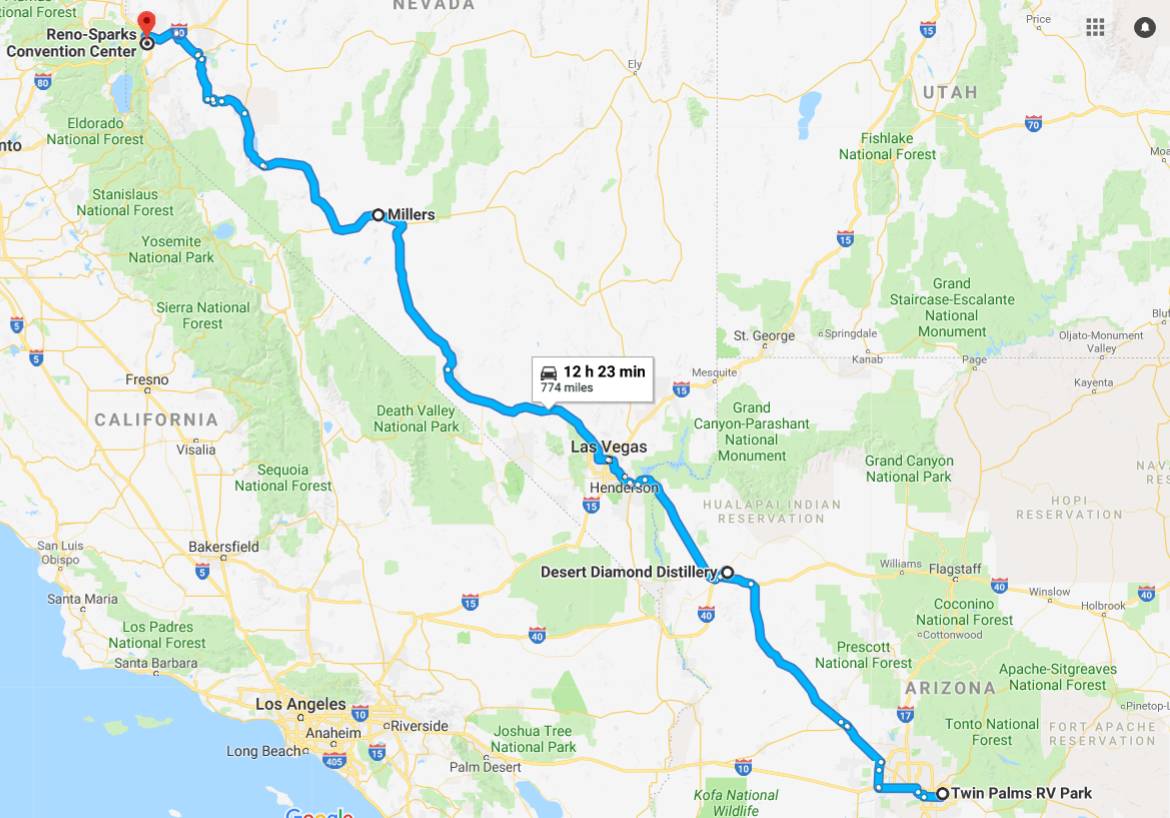 April 24, 2018: Say goodbye to Steve and Jenni and others as we depart Twin Palms RV Park around 9am toward Kingman, Arizona.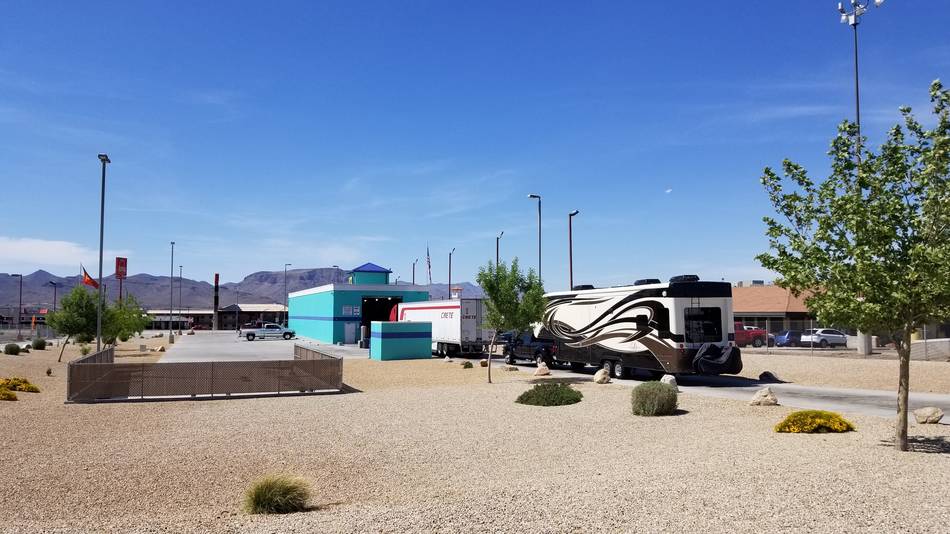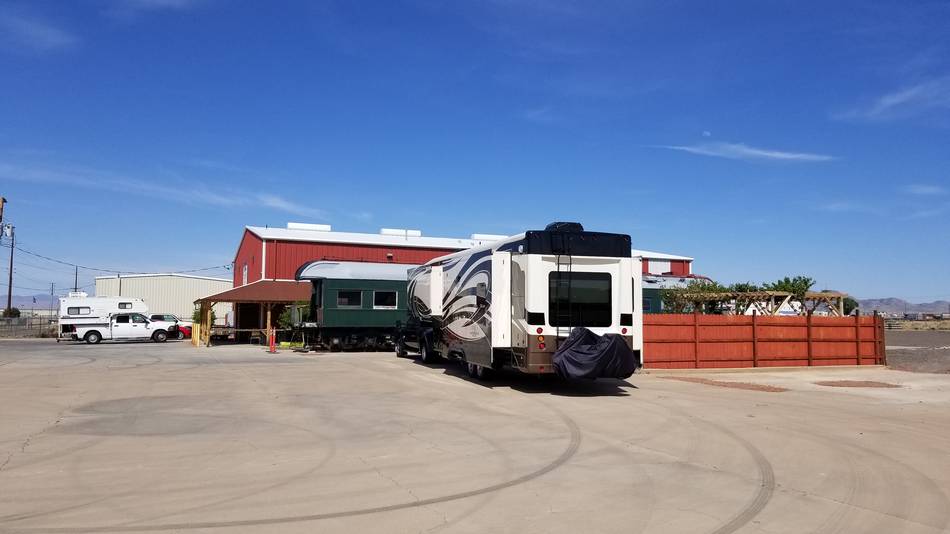 With months of Arizona dust build up on our home, we decided to run it through the Kingman Blue Beacon Truck Wash before venturing down Historic US 66 about 5 miles to the Desert Diamond Distillery, a Harvest Hosts location. Even though they were officially closed Tuesdays, John and Deborah welcomed us to their distillery and showed us where to park; right along side a quaint gazebo patio area and the vintage Pullman car that came with a story on how the heck they got it there from Kansas… along with their plans to refurbish it into a restaurant.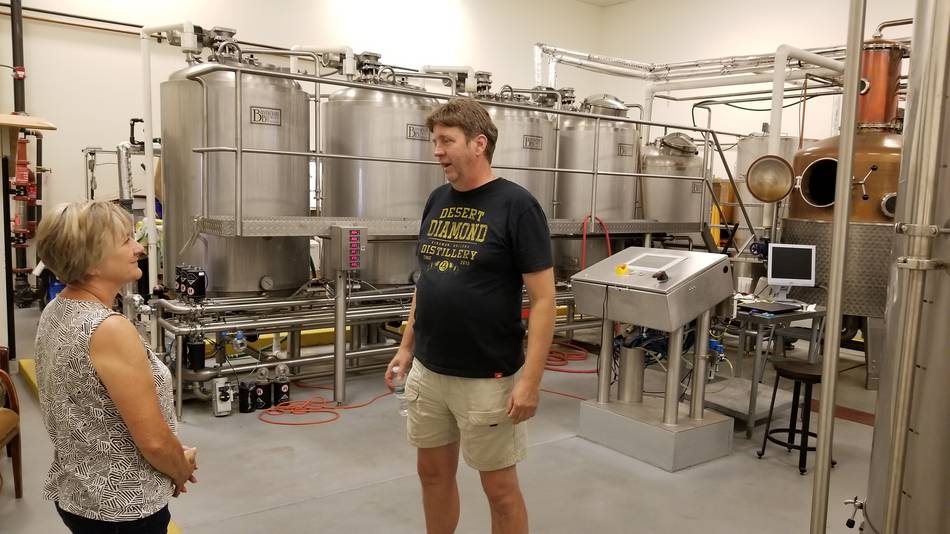 John took the time to give us a tour of the distillery and an informative presentation on how they distill rum. Afterward, we joined Deborah at the bar tasting room for some samples of their product. Connie favored the Barrel Rum Reserve so we purchased a bottle as a reminder of our D³ (Desert Diamond Distillery) stop.
We met up with John and Deborah for breakfast at the Airport Cafe Wednesday morning. We were able to walk to the cafe as it is located a short distance from the distillery. The area is next to the local airport located in the industrial area of Kingman.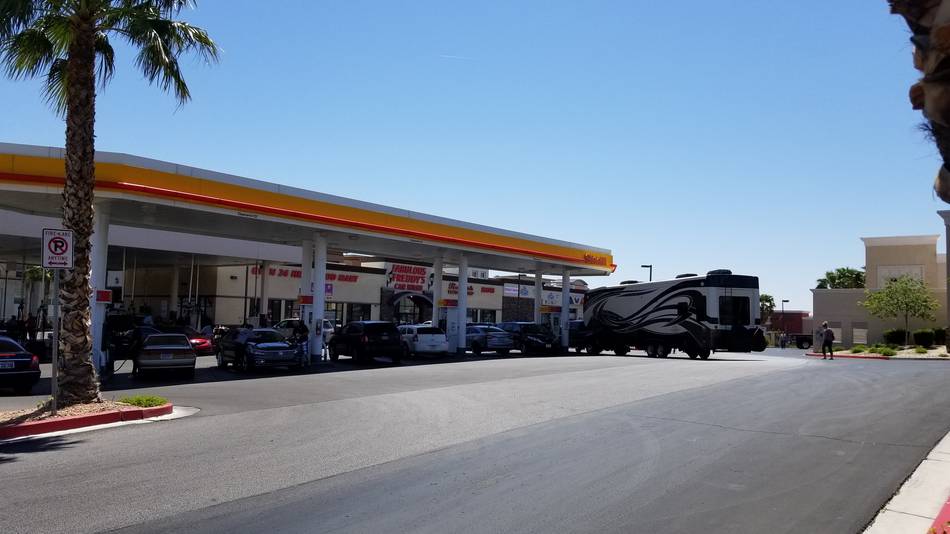 After breakfast at the cafe, we traveled US 95 by Hoover dam and continued though Las Vegas. We hoped to find a truck stop along the route where we could pull in/out easy with our big 5th wheel. Nope! Wound up making a U turn north of town and heading back to a station located in a shopping center area. Got into a rather tight situation, but managed to find an end pump and a couple nice young ladies that were there to pump our fuel. Whew! We were off and going again after about 1/2 hour.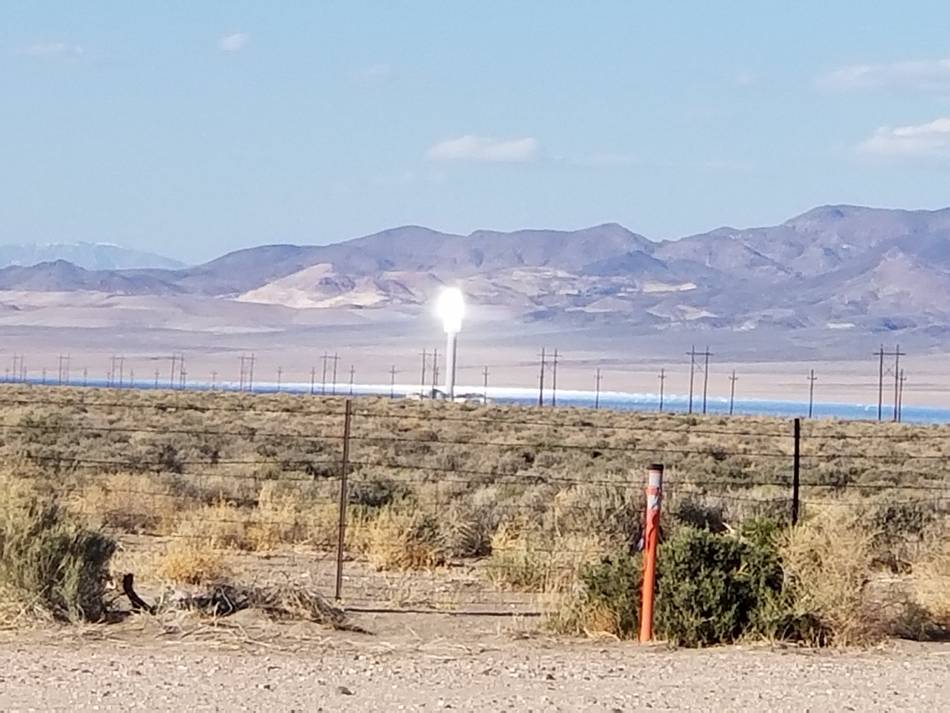 We tried to figure out this spectacular bright light in the desert as we approached Millers Rest Area, 10 miles west of Tonopah. With good cell service we were able to Google that this was the Crescent Dunes Solar Energy Project, a 110 megawatt solar thermal project with 1.1 gigawatt-hours of energy storage.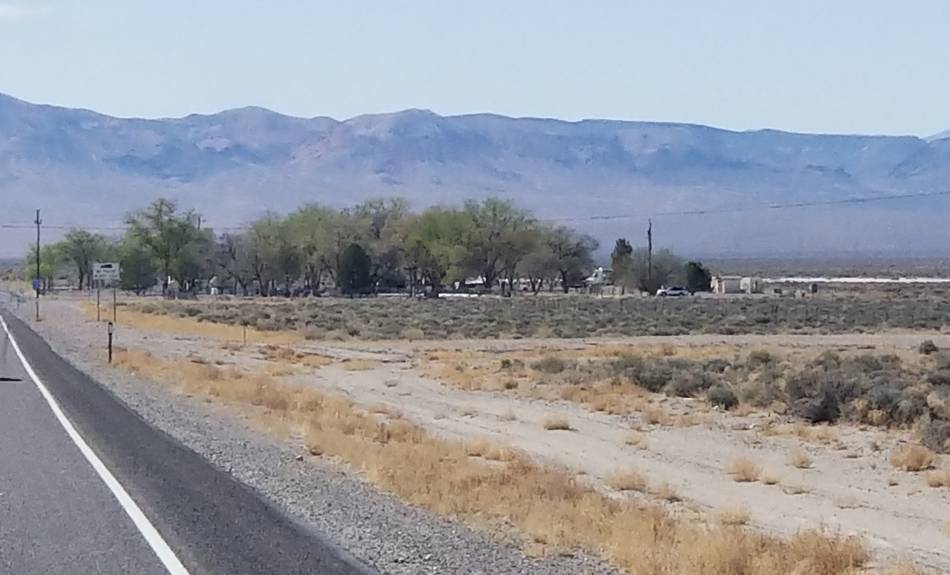 Just past the huge solar project is Millers Rest Area. Like an oasis in the middle of the desert. Very non typical as no trucks are permitted. There is even a dump station for dumping our holding tanks.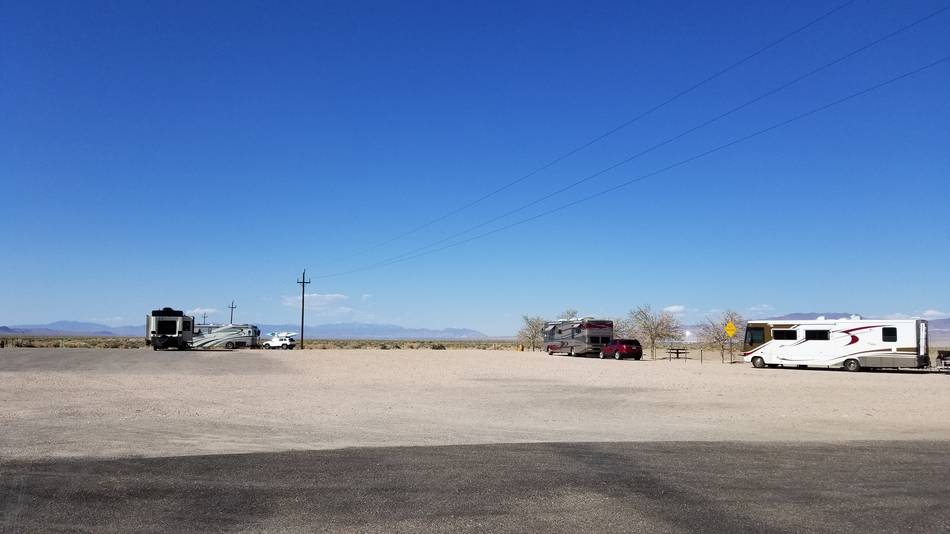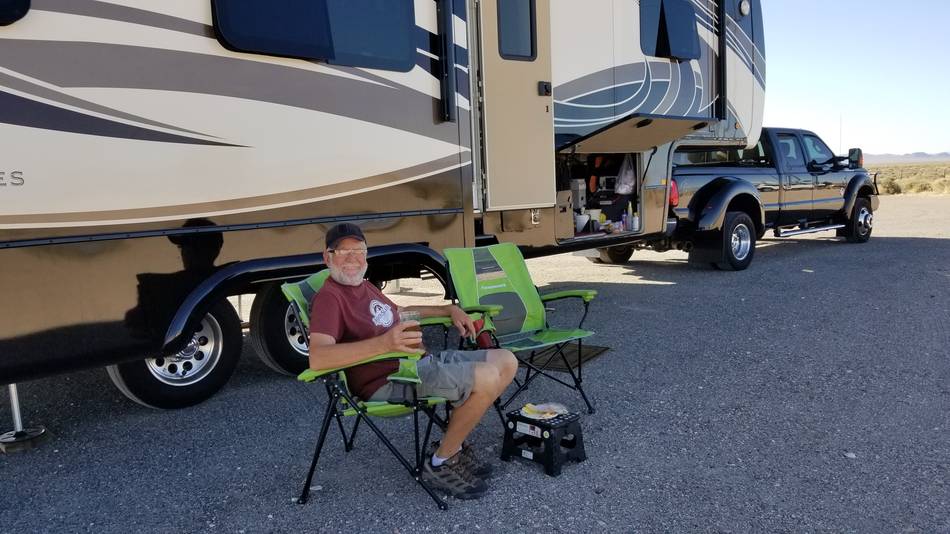 Incorporated next to Millers Rest Area is a large area for overnight parking. We got there mid-afternoon so had plenty of time to relax a bit. It was so much better than a Walmart stop, other than Walmart is nice if you need supplies.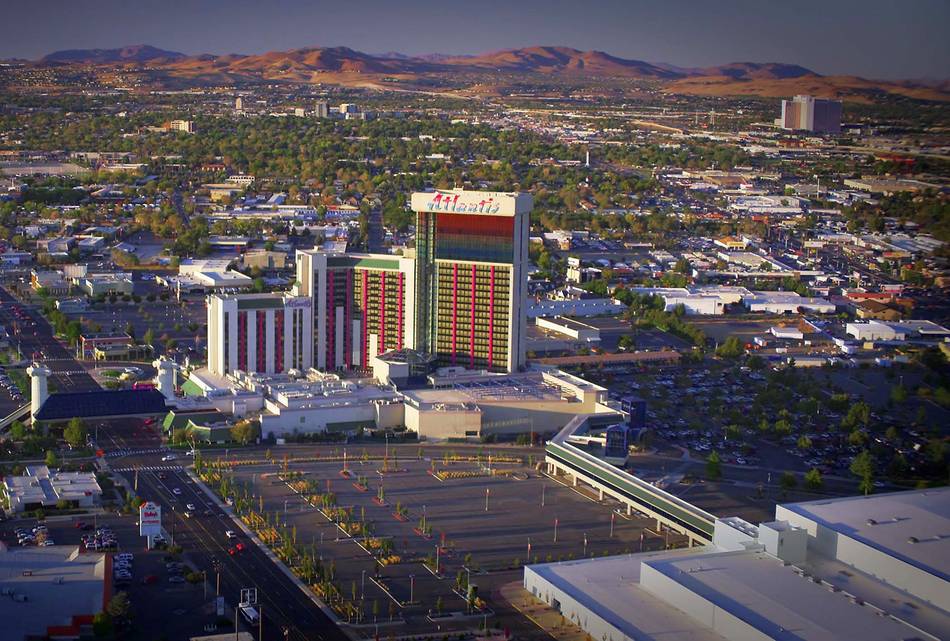 We got settled in to Silver Sage RV Park Thursday night and met up with daughter Shannon and grand daughter Faith where they were staying at the Atlantis Hotel and Casino. Enjoyed dinner with them at the Purple Parrot in the Hotel. The Atlantis enclosed walkway to the convention center made it very convenient to get back and forth to the volleyball games over the next couple days. The convention center is less than a mile from our RV park so we walked to the convention center for exercise as weather permitted.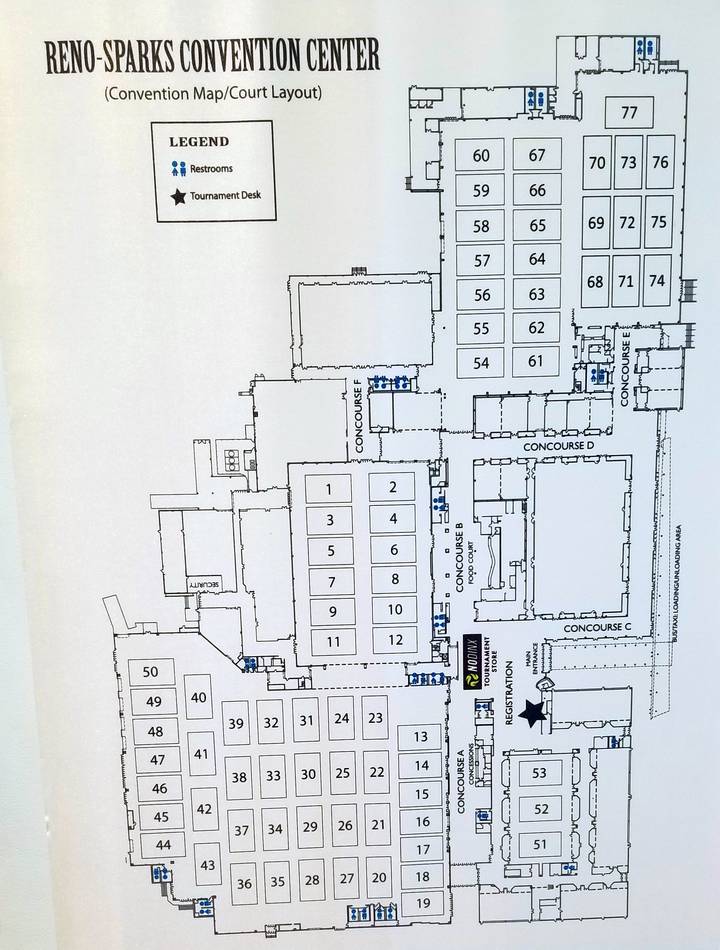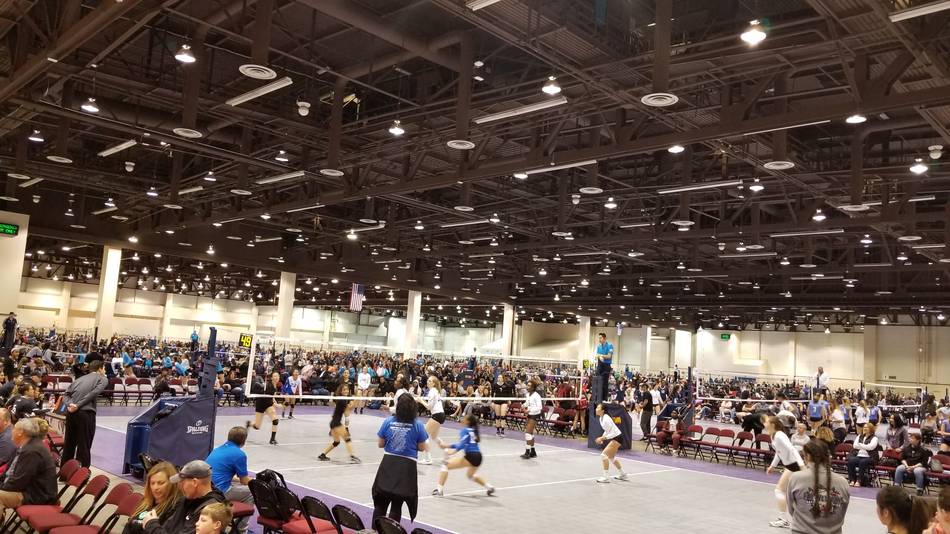 The "Far Western National Qualifier" volleyball tournament was amazing.  They had 77 courts (see map) set up and games going on continually on all the courts throughout the Friday and Saturday, plus teams waiting for their time on the court. The courts were also busy Sunday  for playoffs. I calculated 77 courts, 12 girls on each court, plus subs and 12 girls waiting for the court…plus coaches and subs…and easy 2000 plus volleyball players and coaches. Connie says there had to be lots of drama ;-).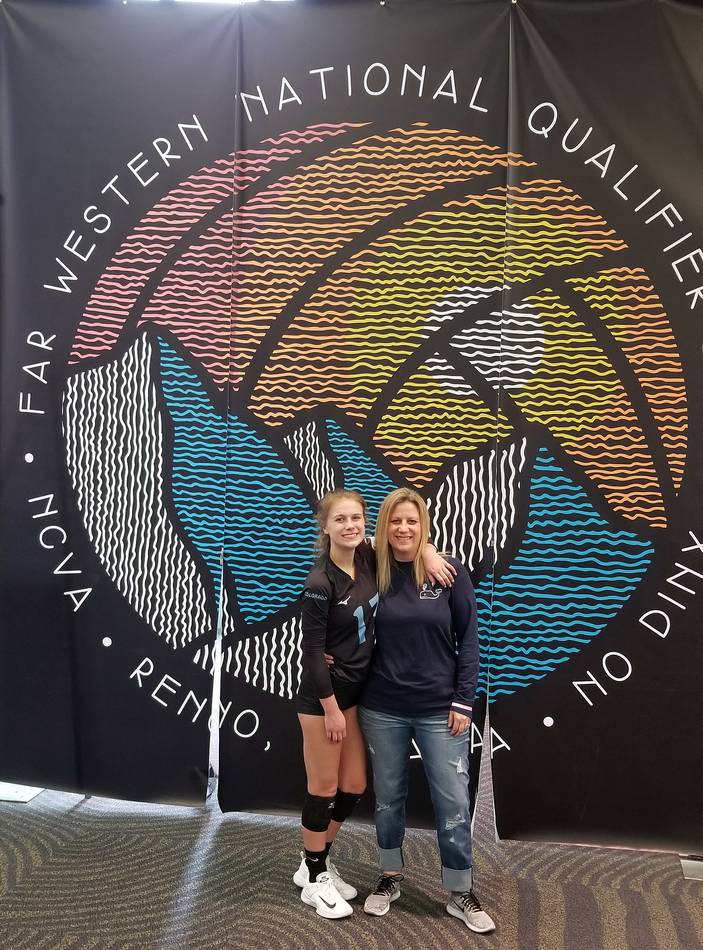 Grand daughter Faith and her mom were our motivation for being in Reno. Great to see them and great to see Faith play in such rigorous competition. She plays with Colorado Juniors 16. They did well and the team placed 4th out of the 50 teams in their Division.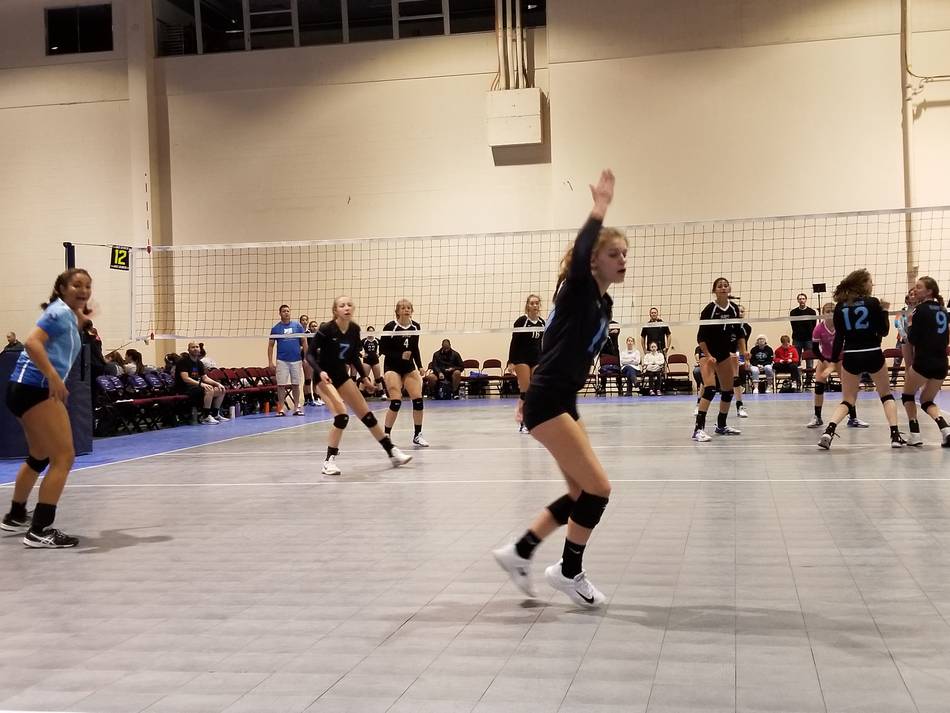 Colorado Juniors warming up, Faith in the forefront.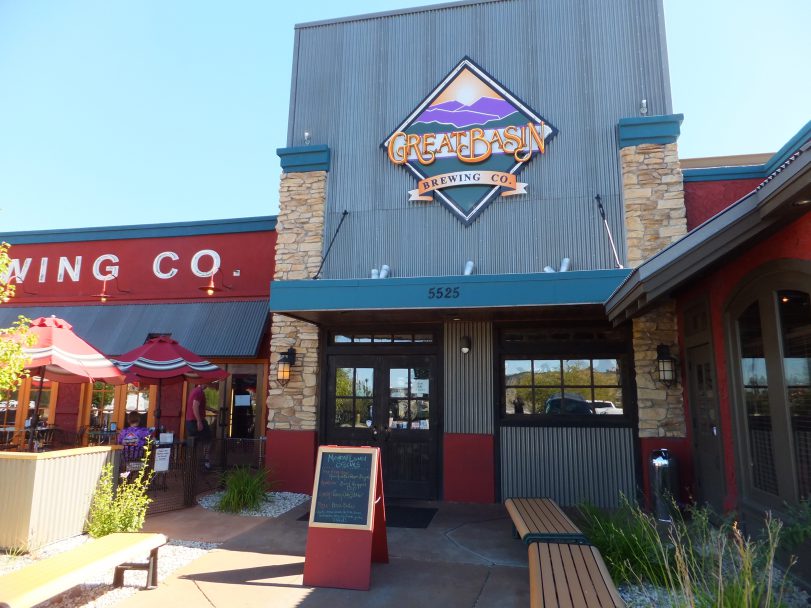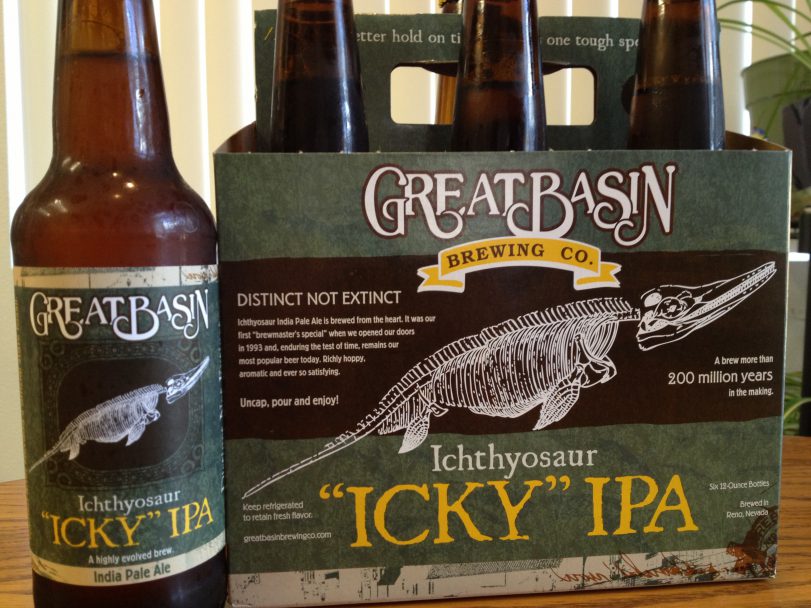 We did take a little side tour to get fuel while in Reno. Well…diesel for the truck. But couldn't resist stopping at the Great Basin brewery for human fuel recommended by friend Annette. Ed enjoyed an "Icky" IPA, while Connie tried their Alpenglow Hazy IPA. The beer went well with an order of wings.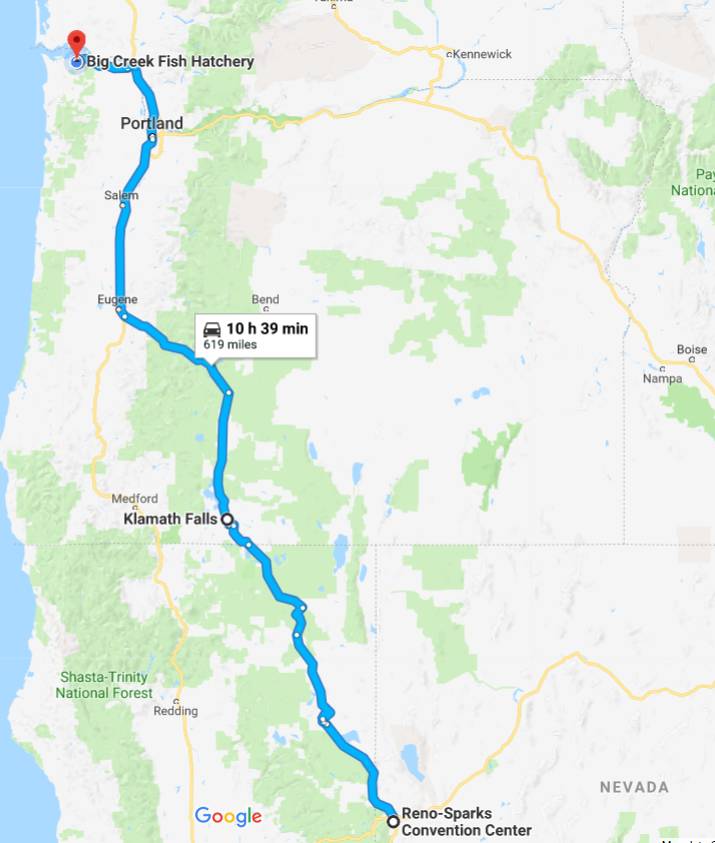 We took daughter and grand daughter to the airport early Sunday evening so they could fly to Denver and get back to their regular life. Then Monday we were on the road again toward our ultimate destination at Big Creek Fish Hatchery in Knappa, OR; near Astoria.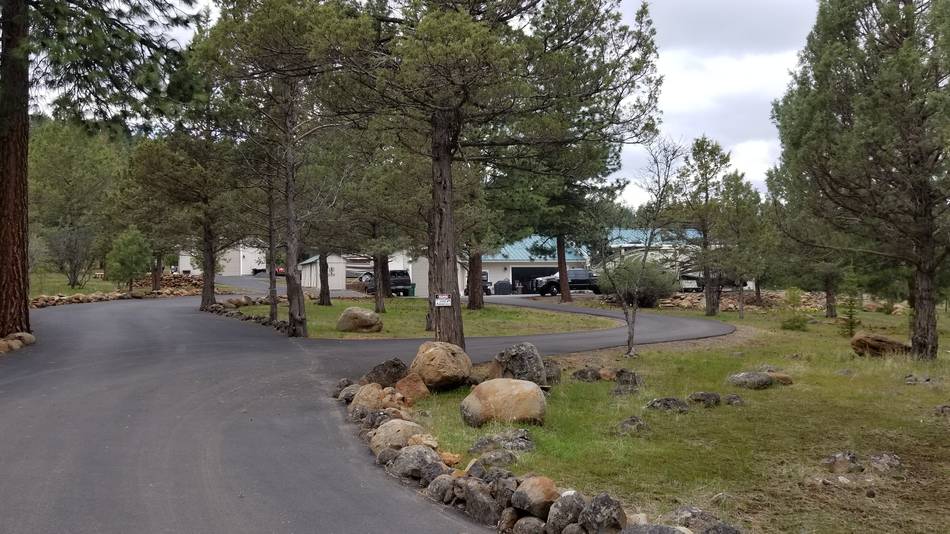 Ed had recently established a re-newed relationship with Lia, his 2nd cousin, when she and her husband Jerry stopped off at our place in Mesa. They invited us to overnight at their place near Klamath Falls on our way to Big Creek. WOW! A fantastic place in the woods outside of Klamath Falls. They made us feel especially welcome and offered full hookups for our 5th wheel.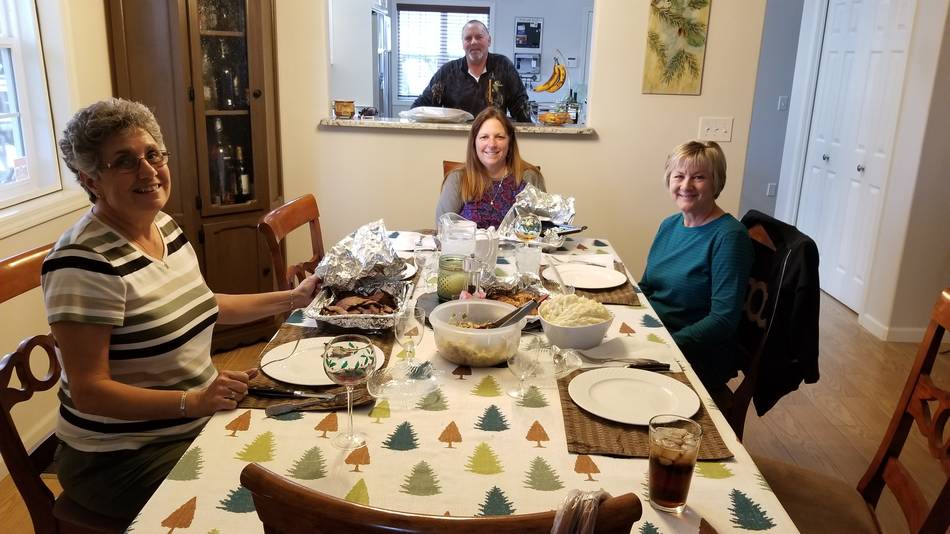 Now this is hospitality folks. Jerry cooked up some tri-tip meat and BBQ chicken. Lia fixed a salad and mashed potatoes. Doreen, another 2nd cousin came up from California to see us and stay overnight. We had an awesome visit with everyone, and enjoyed the libations along with the company.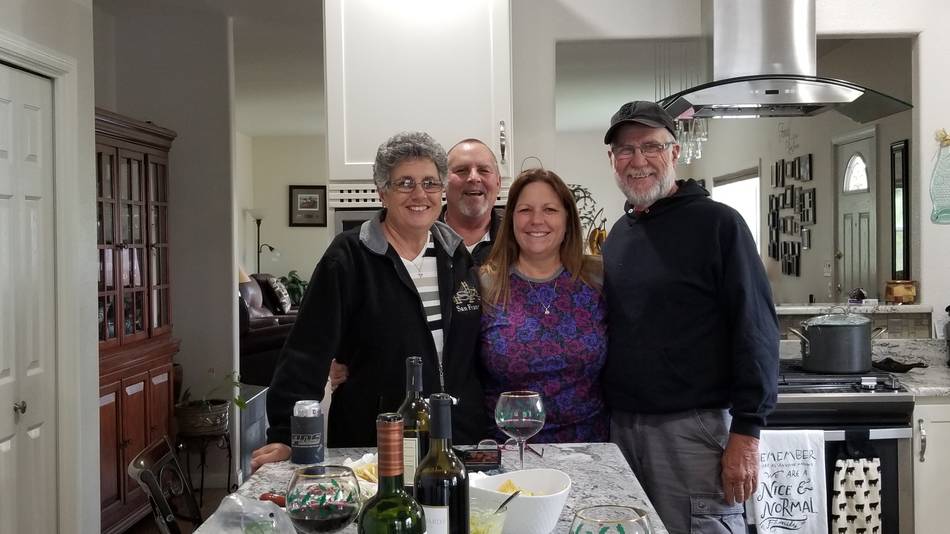 Lia and Jerry not only have a fabulous home, but Jerry gave us a tour of his "Man Cave" where he builds guns and loads his own ammo.
Next to the man cave is a garage where they keep the fishing boat and Jerry makes fishing poles. The man has many talents, including upgrading their kitchen. We think he's best at hospitality. Here is a picture of Jerry with the cousins: L to R: Doreen, Jerry, Lia, and Ed.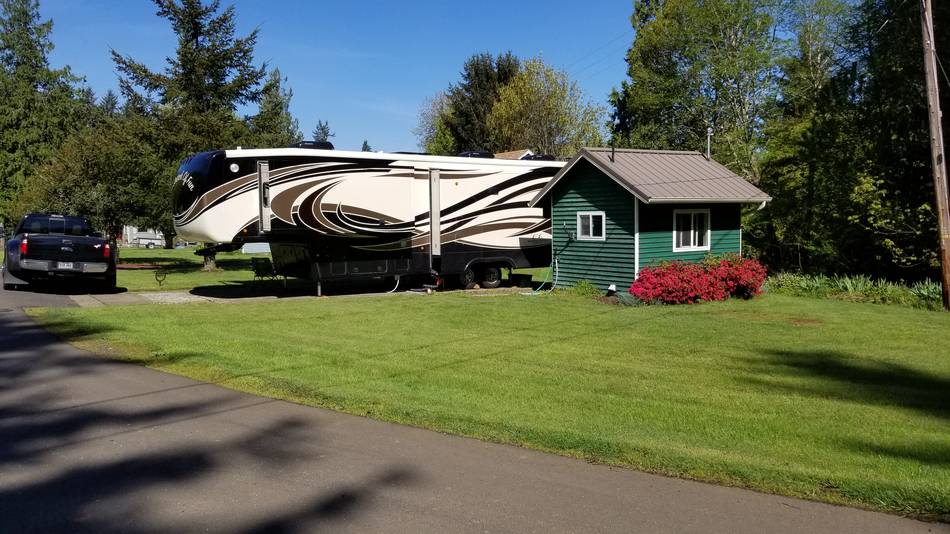 We pulled in to Big Creek Tuesday May 1 at 5pm Tuesday and got settled in after a wee bit of a backing in problem. Ed's pride was crushed that he didn't get it backed in with one fail swoop.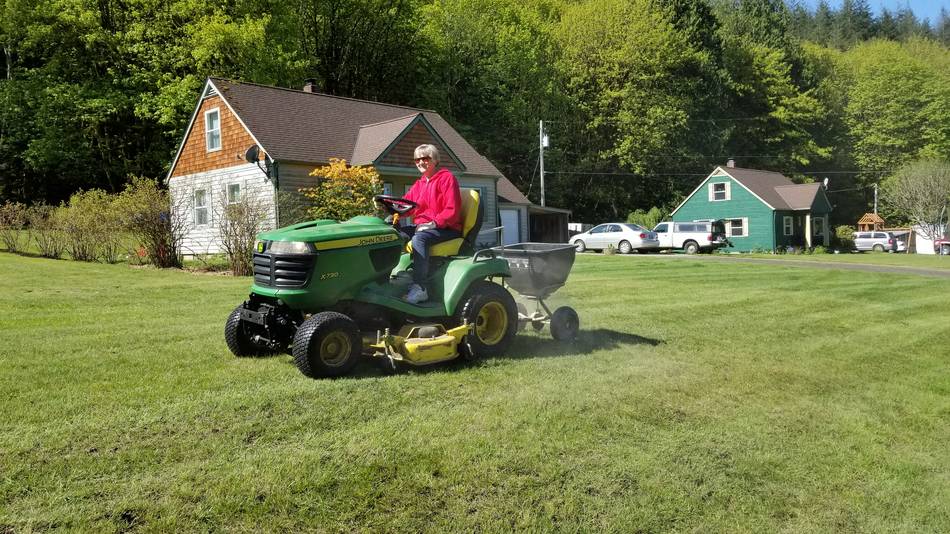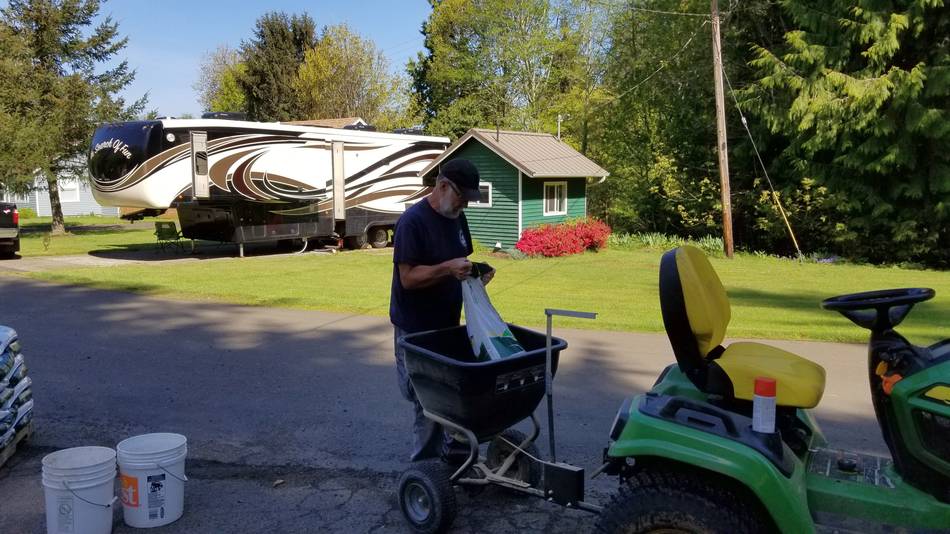 Reported for our first 4 hour day on Wednesday and got right to it after a morning meeting. We spread lime pellets on all lawns in around the tech's homes.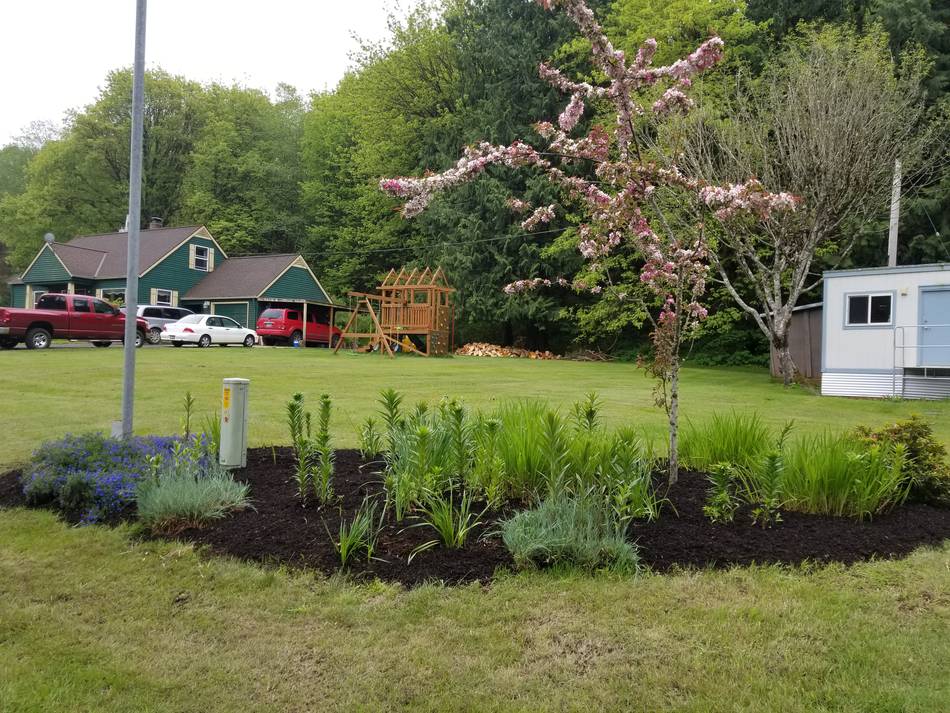 Thursday Connie worked in the flower garden near the entrance while Ed mowed on the John Deere. We'll take before and after pictures of her garden work next time as she made a big difference here.
We've been invited to a BBQ Saturday, hosted by Dustin and Brianna. Dustin is a tech and lives in the green house in the picture. Not counting our trailer, there are six homes in our quaint neighborhood. All for the techs and their families. A great group of folks. Yesterday, Brianna brought muffins over and Travis brought over a salmon filet he caught caught earlier in the day. It's going to be a good May and June.
(Visited 305 times, 1 visits today)