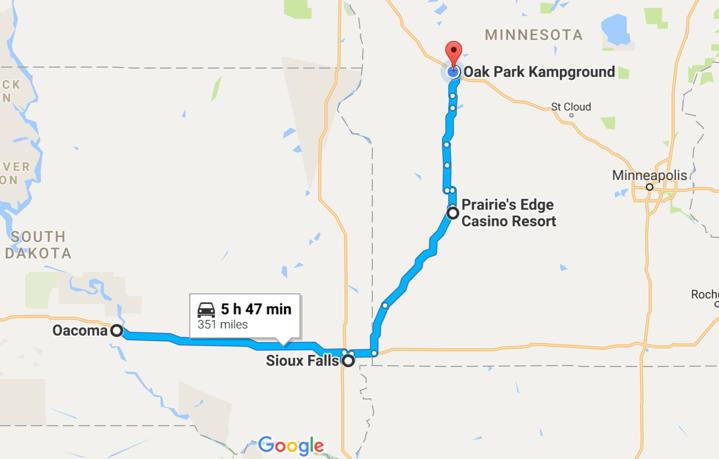 We left Oacoma Saturday June 3 and stopped at the Chamberlain Information Center just across the Missouri River. A picturesque stop with great views, and an incredible sculpture of Sacajawea with her back to the Missouri River.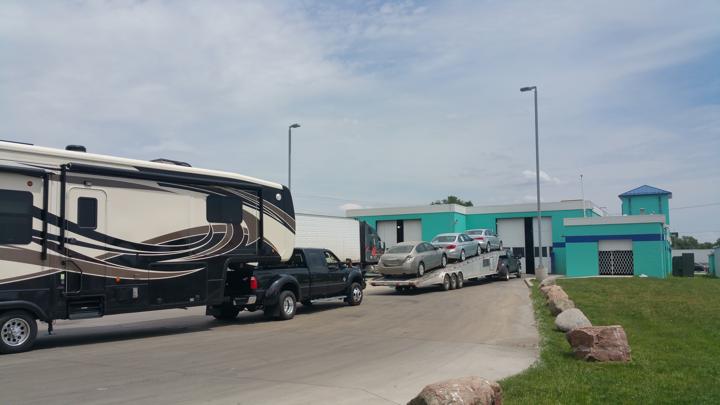 We still had some mud and road grime on our unit, so opted to swing into the Sioux Falls Blue Beacon truck wash before finding our overnight stop at the Louise Avenue Walmart. However, the Walmart sprinklers came on during the night and totally spotted the left side of our truck and trailer with ugly water spots.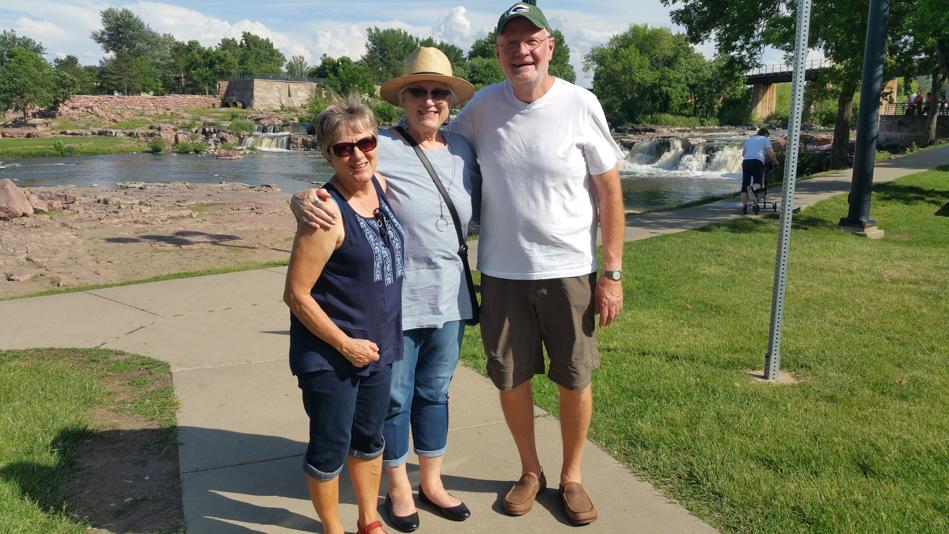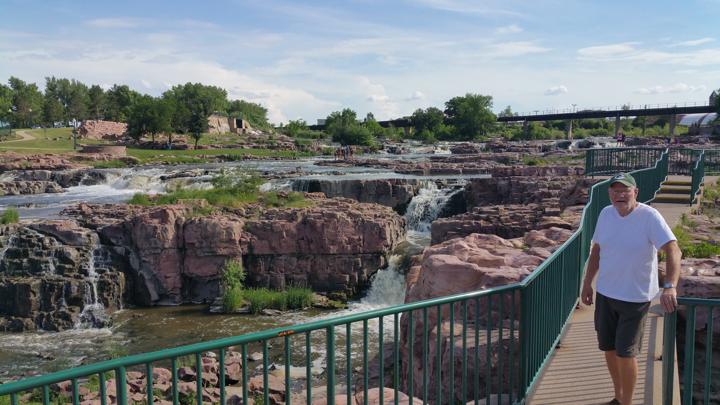 Susan and Roland came by our Walmart digs Saturday afternoon  and gave us a bit of tour around Sioux Falls, including "the Falls" and a few breweries. Then took us to Dinner (they actually call it supper….dinner is lunch) at Jacky's, a favorite Mexican fare eatery, Guatemalan really, but much the same. Susan and Roland are friends we spent time with at Twin Palms RV Park in Mesa. Thank you Susan and Roland for a great time.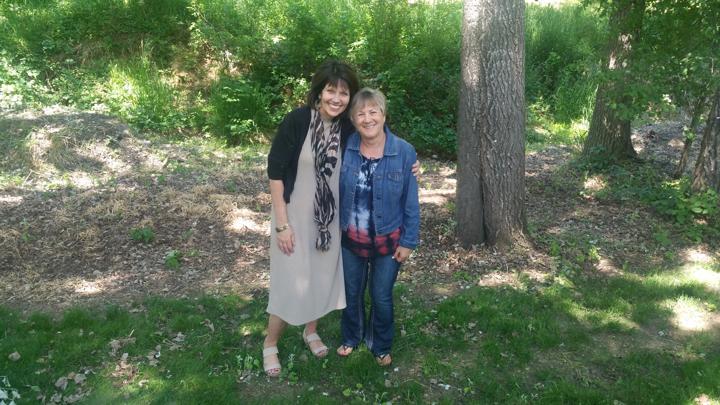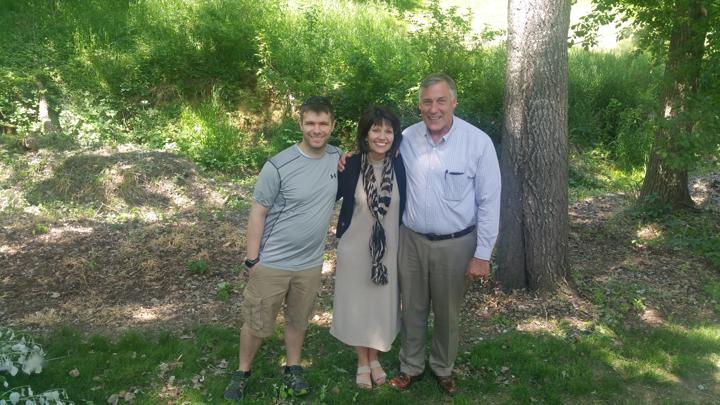 We're getting spoiled. Sunday morning Fay and Ken Fisher came by and to get us, then took us to Abiding Savior Free Lutheran church for a wonderful morning of worship and fellowship. We knew Fay years ago when we lived in Tooele, Utah and her adult boys were pre-elementary. Her son Sean lives in Sioux Falls and joined us for Breakfast after church at Kaladis. Thank you Fay and Ken for a wonderful Sunday morning, including breakfast!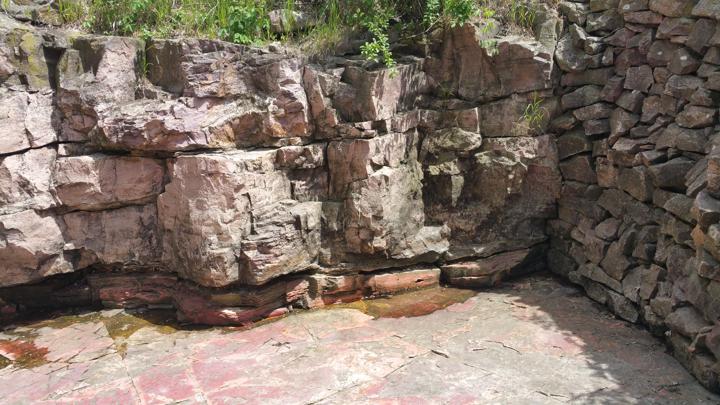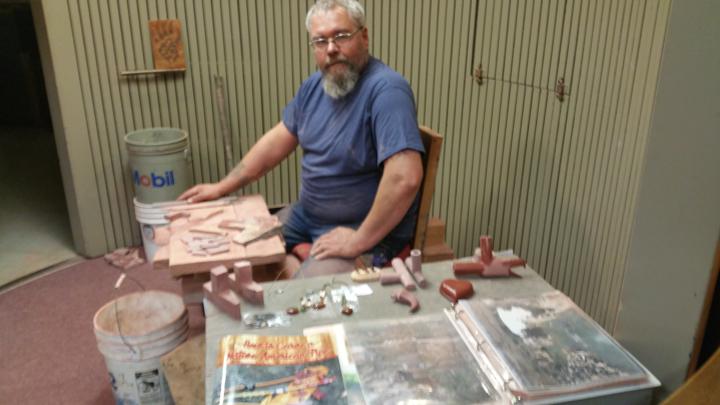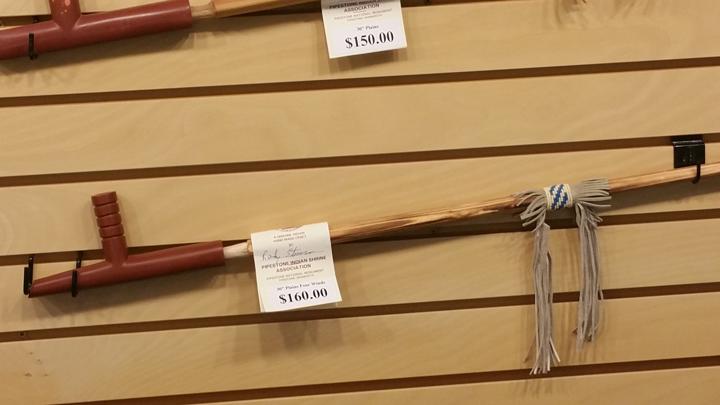 The older we get, the more we learn what we don't know. We left Sioux Falls after the Kaladis breakfast, heading north toward Alexandria, MN to an RV park that former co-hosts (Colorado Bend, TX), Bob and Twyla co-manage. Bob suggested we stop at Pipestone National Monument on our way. The monument is a little north of the small town of Pipestone, MN. What a delightful side trip. We learned that Indian Tribes from around the nation come here to quarry for pipestone rock to make peacepipes. It is quite laborious work and only available to native Indians, and only by application. They have to hand quarry through all the hard granite to get down to the small vein of pipestone, which is quite soft. We saw a native making a pipe by hand, and saw a few pipes for sale at the visitor center. No…we didn't buy one.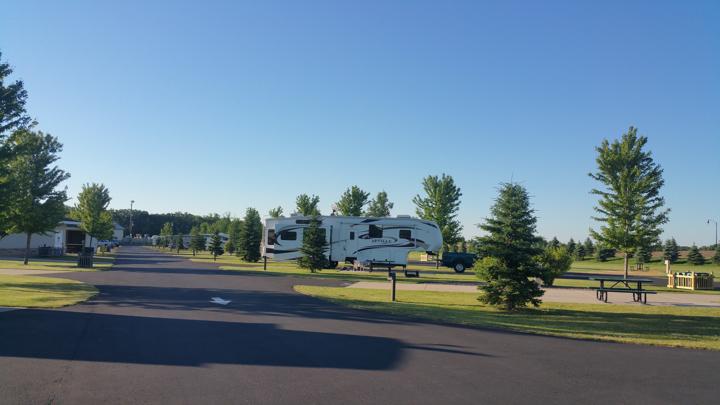 We ventured a little further north toward Prairie View RV Park, a stone's throw from Prairie Edge Casino neat Granite Falls.  A fabulous park and one of the nicest we have ever stayed…and maybe the most reasonable…$25 a night for full hookup, concrete parking pad and patio, new tables, yard lights, WiFi, personal trash receptacle and recycle bins, very nice bath house and landscaping.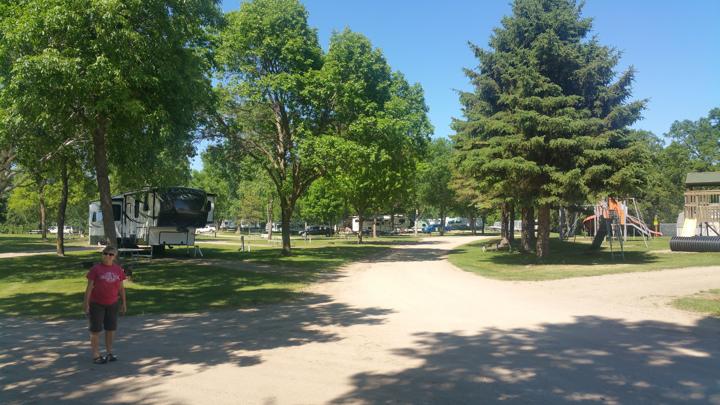 It was a beautiful day Monday June 5, and since we only had 88 miles to travel, we decided to do a little house cleaning. Both inside and out. Ed gave the truck and trailer a hand bath to get the water spots out, while Connie scrubbed the floor and gave our throw rugs a thorough cleaning. A great morning. Thank you Lord for providing. We pulled in to Oak Park Kampground in Garfield Minnesota, 6 miles from Alexandria, Monday early afternoon and were greeted by our friends, Bob and Twyla.
They took us in to the Boulder Tap House for a brew and burger. Very nice, especially visiting with our ol' buds from Colorado Bend State Park in Texas. Oh…the tap house has zero connection to Boulder, Colorado!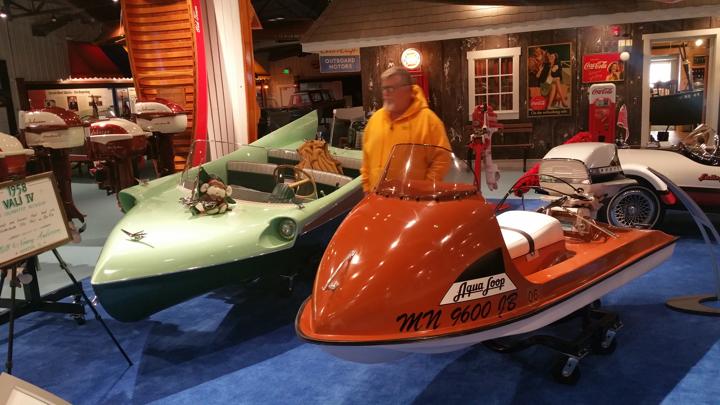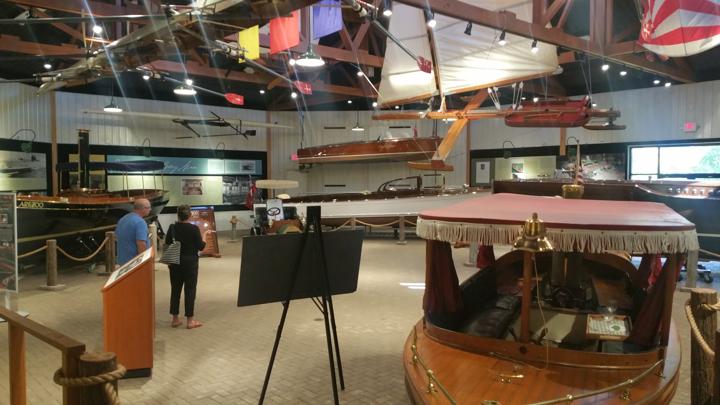 Tuesday, Bob and Ed drove the 6 miles from Oak Park Kampground to the Legacy of the Lakes Museum in Alexandria. Bob, being from this land of 10,000 lakes had actually built a few boats himself, and was a member of the museum support group, so was quite familiar with many of the boats on display. He made an excellent tour guide as we explored the museum. Bob pointed out the predecessor to the jet ski in the foreground of the top picture. Thanks Bob.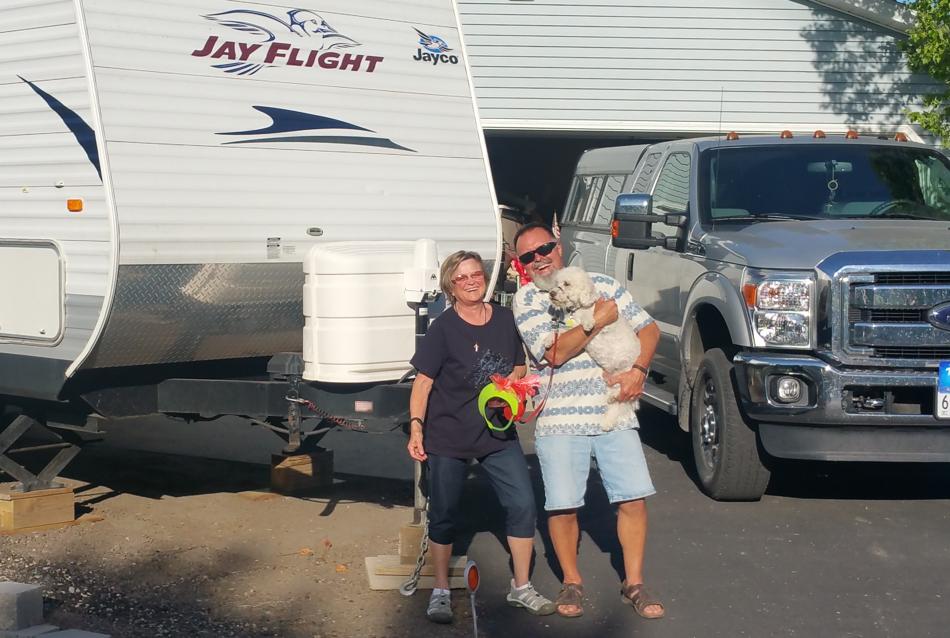 Jay and Gail Kulp came out to the park later Tuesday. They took us back in to Alexandria for a brew and burger at Raapers Eatery and Ale. An older hole-in-the-wall restaurant where they knew many of the folks. No wonder…Gail grew up in Alexandria and graduated high school there. We had a wonderful visit as we reflected on some Utah memories from back in the 80's. They drove us around the area, pointing out many of the lakes. They finally agreed there were 351 fishable lakes in their county.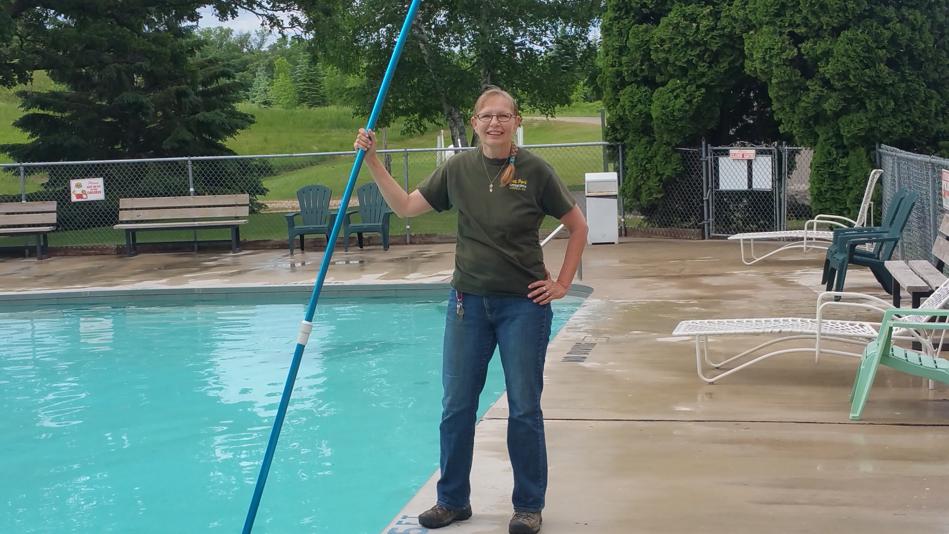 Bob and Twyla came over for a pancake breakfast Wednesday morning before we departed for Wisconsin, but we failed to get a picture while they were there. Got this quick snapshot of Twyla on her pool duty just as we were leaving. They love it at Oak Park, but not so much after October. So we plan on seeing them again when we all get back to Arizona this winter.
(Visited 116 times, 1 visits today)