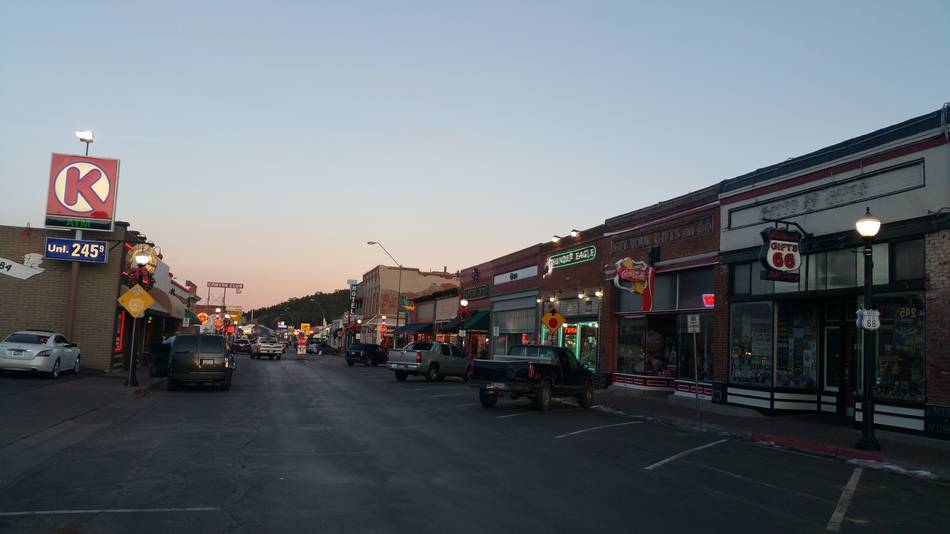 We drove up to Williams, AZ the afternoon of Wednesday January 17, 2017. Williams is a unique town right off Interstate 40, but with a lot of US 66 history.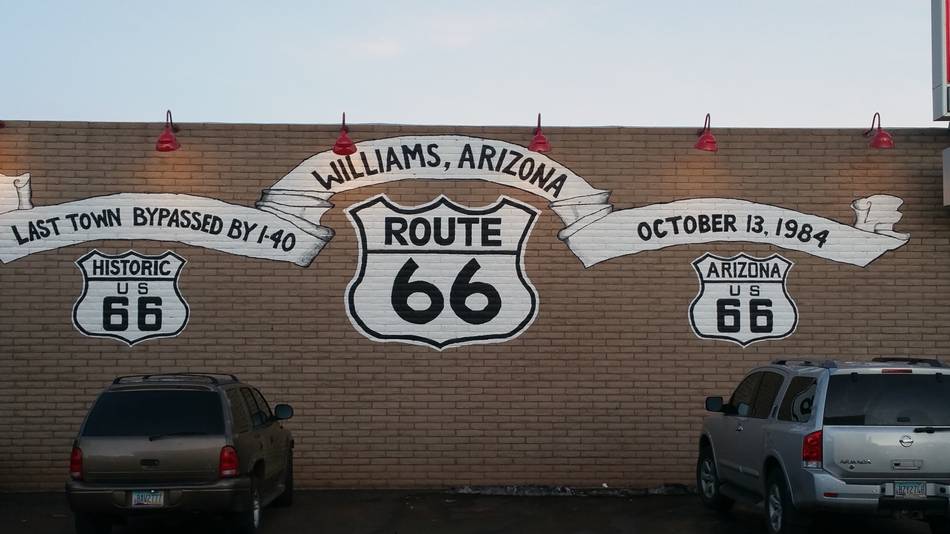 Back in 1984 Williams was the last location where I40 bypassed US 66. We learned there is a stretch of US 66 that is still drivable from Ask Fork, AZ (just west of Williams) to Kingman, AZ, but most of the old highway is history, and even this drivable stretch if now designated "Historic Arizona 66" rather than US 66.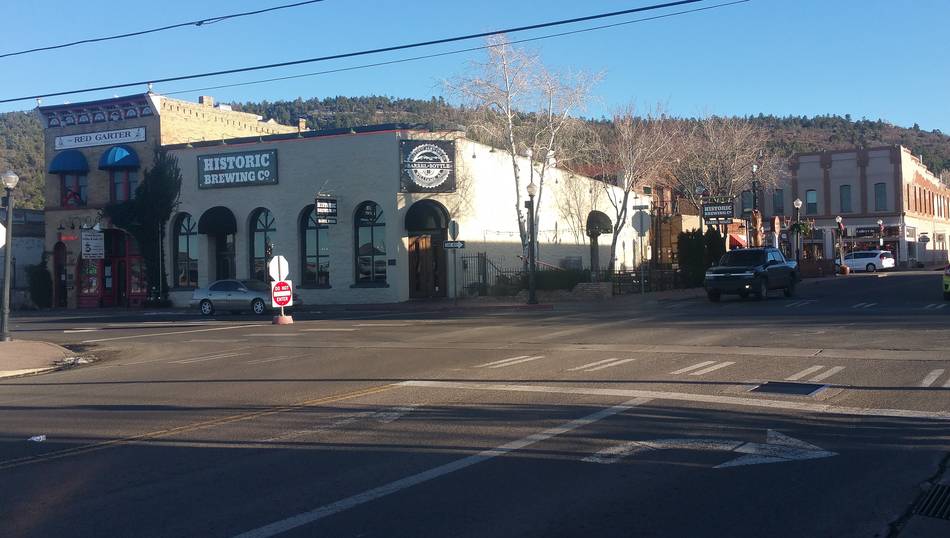 We even found a brewery in Williams. Historic no less. All this just a short walk from the Grand Canyon Hotel in Williams.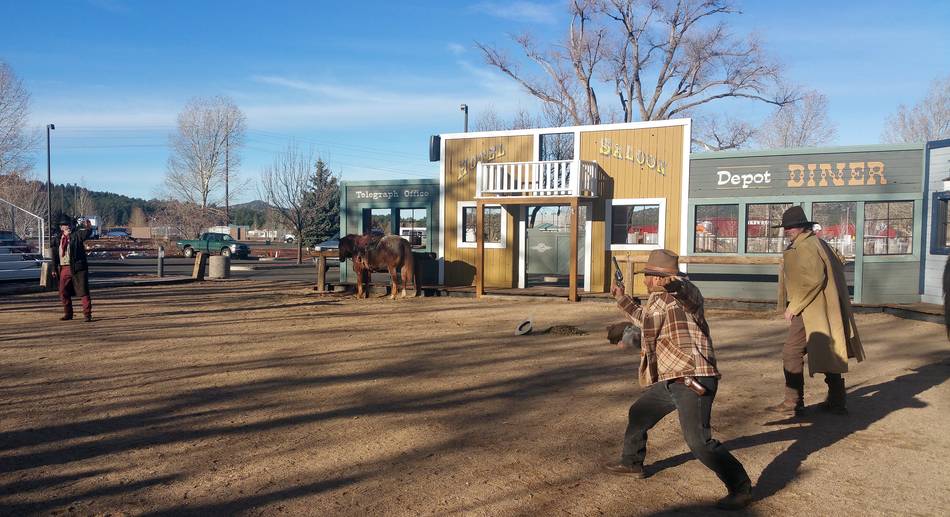 After a good night's sleep at the Grand Canyon Hotel, we strolled down to witness the shootout.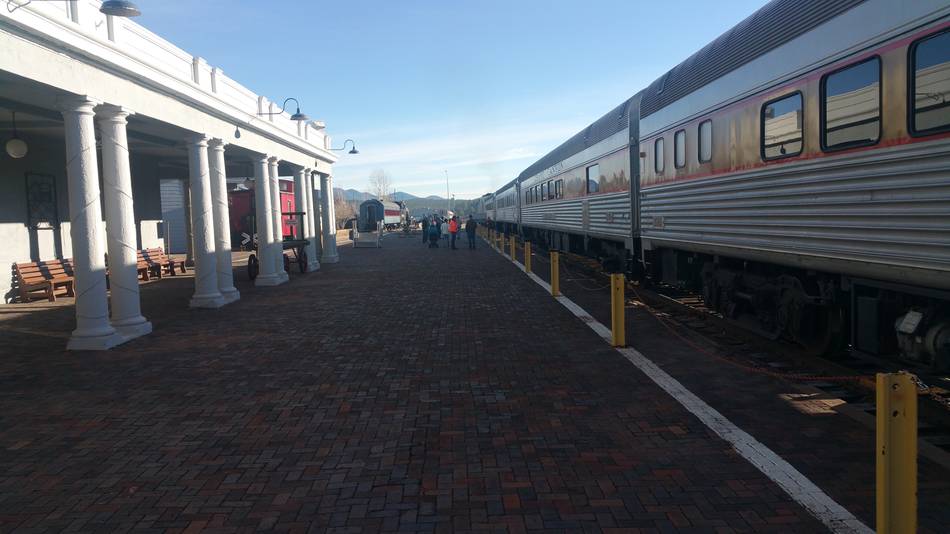 After the shootout, which is next to where the Grand Canyon Railroad boards passengers for the 2 hour 15 minute train ride to the Grand Canyon South Rim, we were ready for the next step of our adventure. The train travels the 65 miles at an average speed of 40mph. Slow enough to fully enjoy the ever changing countryside; from desert sage, juniper trees, and pines, to the Grand Canyon itself. We even saw a bobcat! Thanks to Kathy with a "K" for pointing it out.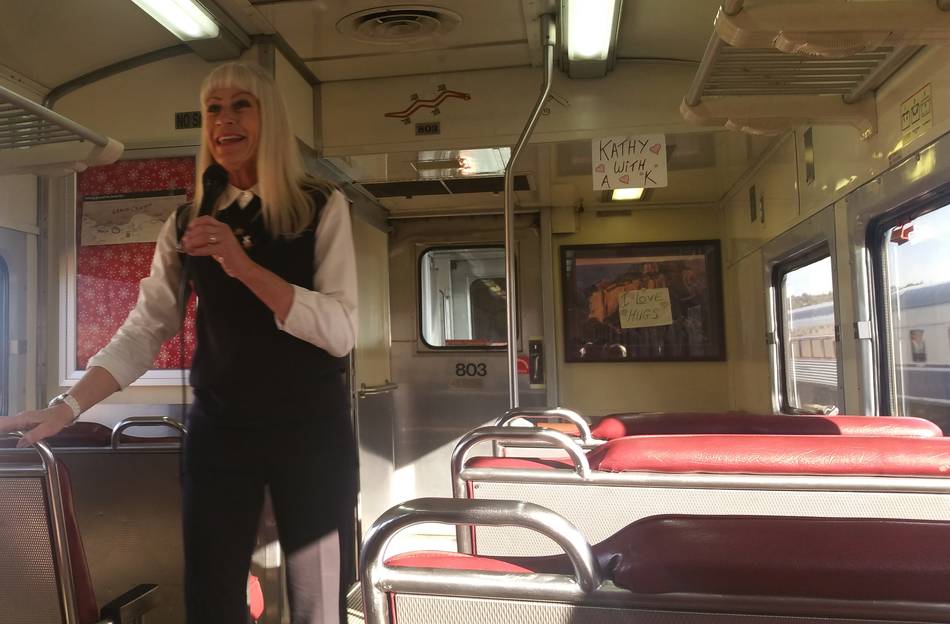 Kathy with a "K" was our PSA (Passenger Service Assistant) and did a fantastic job of informing us about how we might enjoy our 3+ hours at the park. She also had tons of other facts about the area; maps, history, trivia and jokes. She certainly helped make the train ride enjoyable.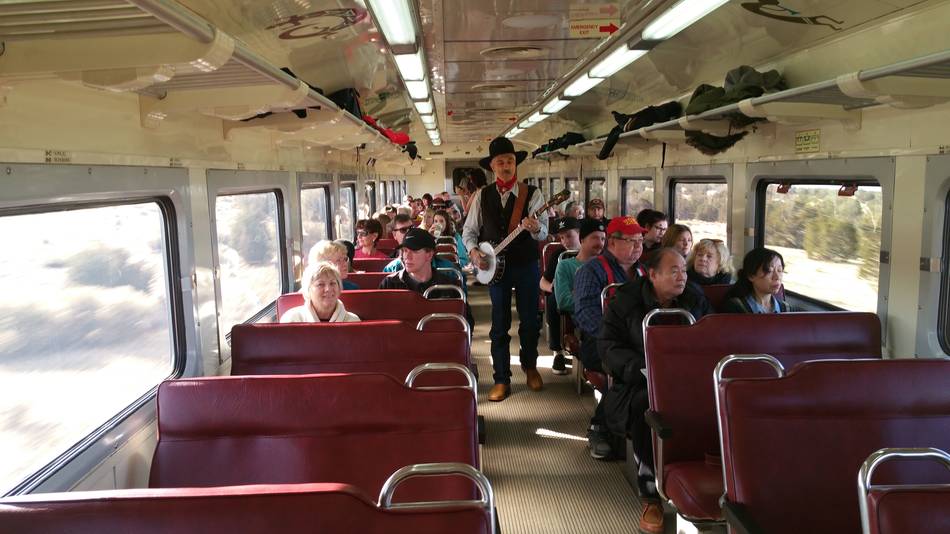 Sid Hausman, from New Mexico, entertained us on the morning ride with his excellent banjo skills and a song on his "Bones" that he said came from one of the BBQ dinners he went to? This picture gives a glimpse into the "coach" car. There are also first class seats and observation car seats. The car directly behind us was the diner, but we never made it.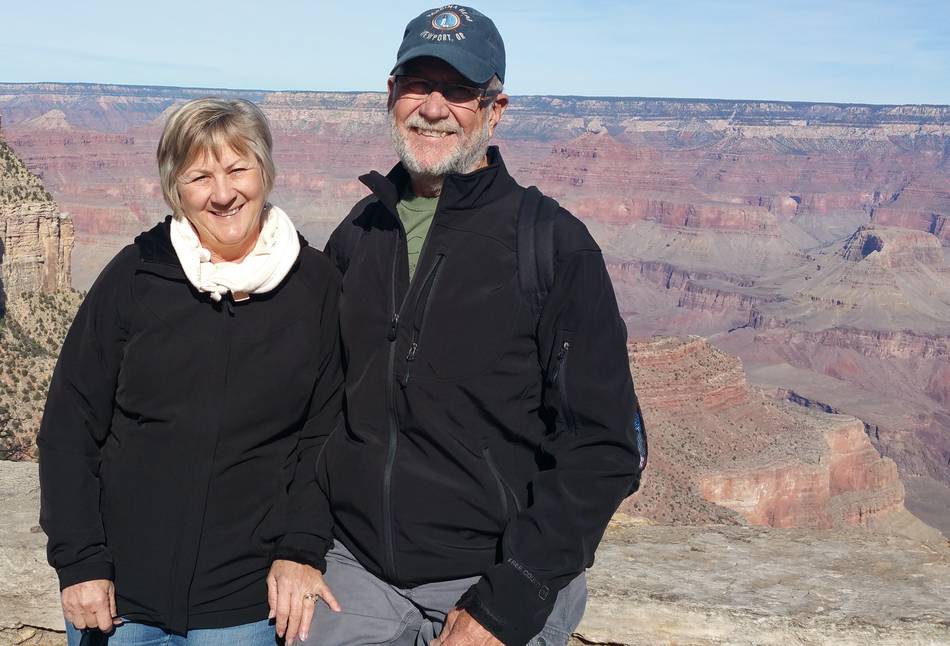 Connie had never been to Grand Canyon, and Ed had only been there as a charter bus driver, but didn't really "see" the canyon. We both enjoyed the spectacular beauty and depth. We were also blessed with excellent weather. Quite sunny, no wind, and a warm 57°. Quite warm for a January day at 7000 feet. Our light jackets were more than enough..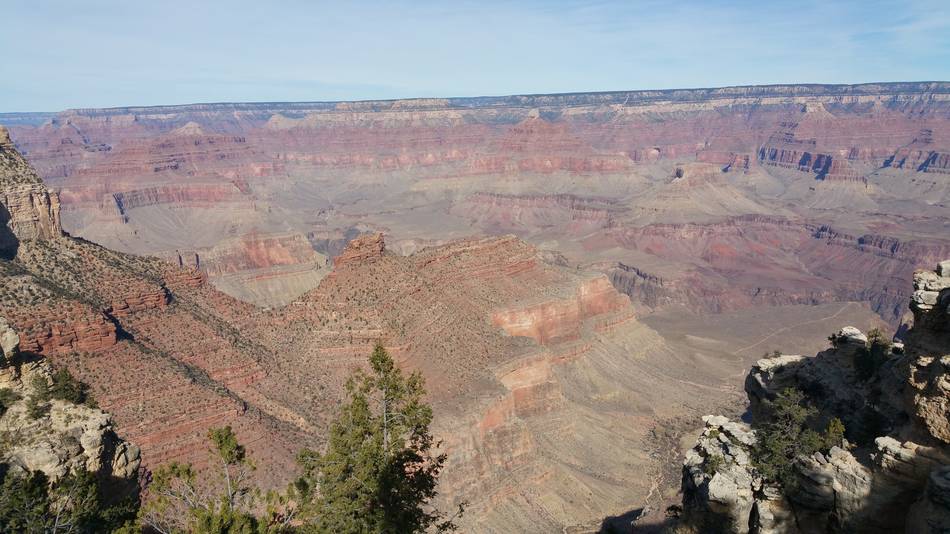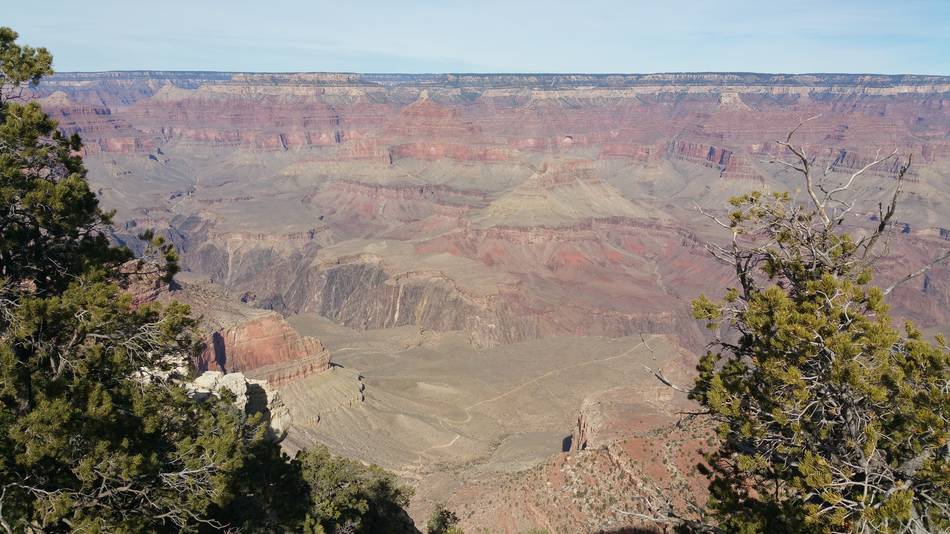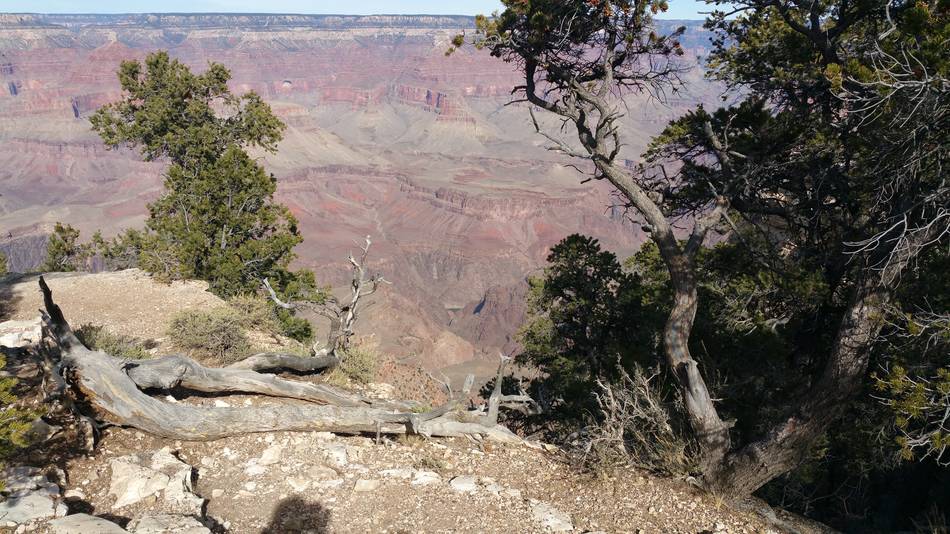 The Colorado River, which runs through the canyon, is rarely visible because of the canyon's mile depth; it averages 10 miles in width. Its narrowest point is in Marble Canyon, where it is 600 feet wide. Its maximum width of 18 miles is found at several different points.. The blue dot in the center of the bottom picture is all we saw of the Colorado.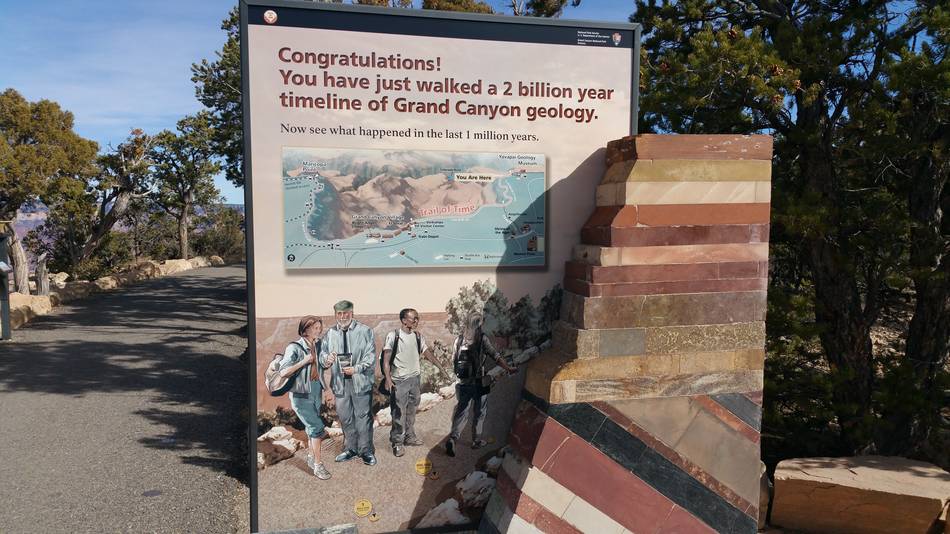 It seems that many agree on how many millions…billions of years the earth is, and how many years it took for the Grand Canyon to erode to what it is today…even though they weren't there. Connie and Ed lean more toward a young earth, much as described in the new "Is Genesis History" movie. But at any rate, we amused from the congratulation sign of our hiking accomplishment.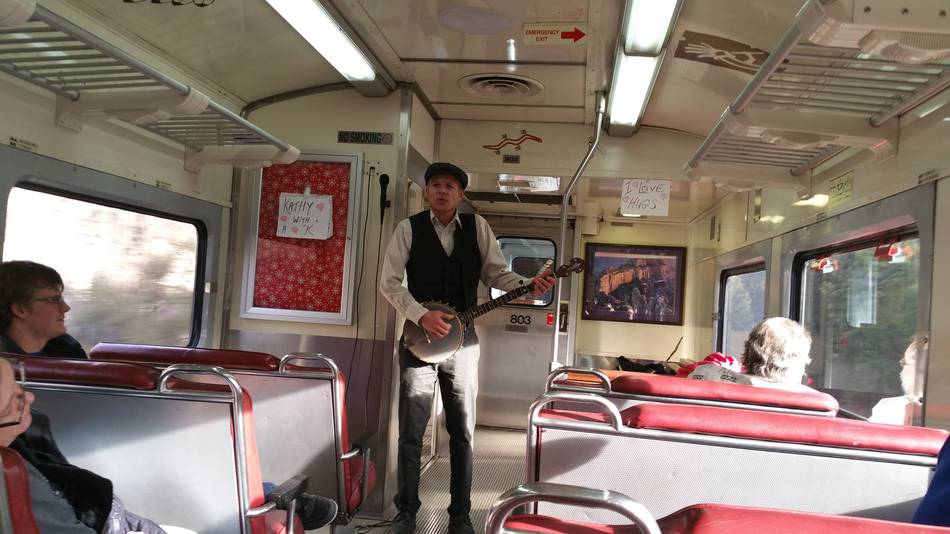 The train departed at 3:30pm for a 5:45pm Williams arrival, and it was just as enjoyable as the morning ride. Jesse Anderson played the banjo for us on the return. Quite a different style than Sid, but very excellent.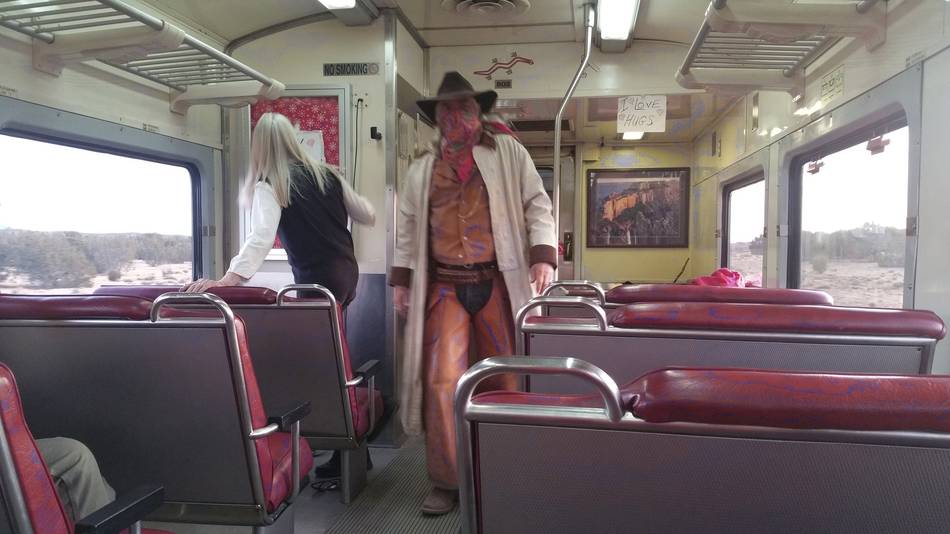 Some of those desperadoes that survived the morning shootout, came along the train on horseback, boarded the train while it was in motion (not the full 40mph) and proceeded through each car, robbing passengers of their belongings. The sheriff was in hot pursuit and I'm sure recovered everyone's cash and diamonds. He explained that they could claim their stuff back at the old town shootout area if they had the serial numbers from the bills. Actually the bandits got away empty handed.
After arriving back in Williams, we fueled the car and headed home, a 3 hour drive on I17. It was a fantastic 2 days!
(Visited 107 times, 1 visits today)